A computer administrator can delete a user account without needing any password. That's a huge drawback, but it is also by design giving admin users the ultimate authority. It may so happen that you have deleted a user account, but for some reason, its User Account Picture is still available on the Windows Logon screen. In this case, when you try to log in, it will not work. This post will guide how you can remove the User picture from the list.
Remove deleted User Account from login screen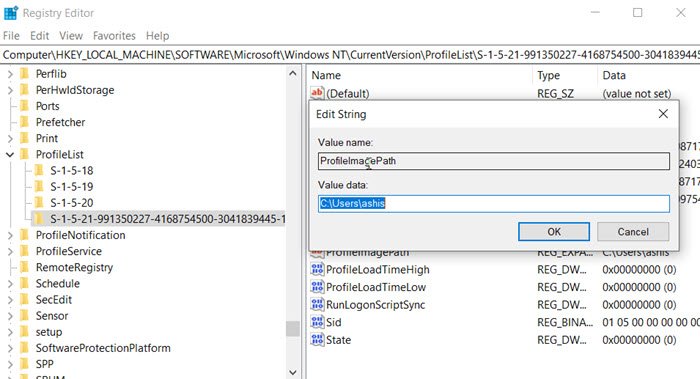 If you have deleted a user account using the correct method, i.e., Settings > Accounts, then the problem doesn't happen. However, if the admin chose to delete the folder directly, the registry entry is not removed. Follow the steps to resolve it:
Type regedit in the Run prompt (Win +R) and press the Enter key to open the Registry Editor. Then, navigate to the following path:
HKLM\Software\Microsoft\Windows NT\CurrentVersion\ProfileList
Notice the number of folders under the ProfileList, and those which have extended names starting with S are the user accounts.
To confirm it belongs to the deleted user account, expands one of the folders, and locate the string—ProfileImagePath. Double click to open, and it will display a user folder path that ends with the user name.
Once confirmed, delete the folder looking Registry Entry, which carries the ProfileImagePath.
Once done, restart the computer, and this time you should not see the user account listed anymore.
I hope the post helped you remove the user account picture which was deleted but still appeared on the login screen.