The built-in Disk Cleanup Utility helps remove old and junk files fro your Windows installation. It includes several options and types of files that can be removed. One of the options is of compressing old files.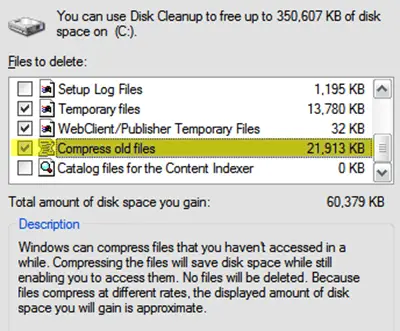 The Compress Old Files option takes up quite a bit of time while cleaning up the disk with Disk Cleanup Utility.
If it exists amongst your options and if you don't use it or if you want to remove it, here is how you can go about it.
Remove Compress Old Files option in Disk Cleanup Tool
Run regedit and navigate to the following key in the Windows Registry:
HKEY_LOCAL_MACHINE\SOFTWARE\Microsoft\Windows\CurrentVersion\Explorer\VolumeCaches\Compress old files
Simply delete this key.
That's it.
In later versions, Microsoft appears to have done away with this option.
Pointless, actually … but it's an option, and life is all about having options!