In this tutorial, we will see how to reduce Taskbar Updates On or Off for News and Interests in Windows 11/10. By disabling updates, you can lower the consumption of your internet data and other resources. Hence, it is a helpful feature in case you have a limited data plan.
Reduce Taskbar Updates On/Off for News and Interests
You can Turn On and Off the Reduce Taskbar Updates feature for News and Interests by the following two methods:
Taskbar context menu.
Registry Editor.
1] By using the Taskbar context menu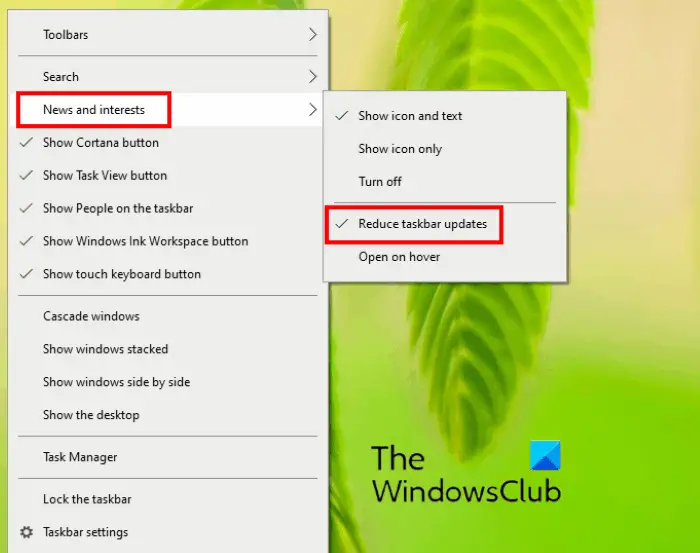 The instructions to turn On Reduce Taskbar Updates from the context menu are listed below:
Right-click on the taskbar.
Click on the News and Interest option.
Click on the Reduce Taskbar Updates option.
After that, the Reduce Taskbar Updates will show a checkmark icon (See the above screenshot). The checkmark icon indicates that the feature is turned On.
2] By using the Registry Editor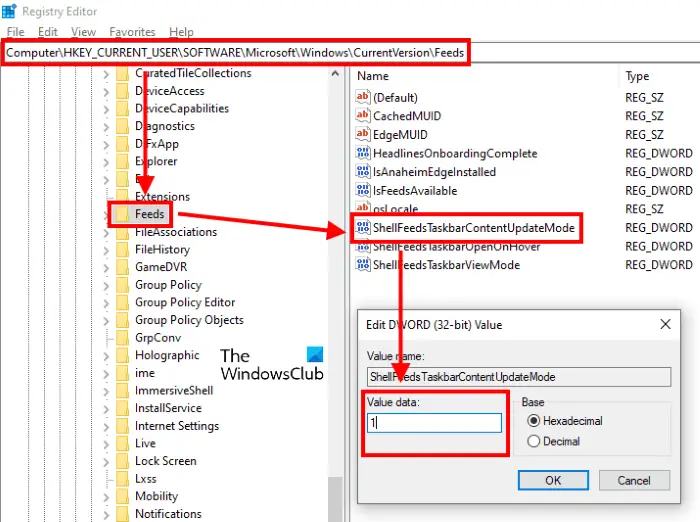 Before proceeding, we recommend you create a backup of the registry on your hard drive. This will let you restore the registry if any error occurs. Follow the below-listed instructions:
Launch the Registry Editor.
Navigate to the path described later in this article.
Create a new DWORD Value (if it is not there).
Modify DWORD value data to turn the feature On and Off.
Click OK to save the settings.
Let's discuss these steps in detail:
Type regedit in the Windows search box. Click on the Registry Editor app to launch it. Click Yes in the UAC window. Alternatively, you can also launch the Registry Editor by typing the same text in the Run dialog box.
In the Registry Editor, go to the following path:
HKEY_CURRENT_USER\Software\Microsoft\Windows\CurrentVersion
You can simply copy and paste the path into the Registry Editor address bar rather than navigating to the targeted key manually.
Now, expand the CurrentVersion key by double-clicking on it and check whether it contains the Feeds subkey or not. If the Feeds subkey is not there, you have to create it. For this, right-click on the CurrentVersion key and go to "New > Key." Name this newly created key as Feeds.
Select the Feed subkey and check whether the DWORD Value "ShellFeedsTaskbarContentUpdateMode" is present on the right pane or not.
Create it if it is not there. To do so, right-click in the empty space on the right pane and go to "New > DWORD (32-bit) Value." Name this newly created value as ShellFeedsTaskbarContentUpdateMode.
Now, double-click on the DWORD Value and type:
0 to turn Off the Reduce Taskbar Updates.
1 to turn On the Reduce Taskbar Updates.
When you are done, click OK to save the changes and close the Registry Editor.
That's it.
Related posts: