If you have used Windows for a long time, I am sure you are aware of BIOS or UEFI password. This password lock makes sure that you need to enter the set password even before the Windows computer boots up. However, the biggest problem with BIOS or UEFI Password is there is no recovery option like a Microsoft account. In this guide, we will share how you can recover or set a BIOS or UEFI Password for Windows computers.
BIOS or UEFI passwords are stored at the hardware level. So unless the OEM wants or has configured a way out to recover the password, it is impossible to reset it. Sometimes they are so strict, that the only way to get through is by calling customer care. Do remember any Windows computer with this lock, cannot be unlocked by trying to reinstall Windows.
Read: How to set and use BIOS or UEFI password.
Recover or reset a BIOS or UEFI Password
If you wish to recover, reset, or set a lost or forgotten BIOS or UEFI password in Windows10, you have the following options:
Temporarily remove CMOS battery
Clear Unknown BIOS/UEFI passwords using the bios-pw website
Call Customer Care.
1] Temporarily remove CMOS battery
Every motherboard comes with CMOS battery. This helps the system to keep the clock ticking, make sure the BIOS settings are not lost when the computer is powered down. So when the computer turns on, the CMOS battery makes sure the information is available for the computer to boot up.
That said, if you temporarily remove CMOS battery for around 30 seconds or a minute, the settings are lost. Some motherboards are built such that removing the battery for long, resets everything. This includes the password for the BIOS / UEFI.
2] Clear Unknown BIOS/UEFI passwords using bios-pw website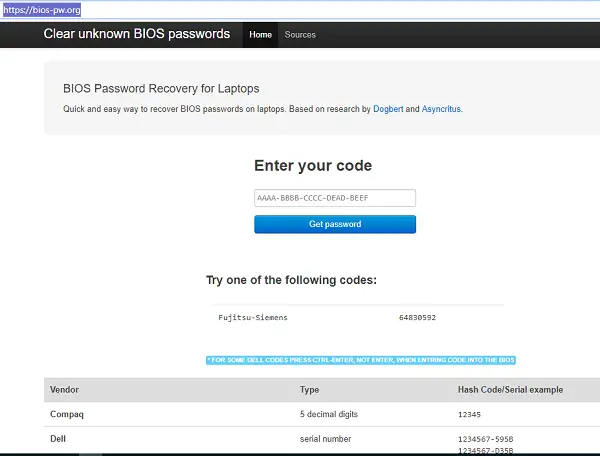 If the above step doesn't work, you can use this BIOS Password website to clear it. Follow these steps:
Enter the wrong password multiple times when prompted by the BIOS. This will lock you out of the system.
Post this, a new number or code on the screen. This will include a message about System Disabled [AAAAA] Service TAG [BBBBB]
Open the BIOS password website, and enter the XXXXX code in it. Make sure to hit Shift+ Enter instead of just enter.
It will then offer multiple unlock keys, which you can try to clear out the BIOS / UEFI lock on your Windows computer.
3] Call Customer care
If none of the methods work for you, it is best to call customer care and take their suggestions. They might help you over the call using the Service Tag or might suggest you visit a Service center and get this resolved.
TIP: PC CMOS Cleaner and CmosPwd are two tools that can help you recover or reset forgotten BIOS passwords.
Set a BIOS or UEFI Password
Setting up a password on BIOS or UEFI is not recommended, but if you have made up your mind, here is how you can do it. That said, BIOS or UEFI interface varies from OEM to OEM. So look for something related to SECURITY or PASSWORD.  You will have options similar to
Supervisor password: It is like a master password to change important settings.
User password: Using this, anybody can change minor settings.
Master password for the hard drive or a general password.
Some OEMs offer micro-control where you will need to enter the BIOS password. For example, you may get the option to skip for a normal restart or when selecting a boot device – while you may have to enter it for unattended reboots or when the computer is powered on, and so on.
If you are here to remove the password, look for a remove password option in the same section. You will get a prompt where you can enter the set password once. If it's correct, it will remove the BIOS password.
Once you are done, make sure to save and exit the BIOS. Reboot the computer and see if the settings have applied properly.
Lastly, be very careful with BIOS /UEFI locks. It's better to use a Microsoft account to lock the computer instead of this.
What special key gets you into BIOS?
Computers of different brands have different keys to enter into BIOS. Usually, these keys are F1, F2, F10, F12, or DEL keys. Refer to your system's manual to know which key is assigned to your system to enter BIOS or contact support.
How do I manually reset BIOS to default?
If your system BIOS gets corrupted, you can reset it. Resetting the BIOS restores all the settings to the default. BIOS corruption occurs due to several causes, like malware infection, power surge, etc. Computers of some bands, like HP, have a specific key combination to reset BIOS. Refer to your system manual or contact support. If your computer does not have a key combination, you have to enter BIOS settings to reset it.
That's it!