Microsoft Outlook is one of the world's most used email service. It's a great email client – probably the best at this point if you want to call it that. However, some users who have not used the service for a long time since the days of Hotmail are having difficulties returning. The primary reason is the inability to recover their passwords. Now, recovering a password where Outlook is concerned with the tools Microsoft has provided, is super easy, but it doesn't always work, especially if users lack important information.
With that in mind, we are going to show you how to recover your accounts password the regular way, and by way of using a freeware software known as Mail PassView. Once you have regained your account information, we suggest saving the login data in a web browser or one of the many free password managers.
How to recover Outlook Password
If you are having problems with recovering your Microsoft Outlook password, the following should help:
Use Outlook.com recover option
Recover password with Mail PassView
Let us look at this in more detail.
1] Use Outlook.com recover option
For most people, they will be using this option rather than Mail PassView, so pay very close attention. The first thing you will need to do here is to visit Outlook.com via your web browser and navigate to the sign-in section.
From there, type in your username, or email address, then hit Enter. After that, you should now see the option, Forgot my password. You will want to click on that right away to begin the recovery process. You will now be asked to enter your email address again, hit Enter, and follow the instructions provided.
That should be good enough for most cases in recovering a password, so don't stress yourself.
2] Recover password with Mail PassView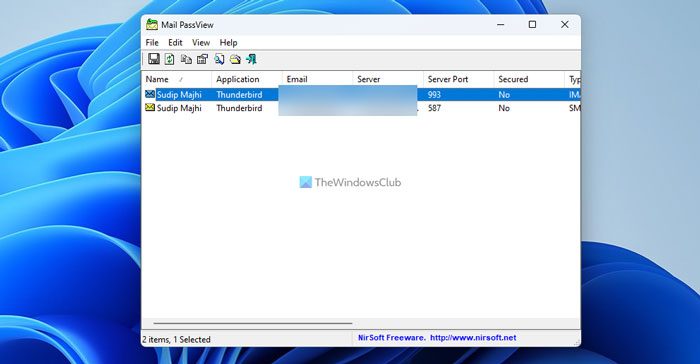 If for some reason you are unable to recover your password the easy way, then we must now look at the alternative that is not the best but could work for some. You see, for Mail PassView to work, users must have Outlook on the desktop.
To begin, download Mail Passview from the official website, and then install it. Bear in mind that some anti-virus tools might view the tool as a threat and block it from running on your computer. In such a case, be sure to allow the program never to be scanned by your anti-virus tool.
Now, after installation, the software should automatically show your account information. But keep in mind that it only supports POP3, IMAP, HTTP, and SMTP Accounts.
Download Mail PassView via the official website right now. The download link is towards the end of the post.
How can I open my Outlook if I forgot my password?
You can always reset your password from the official website of Outlook. However, if you cannot do that due to some reasons, you can take the help of third-party apps. For that purpose, you can use Mail PassView. It is free, easy to use, and handy tool to recover forgotten passwords.
Where are Outlook account passwords saved?
Like any other application, Outlook also stores passwords in the Registry Editor. However, the path is encrypted so that other users cannot access it in any way. For your information, you can navigate to this HKEY_CURRENT_USER\Software\Microsoft\Protected Storage System Provider.
Here is a list of some free Password Recovery tools that will help you retrieve passwords from Windows login, Internet Explorer, Chrome, Firefox, other browsers, Mail, Web, Wi-Fi, etc.