Losing or forgetting passwords of Outlook PST files is very common. Sometimes people need to access files so old that it is only normal to not remember the password anymore. If you are going through the same ordeal and have tried recovering the password and failed, you will finally find the necessary help here. You must have already tried everything you could. So here are some free Outlook PST password recovery software you can try next.
Recover forgotten Outlook PST Password
These free Outlook PST Password recovery tools work just fine. And before you use them, remember to always take a backup of the original file just in case it gets corrupt during the recovery process.
Free Outlook PST password recovery software
1] Kernel PST Password Recovery Tool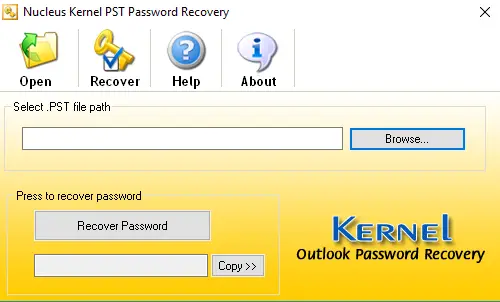 This free password recovery tool works in Outlook 2019/2016/2013/2010/2007/2003/XP/2002/2000/97 versions. And this one is pretty simple to use too.
Install and open the program.
Select the PST file concerned.
Click 'Recover Password'.
Note down the password given.
Let's hope it works for you. It can be downloaded from here. The free version recovers passwords of small PST files of up to 500 MB size only.
2] Outlook Password Recovery tool mentioned on Technet

This Outlook Password Recovery tool to quickly unlock or recover Outlook PST password and access protected pst file with Outlook mailbox. It also recovers Multilingual and Lengthy Outlook Password successfully. The free tool helps recover lost passwords up to 4-digit ASCII. This freeware can support large PST files as well as scan multiple files. Microsoft Technet says it is freeware, but I downloaded and checked it out. The download link downloads Voimakas Outlook Password Recovery tool, which is NOT free! It is just a Demo version, and to use it; you have to buy it. I even checked their website and did not find the link to any real free version – they all downloaded the Demo version, unfortunately. It is listed here on Technet. Maybe they need to change the description to avoid misleading downloaders.
3] Nirsoft PstPassword
This is a product of NirSoft. It is safe, free, and easy to use. However, only Outlook 1997 to Outlook 2007 users can use this software. It is fully functional only with these old versions. You could also try this if you have Outlook Outlook 2016 and later, but the update for these versions wasn't that reliable.
PstPassword is the simplest because there is no complicated set of steps you need to follow. You won't even need to install it. Just run the program, and it will automatically track PST files and suggest up to three passwords that are likely to belong to your file. You can manually load a PST file by dragging and dropping the file on the program window. It can be downloaded from here.
We hope that one of these password recovery tools will help you recover your Outlook PST file password.
TIP: Here is a list of free Password Recovery tools for Windows OS login, Browsers, Mail, Web, Wi-Fi, etc.