If you're a person who tends to do basic image editing, then it's always best to have a lightweight photo editing software to get the job done. There's no need to spend big bucks for PhotoShop or to download programs such as GIMP. A smaller and more efficient software is required for these minor jobs. I suggest considering rEASYze, a simple software designed for image editing. Users have the option of working with multiple images at the same time, and to make things even more interesting, rEASYze is portable.
It simply means there's nothing to install. Just download the program, unzip the file from the folder, and launch it.
rEASYze basic image editor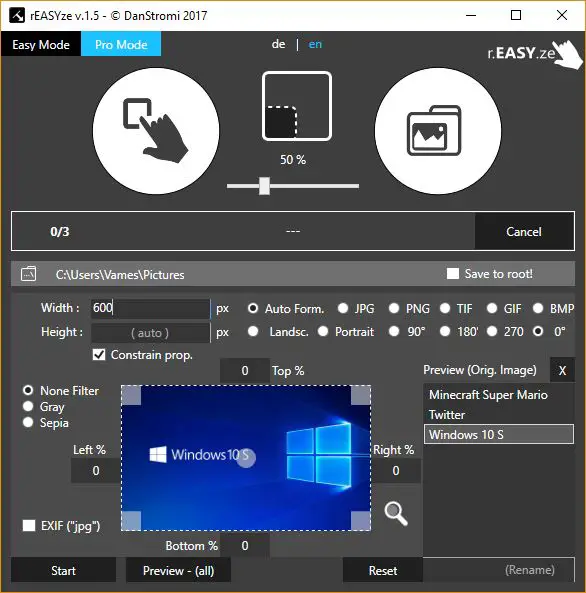 After downloading the software from the official website, the user must extract rEASYze from the ZIP file. Once unzipped, open the file using the Run as Administrator option for the best performance. We tried opening the file the regular way, but instead of launching, errors came on the screen.
Now, once the program is up and running, we recommend taking a look at the two options available – Easy Mode and Pro Mode. Easy Mode gives limited options that are not ideal for basic image editors. It delivers the option to drag and drop images along with the regular way of doing things.
We recommend choosing Pro Mode since it shows a preview of the image along with its file format. When multiple images are selected, the software lists them to the right section of the preview pane. Clicking the name of an image displays it. If folks want to erase all images, just click on the X button.
Resizing an image is very easy in Pro Mode since the width and height options are readily available. Just input the widths and heights of your pictures and watch as they change before your eyes. Furthermore, the ability is there to modify the format of an image. The supported image format at this time of writing is JPG, PNG, TIF, GIF, and BMP.
Interesting in adding filters? No problem, just keep in mind only Sepia and Gray filters are supported here.
After making all the necessary changes, click on the button that says "Start" and move on from there. We should point out that it's possible to add all the changes even before adding the images to the pane.
Related: rEASYze Batch Image Resizer & Photo Editor makes editing in bulk a breeze
The bad things
Want to know the size, width, and height of a picture? The program requires the user to hover their mouse over the image to learn of this vital information. We believe everything should be at the forefront, especially when dealing with multiple images.
At the end of the day, great program, just a little bit too simple, even for computer users with core competencies.
Download rEASYze from the official website.