Some Windows users, especially, the ones with HP computers are reporting an error saying QLBController.exe stops working. In this post, we are going to fix that error with some simple solutions.
QLBController.exe error on startup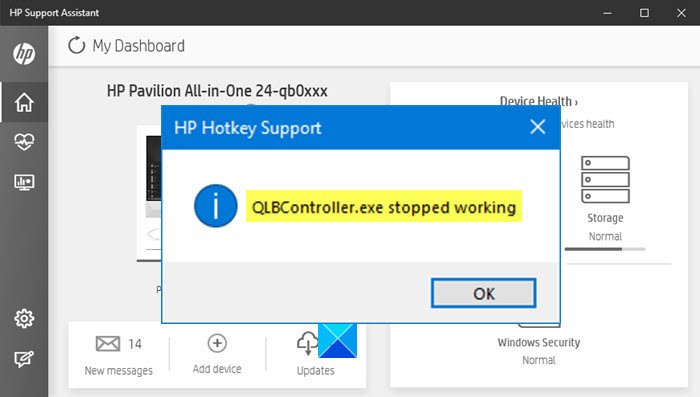 The genuine QLBController.exe file is a software component of HP Hotkey Support software. The HP HotKey Support (HPHKS) software provides the support for handling the Hotkeys.
There can be multiple reasons for the error on Windows 10, but the two of the most common reasons are interference of third-party applications and missing or corrupted driver. However, we have gone through all the possible fixes for the same.
These are the things you can do to fix the issue where QLBController.exe stops working on Windows 10:
Make sure all your HP drivers & firmware are updated
Reinstall HP Hotkey Support
Perform System Restore
Troubleshoot in Clean Boot State
Let us talk about them in detail.
QLBController.exe stopped working on Windows 10
1] Make sure all your HP drivers & firmware are updated
First, ensure that all your HP drivers & firmware are updated. It is best to use HP Support Assistant to update drivers and firmware.
2] Reinstall HP Hotkey Support
If you are experiencing this error in an HP computer, try reinstalling HP Hotkey Support. You can just hit Win + R, type "Control", and hit Enter to open Control Panel. Now, go to Programs and Features, look for HP Hotkey Support, right-click on it and click Uninstall.
Wait for the process to complete and reinstall the application from the HP website. You need to go to the support.hp.com website, identify your product, enter your model number and search for HP Hotkey Support. Click Download once you have located it – and install it.
3] Perform System Restore
If none of the solutions worked try performing System Restore. We are going to revert your computer back to a point when you were not receiving the error.
Note: This will only work if you have already made a System Restore Point.
To perform System Restore, hit Win + S, type "Restore Point", and click Open. Click System Restore, select a restore point and follow the on-screen instructions to perform System Restore.
4] Troubleshoot in Clean Boot State
In most cases, the problem is because of a third-party application. Clean Boot allows you to stop all the third-party applications and check the exact culprit of the error. You can check out our guide to troubleshoot in Clean Boot State.
Hopefully, we were able to help you fix the QLBController.exe error on Windows 10.