A lot of users have complained that they are unable to purchase any item or make any payment in the Oculus Store. This issue is pretty common and has been causing trouble for a wide range of users. In this post, we will talk about the same and see what should be done if a Purchase or Payment Failed in Oculus Store.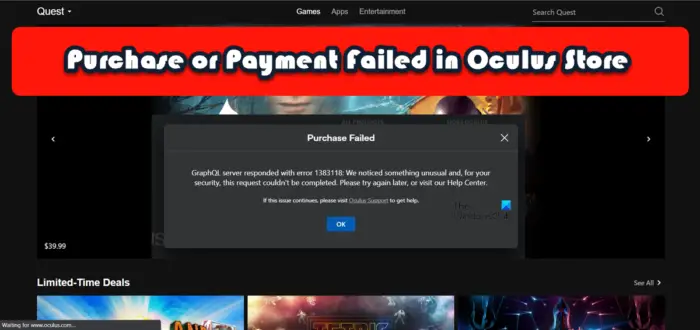 Purchase Failed. GraphQL server responded with error. We noticed something unusual and for your security this request couldn't be completed.
Why does my Oculus keep saying payment failed?
Payment may fail in Oculus if there is something wrong with your network connection or if the server is down. As for the former, you can try resolving the issue, but you can do nothing about the latter. There are some other reasons such as glitches from your bank, corrupted browser cache, etc. The best you can do is check the solutions mentioned after this to resolve the issue.
Fix Purchase or Payment Failed in Oculus Store
If a purchase or payment fails in Oculus Store, try the following solutions and workarounds:
Check your Internet Connection
Check Payment Method
Remove and then add the Payment Methods
Check Oculus Server Status
Clear Browser Cache
Look in Steam Store
Contact Oculus Store
Let us talk about them in detail.
1] Check your Internet Connection
First of all, let us check and make sure that your Internet is not the cause for the same. You can use one of the free Internet speed testers to know your bandwidth. In case, the Internet is slow, restart your router and if that doesn't work, contact your ISP and ask them to get rid of the issue.
2] Check Payment Method
For some users, the issue was caused by the bank side. You should try to change the Payment method and see if that helps. One of the workarounds that you can try is using PayPal instead of your normal Credit or Debit card. If you don't have a PayPal account, creating an account is an option. Also, if you have a card from a different bank, try it as well and see if that helps. Keep in mind that Oculus only accepts Visa, Mastercard, and American Express debit or credit cards.
Also, make sure that you are using the right pin or credentials when using the payment method. If you are entering the wrong pin the payment will be declined, or worse, your card or account will get blocked for security reasons. So, check your payment method and proceed.
3] Remove and then add the Payment Methods
In case, you are not able to use a different method of payment, try removing your existing payment method and adding it again. This will resolve the issue if it is because of a glitch. To do the same, follow the prescribed steps.
Go to the official website of Oculus and log in using your credentials.
Navigate to Menu > Settings > Payment Methods.
Go to the Payment method you need to remove, click on the three dots and select Remove.
Then, go ahead and add the payment method again. Hopefully, this will do the job for you.
4] Check Oculus Server Status
Maybe your payment was canceled because your client is unable to communicate with the server as the server itself is either down or under maintenance. You can use one of the free down detectors to know the server status of Oculus. In case the server is down, the only thing you can do is wait for the issue to be resolved. In the meantime, just keep checking the server status and see if that helps.
5] Clear Browser Cache
If you are trying to make the payment using a browser, then there is a high chance that the corrupted cache of the browser is stopping the payment from getting completed. To clear the cache of your browser, go to its respective guide.
Microsoft Edge
Open Edge.
Click on the three horizontal dots and select Settings.
Go to Privacy, search, and services.
Click on Choose what to clear from Clear browsing data.
Set the Time range to All time and click on the Clear now button.
Google Chrome
Launch Chrome.
Click on the three vertical dots and go to Settings.
Select the Privacy & security tab.
Click on Clear browsing data > Clear data.
Mozilla Firefox
Search out Firefox from the Start Menu.
Click on the three horizontal lines and go to the Settings option.
Go to Privacy & security > Cookies and site data > Clear Data.
If you are using Opera, check our post to clear its cache.
You should restart your browser and then check if the issue is resolved. If your payment or purchase fails because of a corrupted cache, this solution will do the job for you.
6] Look in Steam Store
If there is something that you want to buy from the Oculus store, then it is worth checking for the same in Steam Store to make the purchase. To do the same, go to store.steampowered.com, search for the app you need and just buy it. Hopefully, this will do the job for you.
7] Contact Oculus Store
If nothing worked, your last resort is to contact the Oculus Store and ask them to resolve the issue for you. However, keep in mind that since the scale at which Oculus operate is enormous, it is very likely that you will have to mail a few time before getting a reply.
Hopefully, you can resolve the issue using the solutions mentioned in this article.
Read: SteamVR Error 1114, There is a problem with Oculus runtime installation
Oculus doesn't accept payment from all cards. So, if you are using anything other than Visa, Mastercard, and American Express debit or credit cards or PayPal. Although the cards may work for most of you, if they are not working, try PayPal. A lot of users who were unable to make the payment used PayPal and their issue got resolved. So, in theory, both options will work for you, but PayPal has the highest chance of completing the payment.