PUBG is undoubtedly one of the most played games but it's not error-free and there is some fixing needed to be done. Its devoted gamers are being hit by an error message that says the following.
ERROR: Your Client will now close due to the detection of an unauthorized device. Mouse macros and devices used to gain an unfair advantage are strictly prohibited.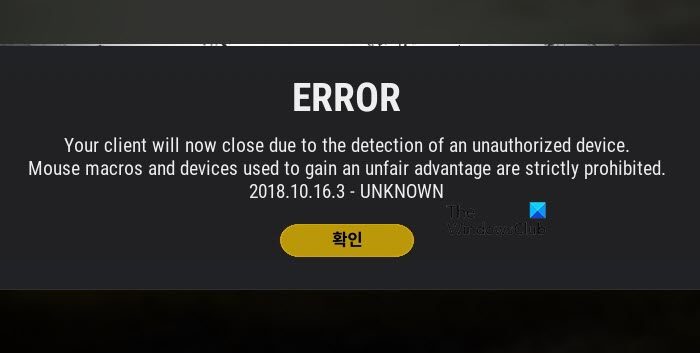 So if your PUBG client closes due to the detection of an unauthorized device, then this article is a one-stop-shop for you. Here, we are going to see some easy solutions that you can use to resolve the issue.
Why is the PUBG client closing?
If you are seeing the error message and question, then the first thing you need to do is check if your PC is connected to any Macro devices, as it is can give you an unfair advantage in the game. Because of that advantage, PUBG has a strict policy of no macro devices.
It can also occur when you do not have any prohibited devices connected but PUBG support creates a false positive detection. There is only one thing you can do in this case and that is to seek PUBG Support Team. You need to ask them to resolve the issue from the backend. We are going to talk about all about them in detail in this article.
PUBG client closes due to the detection of an unauthorized device
If the PUBG client closes due to detection of an unauthorized device, then you should, first of all, restart your computer once and check if the issue persists. Restarting the computer, will also restart some services and can get your game back on track.
Remove Macro devices
Reset your Network
Open a support ticket
Let's start with the first one.
1] Remove Macro devices
First of all start by removing any Macro devices that you may have such as a mouse, keyboard, USB, etc. Make sure to not use any Macro device as that can get you banned permanently from playing the game. If any such devices are connected to your computer then disconnect them and restart your computer. Finally, Relaunch PUBG, this time you won't face the error message in question.
But if disconnecting the macro device didn't worked then see the next fix.
2] Reset your Network
The issue can also occur because of some glitch in your network device. These glitches can usually be resolved by restarting the computer. But since you might have already restarted your system, there is no need to do it again, as that clearly is to no avail. Instead, you should reset your Network from the Windows Settings and see if that works.
3] Open a Support Ticket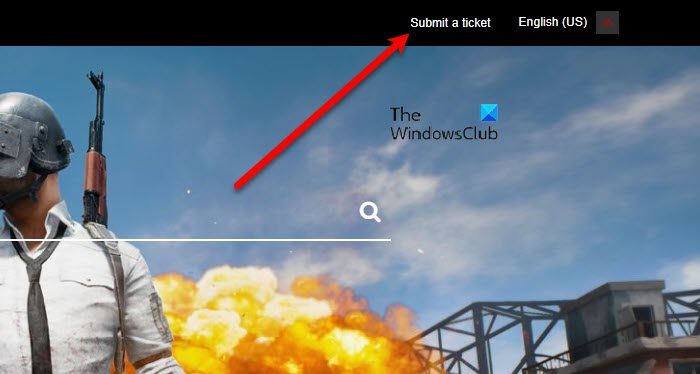 If nothing works, then your last resort is to contact PUBG support. But before that, you should not be connected to any macro devices. This time, we are going to tell them that we have no macro devices connected to our system, but we are seeing this issue.
Here's how to open a Support ticket.
Open Browser and go to support.pubg.com aka PUBG's support page.
Select the language from the left corner language drop-down bar.
Click Submit a ticket.
Now, a drop-down menu will open.
Click on PUBG Steam Support.
Fill in your credentials, that is, your Email and Steam ID.
In Issue options, click on Launching Issue.
Click on Submit after you have filled in all the information.
Finally, wait for the response and then follow their instructions to resolve the issue.
How do I fix anti cheat error in PUBG?
When the anti cheat error occurs in PUBG, it closes automatically by showing the "Your client will close in 10s due to a Critical anti-cheat process not running correctly." error message. If you are using a VPN, disable it. This can be due to internet connectivity issues. Hence, resetting your network can also help. Sometimes, antivirus blocks a program from running properly. Disable your antivirus temporarily and see if it helps.
Hopefully, you are able to resolve the issue with the given solutions.
Also check: