Microsoft sometimes discontinues or retires its products without providing enough information about why they do it. Some good products were still in demand, but Microsoft refused to continue them. This post looks at discontinued and failed Microsoft products – operating systems and different software compatible with Windows OS.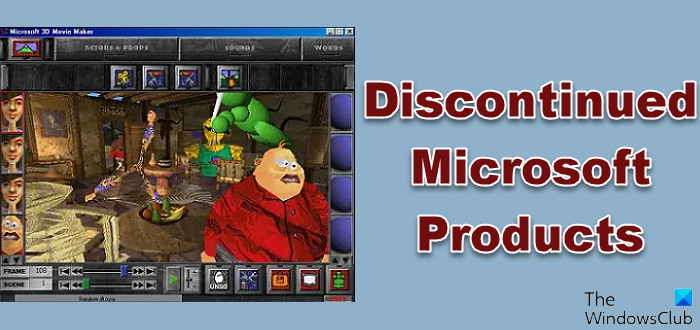 Discontinued Microsoft Operating Systems
These are not exactly discontinued. They are abandoned by Microsoft 0r they may have reached end of support. You can still use them if they are on your computer or by installing them using disks/floppies/USB drives. Microsoft stopped supporting these outdated operating systems. There is no official support from Microsoft, and these so-called "discontinued" operating systems will not prove to be safe from malware. Plus, the current-day apps may not work on older operating systems:
MS-DOS, the operating system on a floppy disk
MS NET, the operating system that was used on DOS (disk operating systems) networks; it provided the essentials of networking while being connected to a server running DOS
MSX-OS, which worked alongside MS-DOS to help reduce overheads on running disk operating system; for example, it bypassed traditional BIOS values listed on PC and allowed for a range of storage systems to be connected to the PC
Windows Mobile operating system: Microsoft discontinued its phone OS business as it was not being received properly in the market; It may come up with a new Surface phone but that would mean waiting a bit until they finalize the project.
The first three of the above were command-line interfaces (CLI). Then came the graphical user interface (GUI) at the cost of speed. Windows 1.0 to Windows 3.1 fall under this category. Speed was improved in Windows 98 which came after Windows 95, the reason behind being advanced hardware's availability as well as efforts from the app developers.
After Windows 98, came Windows ME (millennium) which served as a lightweight operating system, and Windows 2000, but they didn't gain any popularity and were replaced by Windows XP.
Beyond that, the operating systems were Windows Vista and Windows 8.0 as they did not receive any good reviews. Windows 8.1 was acceptable and now Windows 11 and Windows 10 are being offered by Microsoft.
Read: Interesting lesser know Microsoft Trivia and Fun Facts.
Discontinued Microsoft Products
The following discontinued Microsoft products were mostly enhancement and utility tools for Windows lineage. Some of them were software created to perform tasks such as accounting, database management, etc., on Windows OS.
3D Movie Maker was a popular video maker. It allowed users to superimpose their own artifacts on pre-rendered 3D environments. The artifacts could be images, music, sound effects, and special effects
Microsoft Accounting was an upgraded version of Small Business Accounting (too from Microsoft). The software allowed managing accounts for very small to small-sized businesses. Though discarded now, the company will still provide support up to December 2021
Active Channel was a sync tool in Internet Explorer. It was introduced with IE 4.0 in 1997 and was used to sync websites and its pages so that you could see the latest pages even when offline
Microsoft Anti-Virus (MSAV) was an antivirus solution developed by Microsoft in the early 90s. The antivirus was introduced with MS-DOS 6.0 and was discontinued MS-DOS 6.22. There were no automatic updates. Users had to manually download the new virus definitions to install them
BackOffice Server is related to Windows NT (New Technology); it added features to Microsoft Server that ran on NT servers; this was discontinued in late 2001
Microsoft Bob was a virtual assistant for use with Windows 3.1 and Windows 95 operating systems. It displayed a number of icons. Users click any of these icons to launch related programs. It didn't find many takers even though it had the ability to send "dial-up" emails back in 1993.
Bookshelf was a collection of references just as the Microsoft Encarta. People could search, using keywords, for information just as they did in Encarta.
CD Player was an interesting feature that lets users play audio CDs using the sound card. It was introduced in Windows 95 and discontinued Windows ME in favor of Windows Media Player.
Comic Chat allowed users to choose their DPs as comic characters. The character DPs had different emotions attached to them. Lost to Yahoo! chatrooms.
Creative Writer was created by the Microsoft Kids team. It allowed the creation and editing of documents like letters and posters. It came with several fonts and clip art etc. Deprecated in favor of Microsoft Word
Dangerous Creatures was an educational application for Windows 3.1. It was a mix of Encarta, Works, and Best of Windows Entertainment Pack. The main feature of these discontinued Microsoft products was looking up different types of animals based on their geolocations and their distinctive features
Microsoft Data Analyzer was built into Office XP Suite. It was used to analyze data, create charts and graphs. The output could be saved in a number of formats: HTML, XLS, and PPT
Microsoft Diagnostics was a software tool that allowed viewing the status and printing of computer components. It helped in troubleshooting the devices running Windows operating systems. It was discontinued in the late 1990s as it could not detect plug-and-play devices and certain other types of peripherals.
DirectX Media: A set of multimedia-related APIs that could enhance games and multimedia activities. It contained web animation 2D/3D and DirectShow for multimedia streaming with emphasis on higher resolution display.
DriveSpace: A utility for compression of Hard Disk Drives, it worked well for floppy disks as well. It came with MS-DOS 6.0 and some parts of it belonged to a company named Stac Electronics. Microsoft wanted to take over DriveSpace, but Stac Electronics couldn't agree – landing Microsoft in a legal battle. Perhaps that was the reason why Microsoft didn't keep it alive.
Encarta: was available both on disks and on the Internet. It was initially a paid program containing encyclopedia, dictionaries, and atlas maps. The service was later online only and displayed advertisements for revenue.
Windows File Manager was a useful explorer to explore and browse folders on Windows operating systems. Though deprecated, the program File Manager is still available for different versions of the Windows operating systems, including Windows 10.
LAN Manager: Network operating system from Microsoft and 3Com, LAN Manager allowed multi-tasking on network servers. Instead of a full OS, LAN Manager worked as a task, enabling multi-tasking. It was relieved in 1994, when the Windows NT Advanced Server took over computers.
Internet Explorer: The first browser to beat Netscape Navigator in terms of market share. Though the product has been depreciated, support is still being provided because it has to be phased out properly as many businesses are still using the browser. It was not discontinued even in Windows 10 that had an alternative default new browser named Edge.
Microsoft Mail: Outlook Express, in its early days, was called Microsoft Mail. This could send and receive emails. It gave way to Outlook Express. Outlook Express too has been removed from the market. Windows 10 now uses a new Microsoft Mail app.
Outlook Express: Used to send and receive emails with many other features. It was the predecessor of Windows Mail we see in Microsoft 365 these days.
MapPoint: was a software that allows users to view, edit, and combine maps. It was intended for small to medium-sized businesses. MapPoint was also used with Microsoft Atlas, Bing Maps, and Microsoft Streets and Trips. The webpage for MapPoint now talks about other options that can be used with Bing to create custom maps.
Microsoft Binder: This was an application program that came with Office 95, Office 98, and Office 2000. It helped users with collecting and arranging artifacts such as spreadsheets, presentations, documents, clip art, and similar things. Windows OS components contained Unbind add-on that helped unbind files bound by Binder. It was discontinued with Office 2003
Microsoft Classroom: The idea behind this application program was to make studies more interesting and paperless. The product was supported until January 31, 2018 by Microsoft. Some features of the Microsoft Classroom can now be found in Microsoft Teams.
Digital Image: Was a digital image editing program. This came into market after replacing Microsoft Picture It, which too is now defunct
Microsoft Picture It: This was the predecessor of Microsoft Digital Image. The application too was a digital image editor. It had a wizard that helped with edits. Picture It was later discontinued in 2001.
Expression Web: This was used to build and edit webpages. It supported HTML, HTML5, CSS 3, JavaScript, and XHTML. This was a part of now discontinued Expression Studio
Expression Encoder: Part of Expression Studio, the Expression Encoder helped in video editing. It was dependent on Microsoft Silverlight for encoding videos into formats like WMV
Silverlight: Now deprecated, the Microsoft Silverlight served as a platform to stream media. It could be harnessed using both a GUI and a CLI (Command Line Interface). It supported multimedia, games, and animations.
Frontpage: was a "What You See is What You Get" (WYSISYG) web page developer. People could arrange elements on their webpage and Frontpage created HTML code automatically. Frontpage was discontinued in favor of the Expression Web (see point 27) but the latter too was discontinued to promote SharePoint Designer, which is an online tool.
Microsoft GIF Animator: Was used to create GIFs that could be used independently or with Frontpage (see point 30). It is now not available for download from Microsoft site directly. It may be still available on third-party download sites if you want to check it out.
Office Picture Manager: This was a replacement to Microsoft Photo Editor. It could help users in basic editing: color correction, flipping the image horizontal and vertical, resizing and things like that. It worked only on raster images and didn't support vector images.
Personal Web Server (PWS): Acted as a web server software for Windows OS line. It was removed from the market in favor of IIS
Java Virtual Machine (MSJVM): Microsoft has a MSJVM too. It was created for Internet Explorer (IE) version 3. It allowed users to run custom Java applets while using the Internet. In 1997, Microsoft was sued by Sun Microsystems for improper usage of Java standards. The suit was settled, and Microsoft removed Java Virtual Machine.
Microsoft Money: It was a software that helped users in managing their money and assets. It was not exactly a complete accounting package but allowed users to track their expenses, building budgets, and viewing bank balances. It was for Windows line of Operating Systems. The program was discontinued in 2009 even as a new Money app is now available in Windows Store since 2012
Microsoft Music Central was an encyclopedia of special type. It contained information about music. It was more than a huge collection of biographies of different musicians. In addition to that, the gallery on Music Central CD-ROM contained album art, lyrics in some cases, video, and audio clips
Photo Editor was a basic image editing and enhancing tool that used to be shipped along with Microsoft Office 97. It was later replaced with Office Picture Manager (see point 32 above).
Microsoft Photo Draw was a vector and raster image editor. Vector images store the images by creating mathematical equations and thus, can be resized without losing any part of the drawing. Contrary to that, Raster graphics use pixels that break when the image is enlarged. This Microsoft Photo Draw was released with Microsoft Office 2000, in 1999. It was also available as a standalone product on three CDs. It was retired in 2009.
Photosynth allowed users to create 3D images from 2D footage. People could shoot 360 degrees, both clockwise and anticlockwise and then use the Photosynth software to create a 3D model out of the photos.
Quick View is now discontinued software. It allowed users to open files of any type. There were eight upgrades of the software from Quick View version 1.0 to Quick View 8.0.
Microsoft Reader was a reader for reading e-books. It was released for Windows 8.1. It could read books of different formats: XPS, PDF, TIFF, JPG and similar formats. It was discontinued because the reading ability was transferred to Microsoft Edge.
RichCopy was used for copying files in bulk, unlike the XCopy command, which copies files one by one. The software used multiple channels to copy many files at the same time.
Microsoft Schedule Plus was a time management application released with 1992 for Windows 3.0. It was discontinued after its features were moved to Outlook 97.
Windows Movie Maker allowed its users to create simple movies. It would let them import audio, video, and images and then apply special transitions/effects. This was released in September of 2000. It was part of the Windows Essentials package that was a group of software.
Windows Essentials was a set of programs available for free download and free use. It contained Windows Movie Maker (see point 44), an email client, instant messenger, and a software called Writer to assist bloggers in creating blogs and publishing them.
Windows Essentials Writer allowed users to import the templates of their blogs and help in composing blogs. Users could arrange blog artifacts: text, video, images, and hyperlinks. Then, the users could publish it directly from Writer.
Microsoft Live Messenger was part of Windows Essentials (see point 46). It was initially called MSN Messenger until 2005. In 2005, it was rebranded as Windows Live Messenger. The app allowed users to chat among themselves. Microsoft discontinued it to focus on Skype.
Microsoft V-Chat was a 3D chatting application. The software came with 3D artifacts to make chatting interesting. It could be used to host conferences. There was a wizard available with Microsoft V-Chat that helped in creating 3D custom avatars. V-Chat users could send multimedia objects to other users
Video for Windows was a multimedia framework from Microsoft that allowed Windows users to play and encode digital media. It was released first in the year 1992. Later, it became part of DirectShow.
Works came as a trimmed version of MS Office. It was a cheaper alternative to Office and included a word processor, spreadsheets, and a database management system. It had to be discontinued in favor of Office 2010 Starter Edition.
The above aims to present a comprehensive list of discontinued Microsoft products. If you think I missed something, please let me know via the comment section below.