Whenever you connect your devices like Android Phone, iPhone, or iPad to a Windows 11/10 PC, the Photos app launches instantly. It does this to allow you to import all the media, but this is not the desired course of action one expects every time. Because, many times, users plug the phone for charging and not for synchronization. This condition can be fixed via a simple change in settings.
Stop Photos app from opening when connecting Phone to PC
To prevent the Photos app from opening itself automatically, when connecting an iPhone or Android phone to a Windows 11/10 PC, you have two ways:
Disable AutoPlay in Settings
Disable AutoPlay using the Group Policy Editor
1] Disable AutoPlay in Settings
Windows 11
Right-click the Windows button on the Taskbar and choose Settings from the list of options given. Alternatively, you can press Win+I keys together to go to the Settings in Windows 11 directly.
Select Bluetooth & other devices from the side panel on the left.
On the right, scroll down to the Autoplay heading. This setting lets you set defaults for removable drives and memory cards.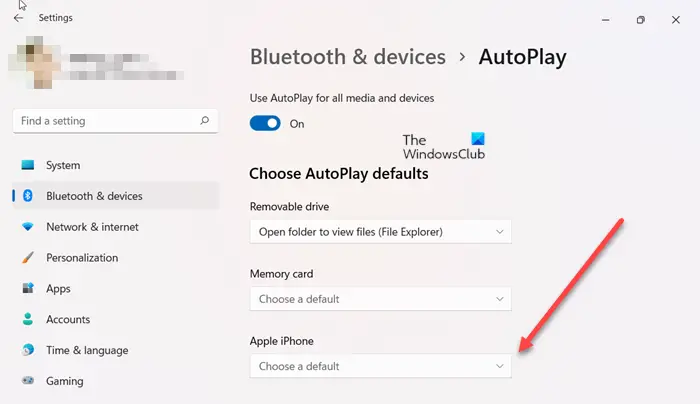 Expand it by clicking the side-arrow and when directed to a new screen, go to Choose AutoPlay defaults section.
Hit the drop-down menu under the Apple iPhone heading and choose any one of the following options,
Take no action.
Ask me every time.
Windows 10
When you plug in a removable device such as a USB or a memory card into your computer, you'll find 'AutoPlay' popup appearing on your computer screen. Its main purpose is to detect the kind of media plugged in and automatically act on your behalf. But if you do not like it, try any one of the below-mentioned ways to get rid of it.
Click on the 'Start' button and choose 'Settings'.
Under 'Windows Settings' select 'Devices' and scroll down to 'AutoPlay' section in the left pane.
Next, configure 'AutoPlay' defaults. For this, choose Apple iPhone and hit the drop-down arrow adjacent to it.
Select any one of the following options,
Take no action
Ask me every time.
This should work.
2] Disable AutoPlay using Group Policy Editor
Press Win + R simultaneously to open the Run dialog box. Type 'gpedit.msc' in its search bar and hit 'Enter'.
Next, go to 'Computer Configuration' > Administrative Templates > Windows Components".
Under 'Windows Components' find and select 'AutoPlay Policies'.
In the right-hand side details pane,  select 'Turn off AutoPlay' and disable AutoPlay on all drives.
After completing the above steps, the Photos App will be stopped from opening itself automatically anytime you connect your phone.

What does AutoPlay do in Windows?
It's a setting in Windows that scans for any newly discovered removable media and devices and, based on content (images/video/music files), launches an appropriate application to play or display its content. This makes it easier to see multiple files without having to select each separately or clicking the play option individually.
Is AutoRun and AutoPlay the same?
No, AutoRun and AutoPlay differ from each other in many ways. For instance, AutoRun is a technology used to start some programs automatically. On the other hand, AutoPlay is a feature in Windows that lets a user choose which program should run when a specific type of device, such as a USB or a smartphone is connected to the computer.