If you often accidentally detach Tabs in your open Firefox windows,then you prevent this from happening by activating a flag from its Configuration Page. In this post, we will show you how to do it.
Prevent accidental detaching of Tabs in Firefox
To prevent accidental detaching of Tabs in Firefox:
Open the Firefox browser.
Type about:config in the address bar.
Hit the Enter button.
Click on Accept the Risk and Continue button.
Search for browser.tabs.allowTabDetach.
Double-click on the configuration.
Restart Firefox.
At first, you need to open the Advanced Preferences window in the Firefox browser. For that, write down about:config in the browser's address bar, and hit the Enter button. It will welcome you with a warning message mentioning the caution you might keep in mind before going forward. You need to click the Accept the Risk and Continue button.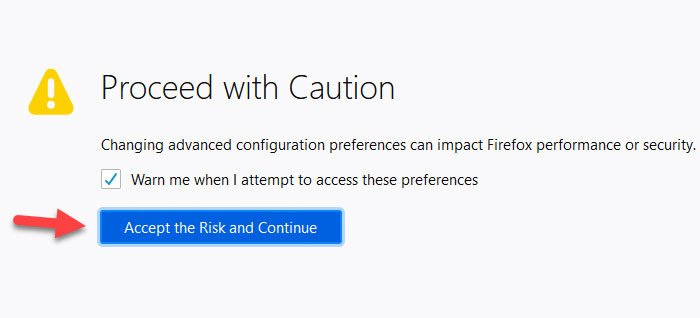 However, if it is not available in your browser, you need to enable Configuration editor from Registry Editor.
After that, search for this setting:
browser.tabs.allowTabDetach
By default, the value should be set to true. You need to double-click on the value to set it to false.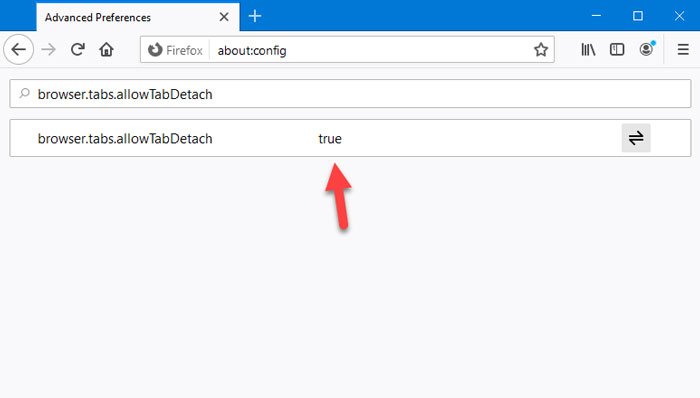 That's it!
From now onward, you cannot create a new window while changing the position of a tab. It won't directly work as it used to be. You can change the position of a tab in the same window, but it will reduce the chance of accidental detaching of tabs in the Firefox browser.
Do note that you can create a new regular tab and a new private tab. It is also possible to convert an existing tab to a new window. For that, you need to right-click on the tab > select Move Tab > Move to New Window.
Unfortunately, this functionality is not available in the Google Chrome browser, as of now.