Microsoft PowerPoint is the most used presentation tool on the planet, and for very good reasons. If you want to create professional presentations for work, then this program is your best bet since it is super easy to use, therefore, it shouldn't take a long time to prepare.
Now, the PowerPoint web app may not be as feature-rich when compared to the desktop version, but it is good enough for most of what you're going to do. Microsoft introduced a cool feature called Presenter Coach for PowerPoint on the web. The tool is designed to allow users to rehearse their presentations in private before stepping into the real world.
Before going forward, just bear in mind a Microsoft account is required to use the web version of PowerPoint. So, go on ahead and create your account, a step that is simple and shouldn't take any more than five minutes to get done.
How to use Presenter Coach in PowerPoint
Before you proceed, visit account.microsoft.com to create a Microsoft account, if you don't already have one.
Log in with Microsoft account
OK, so the first thing you must do is log in to your Microsoft account by visiting the PowerPoint web app page. After you've done so, you should see a list of all your recent online presentations if you have done this before.
Alternatively, you could visit the Microsoft Office online page, then click on the PowerPoint button to get started.
All modern web browsers are supported here, but well be using Mozilla Firefox throughout the article.
Launch the PowerPoint Presenter Coach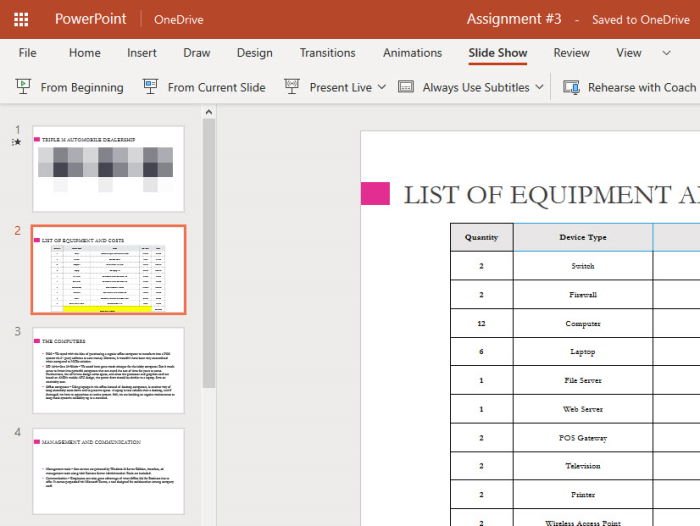 We will assume that you have a PowerPoint document created before-hand on your computer. Click on Upload and open, then seek out the document and upload it to the web app. Once that is done, select Slide Show from the tab at the top, then click on Rehearse with Coach.
Let's get ready to rehearse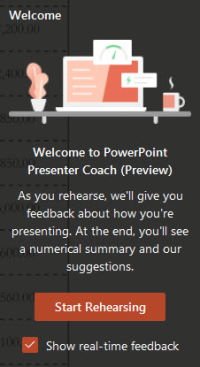 The first step to take is to click on Rehearse with Coach button, then after that, wait for it to load in full screen. Be sure to allow the browser to use your microphone when asked as this is very important for going forward.
Select Start Rehearsing from under the section that says Welcome to PowerPoint Presenter Coach (Preview). Everything should now begin, so go on ahead and practice your presentation by speaking into the microphone.
Be sure to click through all the slides because to get a full report at the end of your presentation.
How to create and use a Hanging Indent in Microsoft PowerPoint
Have a look at your report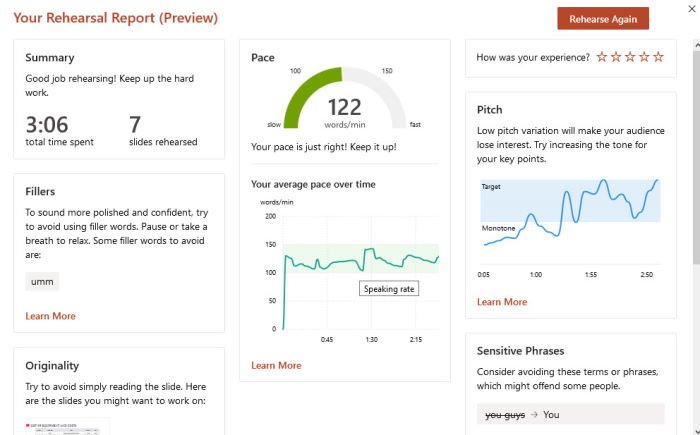 Once you're done with the presentation, the next step is to click the Esc button on your keyboard, and right away the system should generate a report of your performance. As you can see from the image above, we've used the word umm a few times, and that's bad.
In fact, during the rehearsal, the tool will recognize the words you speak to determine if you're delivering a coherent presentation.