Are you experiencing PR_CONNECT_RESET_ERROR on Firefox or Chrome and looking for ways to fix it? If your answer is yes, this article can help you. The PR_CONNECT_RESET_ERROR is one of the browser errors that Firefox and Chrome users experience while opening a site on the browser. This error basically tells you that something is preventing your browser from accessing the server (the website you are trying to open) for a variety of reasons, including a piece of software that is blocking it, incorrect browser settings, a firewall, and more. However, there is no obvious explanation in the error message itself.
Fortunately, there are a few tried-and-true solutions to fix the issue and restore Firefox or Chrome to functioning order, and we will discuss them in this article. Before delving into the methods to solve the problem, we'll first go over some specifics about it.
What does the PR_CONNECT_RESET_ERROR message mean on Firefox or Chrome?
When you attempt to open a website using the HTTPS protocol on browsers like Firefox and Chrome but are for some reason denied access, the PR_CONNECT_RESET_ERROR appears. Sometimes, this error happens when you try to open a particular website in your browser but other websites load flawlessly.
The site you are opening may not be accessible as a result of the problem, which could be caused by misconfigured network settings in your browser. In this situation, your best course of action is to check your browser's network settings and make a few adjustments using the comprehensive techniques we'll go over in the following section of this article.
The agent preventing your access and causing the PR_CONNECT_RESET_ERROR may sometimes be corrupt files, TCP protocol filtering, or a firewall. You'll keep getting blocked from accessing the website you're trying to open until you get a solution to this problem. The solutions listed below have been prepared to assist you in resolving the problem.
But since we don't know what caused the problem, you might need to try more than one fix until the problem is resolved.
Fix PR_CONNECT_RESET_ERROR in Firefox or Chrome
The very first thing you should do when being faced with the PR_CONNECT_RESET_ERROR is to restart your computer as well as the internet source you are using. This approach has been helpful for some people and could help you fix the issue too. However, if after restarting the devices, you still keep getting the error, then you should try the following solutions below:
Clear browser cache
Enable DNS over HTTPS in your browser's proxy settings.
Disable Proxy Settings on Windows
Remove third-party firewall and antivirus software.
Flush DNS
Disable extensions or try using a new browser profile with no extensions.
1] Clear browser cache
The PR_CONNECT_RESET_ERROR can be caused due to corrupt browser cache files blocking your access to the site you are trying to open. In that case, you will have to clear the browser's cache to fix the issue if the cache is actually the reason why you are getting the error. To clear your browser cache, follow the steps below:
Firefox
On the Firefox browser, close all the open tabs except the one you are trying to open and click on the three-line icon at the top-right corner of the browser homepage.
Select Settings on the resulting menu and click on Privacy & Security.
Navigate to the Cookies and Data option and hit Clear Data in front of it.
Check the Cached Web Content option and leave the other one unchecked.
Then click on Clear.
Chrome
Hit the three-dot icon at the top-right corner of Chrome.
Click on More tools and select Clear browsing data.
Set the Time range as All time.
Check Browsing history, Cookies and other site data, and Cached images and files.
Then select Clear data.
You should restart your computer after performing this solution and then try to open the site again afterward.
2] Enable DNS over HTTPS in your browser's proxy settings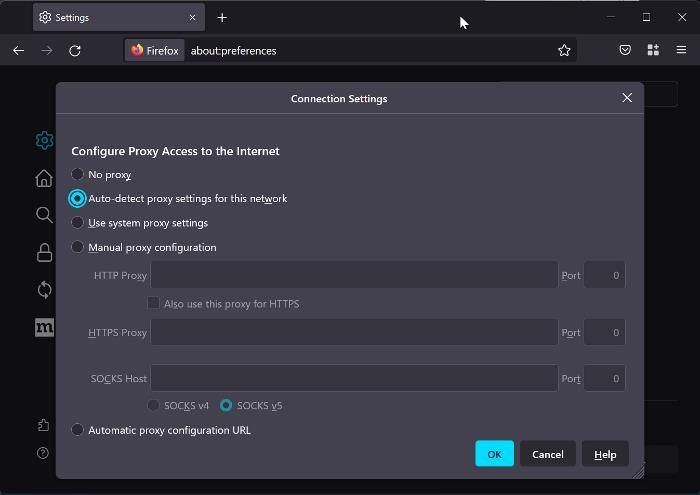 A solution that has helped fix this error on Firefox for some people is enabling DNS over HTTPS in the browser's settings. Hence, you could try it as well using the steps below:
Click on the three-line icon at the top-right corner of Firefox's homepage and select Settings.
In the General section, navigate to Network Settings and hit Settings next to it.
Now, tap on Auto-detect proxy settings for this network under Configure Proxy Access to the Internet option.
Scroll down and tap on the Enable DNS over HTTPS option.
Click OK to save the changes.
3] Disable Proxy Settings and VPN on your PC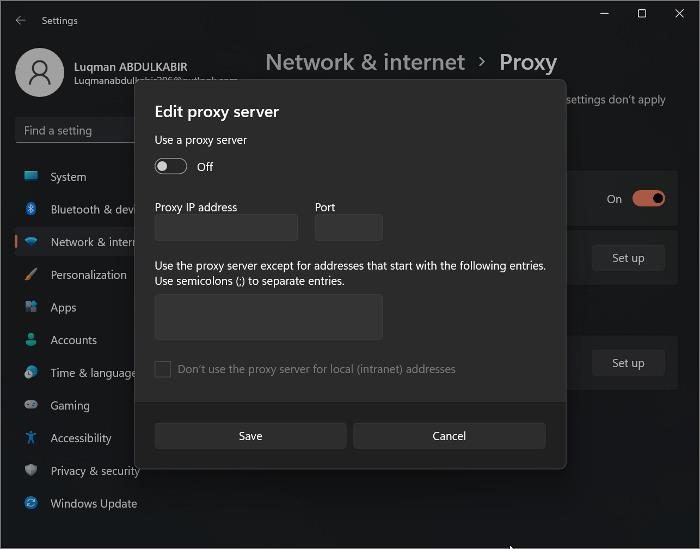 Many people make use of proxy servers and VPNs to cloak their presence on the internet. When this gets detected by some sites, your access could be blocked and that may result in the PR_CONNECT_RESET_ERROR. Due to this reason, you should disable the proxy setting on your computer and also remove the VPN running on the PC. Here is how to do it disable proxy on Windows:
Press Windows + I to open Settings.
Click on Network & internet
Navigate to Proxy and select it.
Under the Manual proxy setup option, click on Set up in front of the Use a proxy server option and toggle it off.
You can end the process for the VPN running on your computer or uninstall it. Close and reopen your browser after this, and hopefully, the error will have gone.
4] Remove third-party firewall and Antivirus
Firewalls or antivirus could also be the agent causing the interruption between your browser and the server you are trying to access. In cases like this, the best way out is to remove any third-party firewall or antivirus running on your computer and see if the error is resolved.
5] Flush DNS
Another thing you could do if the previous solutions didn't work is to flush the DNS on your PC. This approach helps in fixing a lot of network-related issues and could help in this case as well.
To flush DNS on your computer:
Tap on the Windows Search and type Command Prompt.
Select the top result to open CMD.
Type ipconfig /flushdns and hit Enter.
6] Disable extensions or try using a new browser profile with no extensions.
We can't rule out the possibility that extensions that have access to block sites from the opening can be the reason behind this issue. This is why it is recommended to disable a recently added extension on your browser or use a new browser profile with no extension to open the site.
If none of the solutions above worked, which is rare, you should switch to another Internet source. This will be helpful if the Internet source you are using is restricted or having connection issues. Let's know the solution that worked for you in the comment section below.
Read:
Can PR_CONNECT_RESET_ERROR be caused by an extension?
It's possible that the PR_CONNECT_RESET_ERROR is due to an extension you've added to your browser that's getting a false positive threat. If this is the case, you should disable or totally remove your recently added extensions in order to fix the issue.
How do I fix PR_CONNECT_RESET_ERROR if it's caused by geo-restriction?
VPNs can be used to access sites that are being blocked due to geo-restriction. So if you are getting the PR_CONNECT_RESET_ERROR on your browser, you should try using VPN.