We have already seen how we can use PowerShell to change the number of App Tile Rows on Start Screen, to fix Windows Store apps crashing, create Shutdown, Restart, Logoff, Switch User, Hibernation Tiles and Uninstall & Completely Erase All Pre-Installed Modern Apps in Windows 11/10.
We have also already seen one way to Access and Launch UWP Apps from Windows Desktop or Taskbar. Today we share a way to create a desktop shortcut, which you can also pin to your taskbar, to open UWP or Windows Store apps in Windows 11/10 – this one using PowerShell.
Create desktop shortcut to open Windows Store apps
To create a desktop shortcut for Windows Store apps, you can also use this PowerShell Script
Once you have downloaded it, open Windows PowerShell and follow the instructions.
After you have completed the easy-to-understand instructions, you will see a desktop shortcut created as shown in the image. You can also pin it to your Windows 8 taskbar.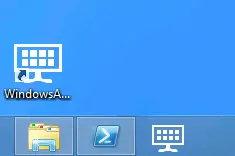 Visit TechNet here to download the Create Windows Apps Shortcut To Desktop (PowerShell) file.