If your PowerPoint font is not displayed properly in a presentation, then this post will help you. When creating a good PowerPoint presentation, it is important to choose a good font, one that fits the topic at hand. Sometimes, you may have to download and use unusual fonts that are not originally part of the Microsoft Office suite.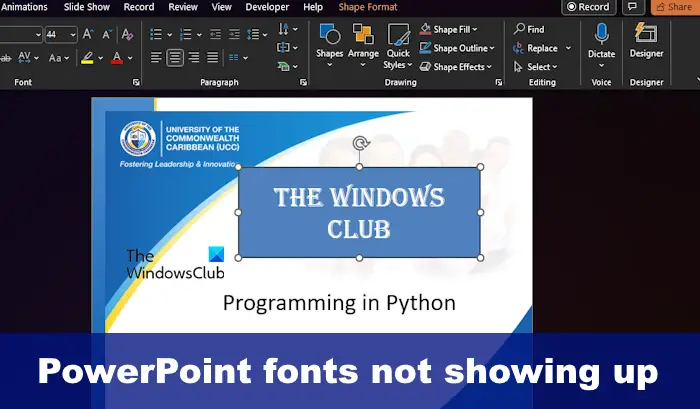 This can cause serious problems; for example, if you send the presentation to additional persons, they may not be able to see the font because of its uniqueness and because it does not come as part of the overall PowerPoint package. If the font file is not installed on the recipient's computer, then it will fail to load on their computer. And that will no doubt cause problems.
Fix PowerPoint Fonts not showing up or displaying correctly
If your PowerPoint font is not displayed in a presentation, then here are steps you need to take to address the issue:
Share the unique font file
Use regular fonts
Use embedded fonts
Use text to shape conversion
1] Share the unique font file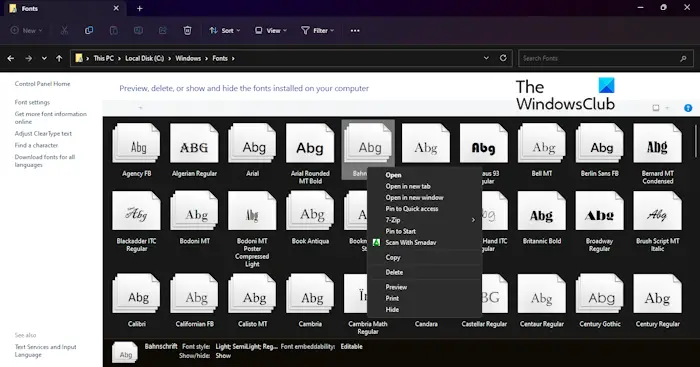 One of the first things you should do here is to share the font file with the people you intend to share the presentation with. If they have the font file installed before receiving and opening the PowerPoint presentation, then they should have no problems.
To share your font file, please open File Explorer.
Once done, navigate directly to C:\Windows\Fonts.
Locate the font you want to share and copy it.
Send the font to the recipient via email, messenger, a USB thumb drive, or whatever means you have in mind.
Remember that once the receiving party gets the file, they must copy and paste it into the C:\Windows\Fonts folder.
They should now have zero issues with viewing your shared PowerPoint presentation.
READ: How to use Copilot in PowerPoint
2] Use regular fonts
The best way to ensure your PowerPoint presentation fonts appear correctly is to use common fonts. By using fonts that are already installed on almost every Windows computer, you will have little issues when sharing presentations.
So, as it stands, you should use the fonts that are found within PowerPoint if you want your presentation to be viewable by any third-party user. Failure to do so could cause problems for others, and that's not something you should strive for as a professional.
READ: How to add Add-ins in PowerPoint
3] Use embedded fonts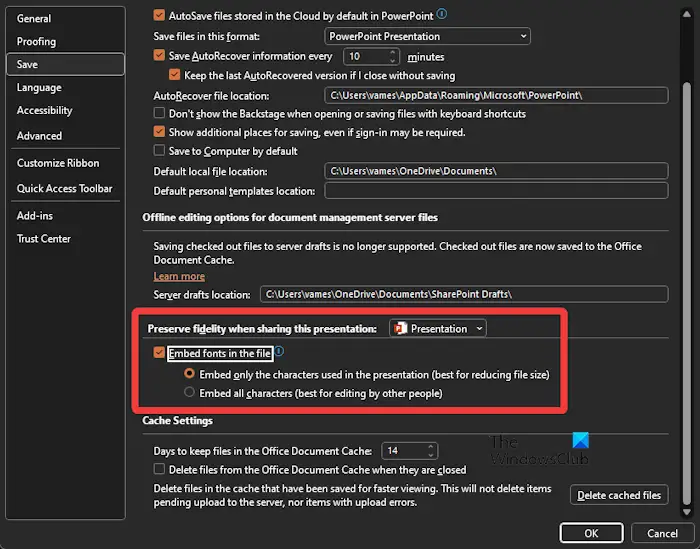 When you might want to use uncommon fonts that may not be available on the recipient's computer, one of the best options here is to embed the fonts in your PowerPoint presentation.
We should note that this will only work across Windows computers. If the receiving party has a Mac, chances are it will not work, but if it does, then do not expect a perfect transition. With that said, let us explain how to move things forward.
Open your presentation, then click on File.
From there, select Options, then navigate to Save from the PowerPoint Options window.
Look for a section that reads, Embed fonts in the file, and select it.
If you do not plan to have your PowerPoint presentation edited by others, then choose Embed Only the Characters Used in the Presentation. Doing this will reduce the size of the file since only the letters that appear in the document will be embedded.
Now, if you plan on allowing others to edit your presentation, then choose Ebed all Characters instead. Bear in mind that this will increase the file size of your document, so decide which option is best.
Finally, click the OK button, and that's it. Now you can share the presentation with whomever you wish.
READ: How to create a Scribble Animation in PowerPoint
4] Use text to shape conversion
For those folks who are concerned about sharing their PowerPoint presentation with a person who is not tech-minded, we suggest converting fonts to shapes.
When this is done, the text will look the same always, even if the third-party user does not have a particular font installed. That's because the text has transformed into a shape.
Let us now explain how to get this moving in the right direction.
Ensure the PowerPoint file is opened.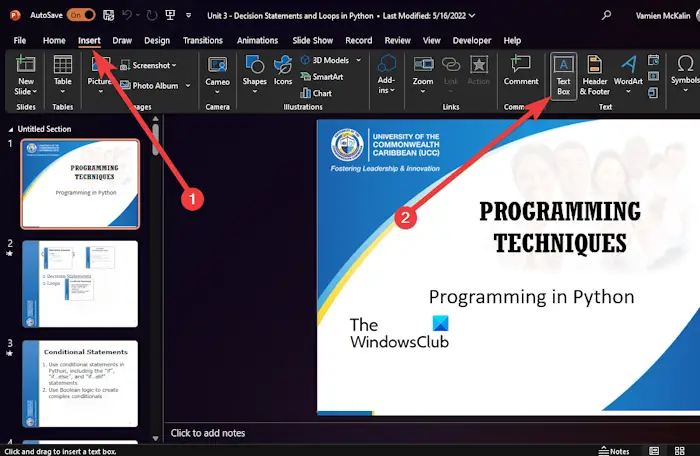 From there, go ahead and click on Insert.
From the Ribbon, please click on the Text Box button.
Choose the font you wish to use for this presentation.
Next, click on Home, then select a Shape from the Insert Shapes area.
Use the mouse to draw a rectangle.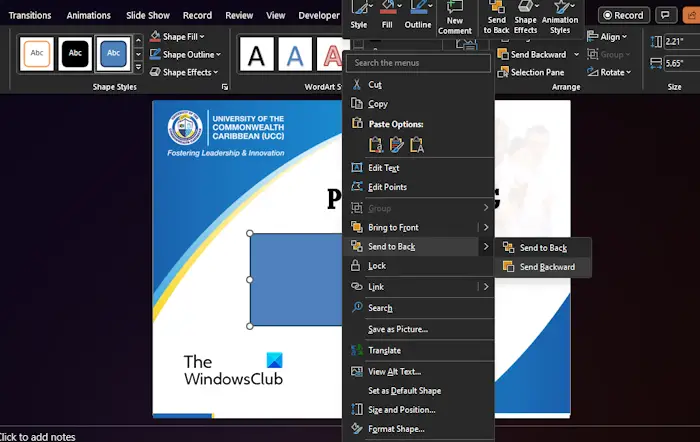 The other thing to do here is to right-click on the rectangle you've just drawn, then choose the Send to Back option.
Doing this will allow you to see your text again.
What you must do now is select the text box, then press and hold the Shift key.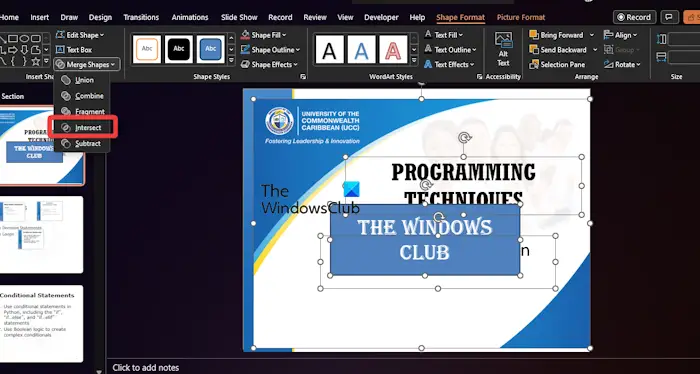 Choose the shape to ensure both shape and text box are selected.
Go to the Shape Format menu, and from there, look for the button that reads, Merge Shapes, and click on it.
Choose Intersect, and right away your text will be converted to a shape.
READ: How to make Typewriter animation in PowerPoint
How do I fix distorted text in PowerPoint?
To fix this problem, please open PowerPoint and then navigate to File > Options. After that, go to Advanced > Under the Display, then check the box that reads, Disable Hardware Graphics Acceleration. After that, click the OK button and restart the application.
Read: How to view notes in PowerPoint while presenting
Why are fonts changing in PowerPoint?
Font types will change in PowerPoint if the text uses theme fonts where these fonts of source and destination files are different. Bear in mind that this is the behavior one should expect since modern PowerPoint templates rely on Office document themes, which are defined by theme fonts.