Stickers and emojis are the best modes to express our feelings in chats and how wonderful it will be if we can convert our own pictures into an emoji or some interesting sticker. PicsArt for Windows 11/10 PC & Moblie brings this feature to you. PicsArt is one of the most popular image editing software with more than 90 million active users. After being in the limelight for its interesting, powerful and unique photo editing features, PicsArt now brings you an interesting feature of custom stickers and exclusive 3D Editing.
These are not ordinary stickers, with the new feature of PicsArt you can now turn any of your pictures into a sticker and share it with your friends. So basically, you can use the cutout tool of PicsArt and cut any part of your picture to convert it into a sticker. In this post, we will learn about how to create interesting custom stickers on PicsArt, edit them, and how you can use them to spruce up your chats.
Create Custom Stickers in Picsart Photo Editor
PicsArt now contains a new suite of tools that helps you create custom stickers and snap them with any of your pictures. To create custom stickers, you can use the cutout tool to cut a particular section of an image.
Download the PicsArt App from Windows Store and launch it on your PC. Tap on the pink PLUS sign in the bottom ribbon to begin. Click on Edit and select the image you want to create the sticker from. Use the cutout tools and cut off the desired section from the image. 
The new Cutout tool is more powerful and comes with an accurate edge detection helping you to create perfect cutouts. You can save these stickers on PicsArt publicly which also means that you can grab the stickers created and saved by millions of other PicsArt users.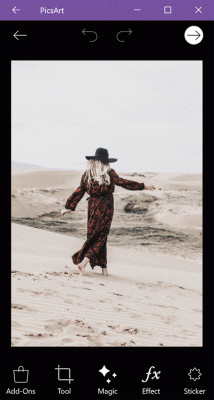 PicsArt further has added different tools to give a 3D effect to your stickers. The other suite of tools includes various effects, enhancing tools, crop tool, magic effects, text, lens flare, shape mask and much more. So now you can adjust and edit your stickers and their perspective to make them look realistic with three-dimensional edits.
You can also use the illustrative tools of the app to design your picture stickers or to create a new one. Once created and saved, users can use these stickers across various platforms like Facebook, OneDrive, Dropbox, Instagram, Facebook Messenger and more. You can also save it as a wallpaper or lock screen of your device.
If you are already using PicsArt, you surely won't want to miss this latest release with interesting tools and features. Rush to the Windows Store and update the app on your Windows PC. And, if you are not yet a user of PicsArt and looking for some good image editing software, give a try to this ultimate photo editing app.
How do you make a sticker on PicsArt PC?
To make a sticker on PicsArt, you need to follow the above-mentioned guide. For your information, you can download this app for Windows 11 and Windows 10 from the Microsoft Store. It is possible to edit an image, create a collage, draw on the image, and capture photos using the webcam.
How do I install PicsArt on Windows 11/10?
You can download and install PicsArt on Windows PC from Microsoft Store. Whether you use Windows 11 or Windows 10, you need to head to the Microsoft Store to download the PicsArt app. On the other hand, you can also use the online editor in case you do not want to install another third-party program.