Presentations should be illustrative, not exhaustive and it is an image that makes the presentation illustrative. This helps us in many ways. For instance, it helps us emphasize a point without any ambiguity. A new add-in for Microsoft Office – Pickit is designed just for this purpose.
Pickit makes it convenient for Microsoft Office customers to tell their stories by leveraging specially curated photos. The add-in is designed to works in all Office apps like OneNote, PowerPoint, Word. Besides, Pickit plugin is also compatible with Mac and the online version of Office applications.
Pickit Free Images add-in for Office
If you have Office 365 installed on your system, launch PowerPoint application and hit the 'Insert' tab.


Next, navigate to 'Store' and look for 'Pickit' add-in, and select it.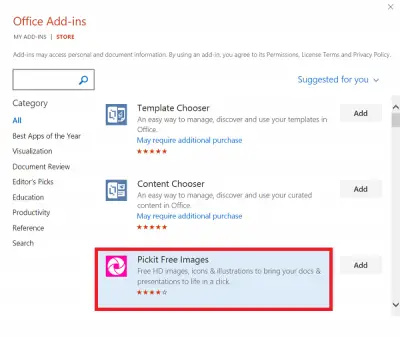 Now, you have authentic visuals from the world's leading image makers, right at your fingertips and in the task pane.
Once downloaded, the Pickit icon will appear as a button in the PowerPoint, OneNote and Word ribbons.
Just carry out a keyword search or select a category to find images you are looking for.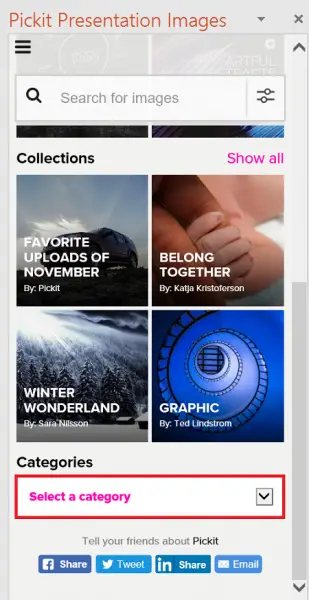 All images are legal and free to use. No license or additional cost involved.
Pickit appears the perfect option for presentations as it offers a quick and easy way to bring your work to life, without leaving your presentation.
When you are not sure what to search for, just browse for Pickit professionally curated collection. There's a new image collection, "Talk Like a Rosling," which features inspired content from statistician and presenter Hans Rosling and the latest project from his team at Gapminder—Dollar Street.
You can download the Pickit add-in from the Office Store in the Office apps or the web.