Photo editing is always amazing and full of excitement, but there is always a question in your mind regarding the best program that will fit your need. Many times you may need to edit multiple images either for uploading to a social site or for some other purpose. So, will you edit these images individually? Perhaps No, because you have Photopus, which allows you to perform batch image processing in a single operation.
Photopus Photo editing software
Photopus is a simple photo editing software for Windows 10/8/7, using which you can resize, convert, rename, add effects and transform your images. It allows you to customize your image in an easy way. It comes with many filters, effects, and adjustments that will raise the quality of your image. If you want, you can import an entire folder of photos and perform many operations. When using Photopus you have straightforward control over the button, which can take some time to learn, but once you are used to it the end product will be great.
Features of the application:
Easily navigable interface
A multi-page image supported
Supports almost all image formats
Batch editing for your photos
Fast image processing
Add an entire folder of photos
Using

Photopus
This photo editing software has an amazing toolbox full of editing tools and options. It includes three major steps to enhance your images: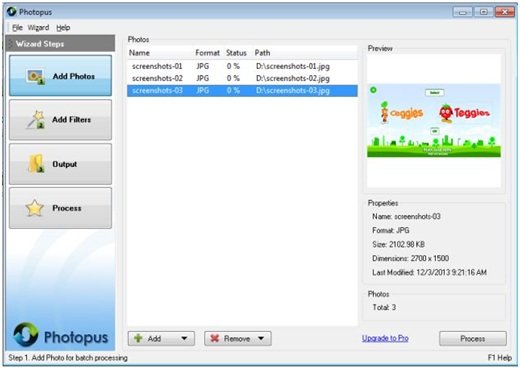 1. Add Photos – Photopus is simple to use photo editing software. You can import photos one by one or an entire folder by clicking on the add photos button. That will open a pop page from where you can select a particular image or an entire folder to edit.

2. Add Filters – Photopus is capable of repairing an old or not so good photograph to a perfect image. Its process is quick even when you are applying filters to the image. It supports filters like a watermark, transform, adjust color and much more. You can apply all these filters to your image by clicking on the add filter button. You can crop, rotate, and resize photos with the help of Photopus, a speedy photo editing software.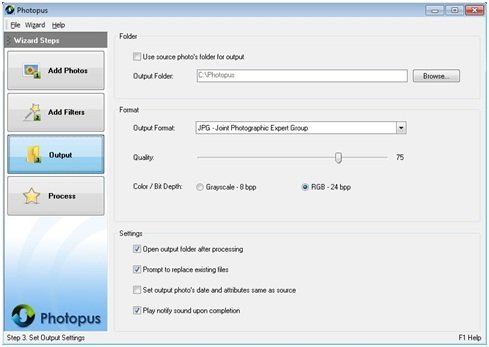 3. Output – Click on the output button to save your image after processing. Browse the location and mention the format in which you want to save your image.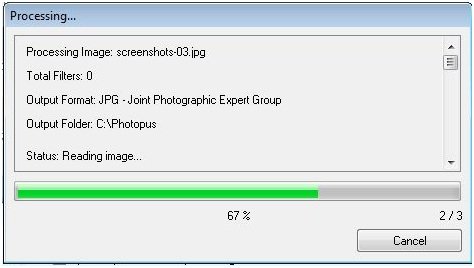 4. Process – By clicking on the process button, you can preview the changes made through every step before saving the images.
In the end, we can say that Photopus has some amazing features, such as the ability to add an entire folder of images, many filters and images, and a great image processing speed. On the other hand, this freeware would have been a clear winner had it included features such as drag and drop of images, ability to add watermark, and support for RAW formats.
Photopus

free edition download
Download Photopus free version from here and let us know your feedback.