Are you eager to know how many days are left to attend your favorite concert? Do you want to know how many days have been passed since your last birthday? If so, then the built-in Windows Calculator would answer your questions quickly. You can be free from using third-party software to get answers to these questions when you know how to use the Calculator in Windows 11/10.
Normally, most of us do not use Calculator in Windows, but even if we do, we use it for small calculations. But, you can do a lot with it. You can carry out conversions from one unit to another – like from feet to meters, currency conversions, and more. If you have a little idea of how to use it, then you can make the best use of it. Apart from basic calculations, it has some unique features like finding the difference between two dates and finding the day that would come after 65 days from now and so on.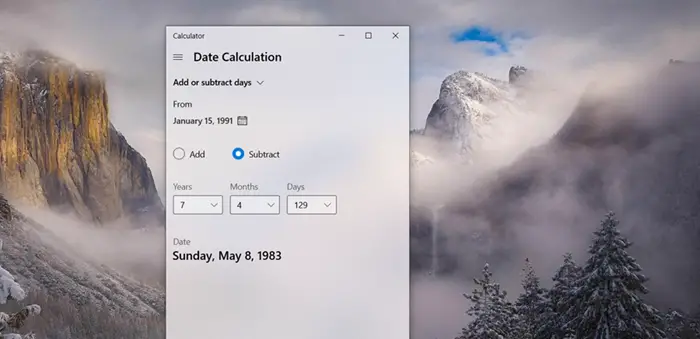 The built-in Windows Calculator can either be used to perform simple arithmetic operations or complex scientific calculations. You can use it even to find the difference between dates or Add/subtract days. Now, I will tell how to use the built-in Calculator of Windows to perform data calculations, to find answers to the questions that were asked at the beginning.
Use Windows Calculator to find the difference between dates
If you use the Windows 11/10 Calculator quite often, you can pin it to Taskbar. Simply, right-click on the Calculator app's Taskbar icon and choose Pin to taskbar to access it anytime. Likewise, if you would like to calculate any number of days between dates, follow these instructions.
Open Windows Calculator.
Click Open Navigation menu.
Scroll down to date calculation.
Click the Calendar icon under FROM and TO categories.
Choose the day, month, and year using UP or Down arrow keys.
Note down the difference.
Use the Up arrow key or down arrow key to select dates, months, and years.
For Adding or subtracting dates, press the drop-down menu under Date Calculation.
Choose Add or Subtract Days.
Select a date from the calendar.
Add or subtract the number of years, months, dates to note the difference.
Here's the process in a bit more detail!
Perform Date calculations using Windows Calculator
Open Calculator in Windows and click the Open Navigation menu icon (visible as 3 horizontal bars).
Scroll down the menu to choose the Date Calculation option.
When directed to a new window, hit the Calendar icon under the FROM category.
Use UP or DOWN arrow keys to select the number of years, months, and days. Similarly, select the number of years, months, and days under the TO category.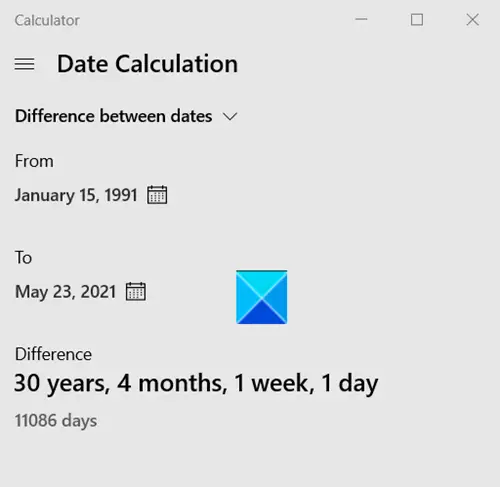 Instantly the calculator will display the results.
Add or Subtract days using Windows Calculator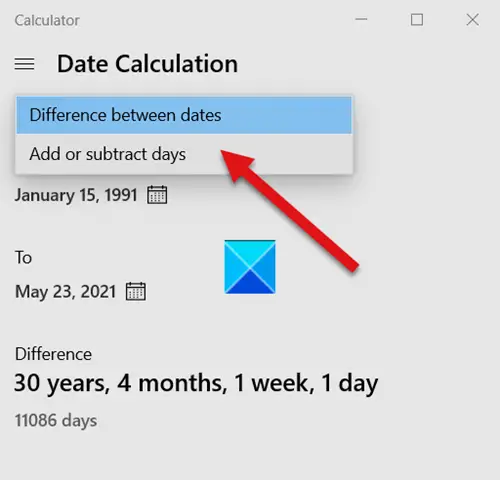 To add or subtract the number of days, select the Add or Subtract option from the Date Calculation drop-down menu.
Now, suppose you would like to find what date and day will be after a few days, months, or years from now.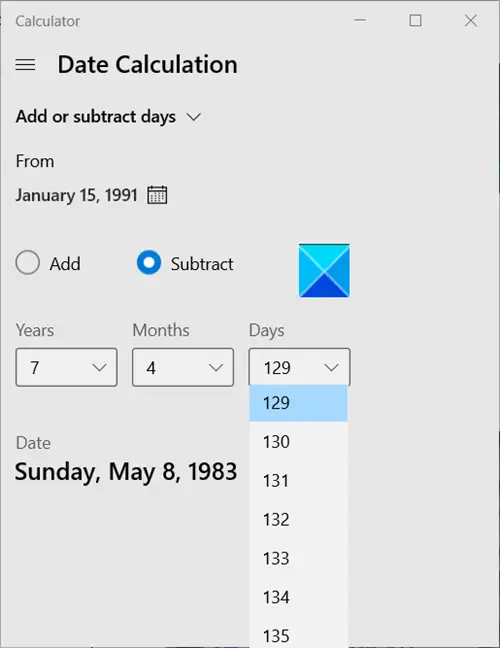 Specify one date under FROM category. Check the Add or subtract option to the present date.
Your Calculator will display the results instantly under its window.
Make some interesting and fun calculations using the Windows Calculator and let us know through comments.