None except you should have access to all your important passwords. Because passwords are a combination of letters, numbers, and more ensure the confidentiality of data stored across various workstations. Often, it is advised to choose a strong password to make sure that all your account passwords are as difficult to guess or break into as possible. But, sometimes, remembering such strong passwords becomes difficult. Nevertheless, there are many free password managers to help you store and remember passwords. One that I found useful was Password Bank Vault – now called Password ID.

Password ID is an easy-to-use application that allows you to keep your passwords in a secure location. The program is cross-platform i.e. it is compatible with Windows, Mac OS, and open-source OS such as Linux. It allows you to organize the credentials in predefined lists and to create a custom tab with the desired details. All the databases entered can be protected by using a personal password.
Password ID for Windows PC
Password ID is the ideal solution for storing all your precious passwords in one easy place with just one master password to remember. All stored passwords entries are 128 bit encrypted. The software has 2 separate "sheets" for storing all types of password related items and telephone/email information. Functions include: insert, edit , delete, sort, change master password, random password creation, password to clipboard & auto save. Plus import & export data to and from spreadsheets in CSV format, backup/restore database feature as well as a special lock screen facility for unwanted prying eyes.
Download the application and run the executable file. Upon launch, you will see a window that asks you to provide the master password – it's a key to the vault, without this password you will not be able to access the application and the data stored in it.
Once you enter/provide a master password, the application's tabbed interface will be visible to you: This includes,
Tabs for web logins
email or FTP accounts
bank accounts and PINs
 software licenses, etc.
Above the tabs, you will find buttons for adding new entries to the database, backing them up and performing other operations.
To begin, select a tab from the application's interface. If you would like to enter the password for an online account, select the Web Logins tab.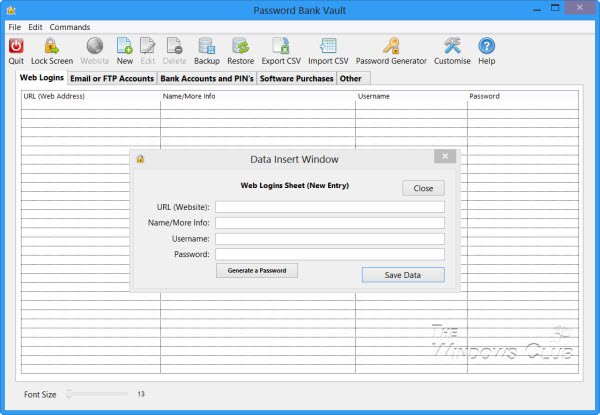 To add a new entry, hit the 'New' button.
The latest version adds a Password Generator, Web Button, Screen Tips, Auto Save Preferences, Auto Save Window Size, Sheet Customization, Update & About Button, Variable Text Size.
Moreover, if you would like to back up or export the data saved by Password Bank Vault you could do so by simply clicking on the Lock Screen button.
Download: Home Page. The Default Password is 1234.