Depending on where you are, and what locale you work with, and lastly, which locale you belong to, Windows 11/10 allows you to override default regional format settings for an improved local experience. Let us see how to do it,
Override default Regional Format settings in Windows 11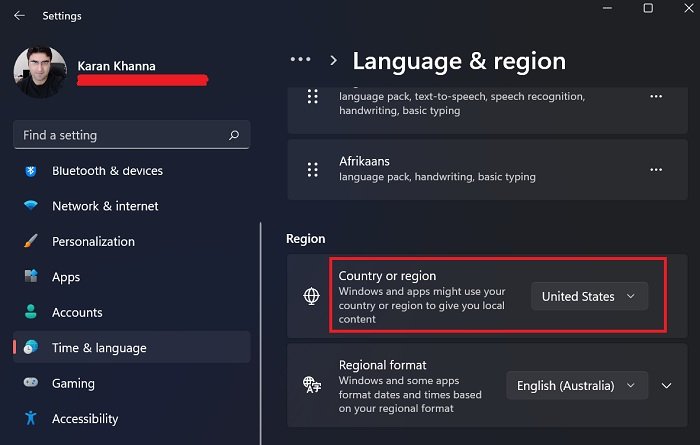 The Settings menu has witnessed a significant change with Windows 11. This is especially true with the Time, Language, and Region settings. While most of the basic settings are still the same, their positions have changed significantly. The procedure to override default Regional Format settings in Windows 11 is as follows:
Right-click on the Start button and select Settings.
In the Settings window, go to the Time & languages tab on the list on the left-hand side.
In the right pane, select Language & region.
From the Region section, you will notice the Country or region option.
You can use the drop-down menu to change to the country of your choice.
All settings including Calendar, holidays, etc will change accordingly.
Override default Regional Format settings in Windows 10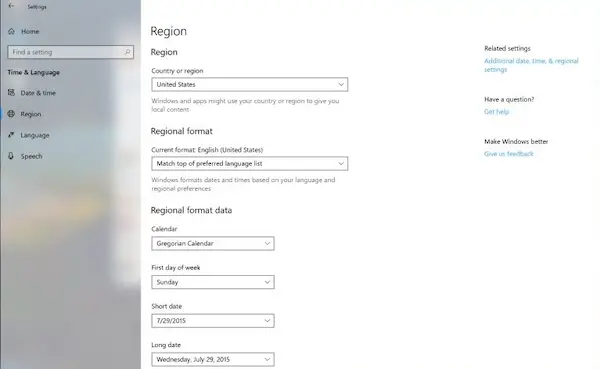 Open Settings > Time and Language > Region. Here the default region is what Windows and apps might use to give you local content. However, if you work for a different locale, and need to have different format settings such as Calendar, First day of the week, Dates, Times, and Currency, you can change under Regional format.
After changing, you will not have to reboot your Windows 10 PC. However, some of the apps will have to be closed and launched again to apply the new format. So if you need to use apps that are of a different locale, the changes will appear only when you relaunch the app.
Apart from this, after changing the locale or region format, you can choose a different language that makes more sense to you. In simple words, if you like more common words than standard words in your Windows, this is the way to go. This local format will be used for navigation, menus, messages, settings, and other topics. Under Languages, look for a link which says "Add a Windows display language with local experience packs".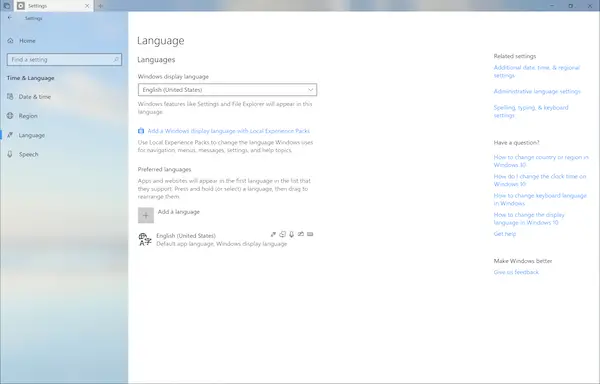 Local Experience Packs are Microsoft Store apps that deliver Windows display language quality improvements. When you click on the link, it will download from the Microsoft Store.
Lastly, Windows has started utilizing Artificial Intelligence (AI) and neural network-based Machine Learning (ML) for Windows localization. As the number increase, Machine language improvements, and user feedback will help make translations better, and make it available to more and more languages.
Overall it's an interesting move from Microsoft. The demand for topics and machines to be available in local languages have been growing past few years. Thanks to improving internet conditions. By involving more local content, it will eventually help business to grow faster.
Why do regional settings matter when we could simply change the time zone?
The time zone speaks of the time only. In a single time zone, there could be different countries with different holidays and calendars. Even language settings could vary. Thus, the regional settings aren't only about the time zone and you need to specify the country and region.
What is the default regional setting?
Since most users don't change the default regional settings, it is important to know what they are. You remember when you must have first tried to set your system. The default setting is usually set to the United States, but you can change it at the time of setting up your system. If you choose to skip all settings to set up your system in a hurry, the regional settings will be selected at the United States.