Mozilla Firefox browser, at times, may randomly start displaying a Please Rate Firefox prompt to a small sample of users. Often, I ignore or sideline these messages and treat them as nothing more than distractions. The browser, however, requests users to simply select a star rating to enable the browser to report the same back to Mozilla.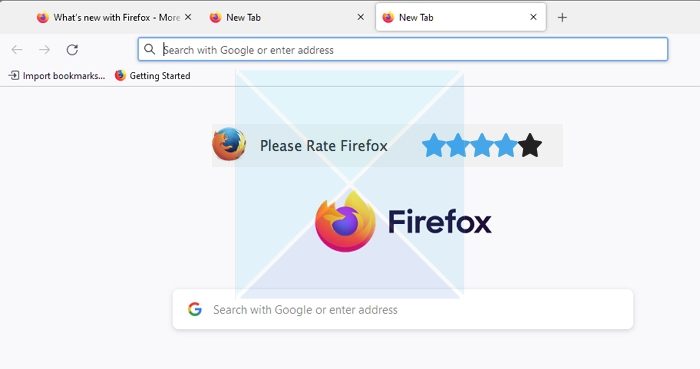 Once you are done with the rating task, a new tab opens in the browser with additional resources for common issues and new features so you can get help immediately. This can be quite annoying. Here is how to opt out of this Please Rate Firefox survey activity.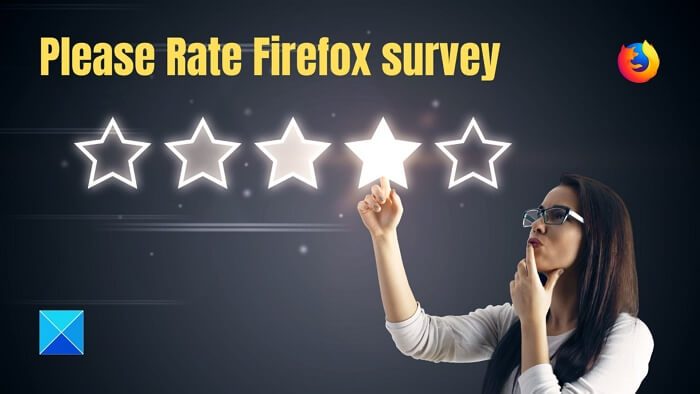 Opting out of Rate your Firefox Experience
Fortunately, Firefox offers an easy way to opt out of such random surveys via Firefox about: config settings. It contains a wealth of ways via which you can customize the browser.
Launch the Firefox browser, and in the address bar of a new tab, type about: config and press Enter.
If prompted with a "This might void your warranty!" warning message, ignore it and proceed further by clicking the 'I accept the risk!' button.
Assuming you are at the about: config page opened, search for the following preference entry – extensions.shield-recipe-client.enabled.
Select Boolean, and click on the plus icon next to it.
Click to set the value of this preference to false.
That's it!
The final step enables you to opt out of the 'Rate your Firefox experience' survey.
Conclusion
The developers of the browser claim all of this is to improve Firefox. They believe a little feedback from users can help them build a better product and deepen their relationship with users by regularly capturing qualitative and Quantitative data from an unbiased sample of users. However, they should also realize that it is their duty to value users' precious time and effort by doing minimally intrusive questioning like conducting small samples, occasionally, and simple interactions. This will help them in collecting just enough data to be useful.
I hope the post was useful and you were able to opt-out of the Please Rate Firefox survey prompt.
How do I increase FPS in Firefox?
You can increase it by enabling hardware acceleration. Go to Firefox configuration, and navigate to about:preferences#advanced. Here you can check to use hardware acceleration. Next time you use anything which can render at better FPS, it will automatically happen.
How do I give feedback to Firefox?
Select Submit Feedback from the Firefox Help menu to provide feedback to Firefox developers. You can also use the direct link https://connect.mozilla.org/ to submit ideas, votes, discussions, and send feedback. There are many trending topics, and it is possible your idea is already there. So make sure to search for them and upvote instead of resubmitting.
What's better, Chrome or Firefox?
Compared to Chrome, Firefox is more private and secure, but Chrome is faster and offers more features. How safe is Firefox compared to Chrome? Although both browsers are safe, Firefox's tracking protection is more comprehensive than Chrome's.