If the Opera browser is failing to install, and you see An error occurred while attempting to install Opera message, then this post will help you. The Opera web browser is one of the popular ones in the business, and it has been that way for many years. Now, as good as it is, this web browser is not without its faults at times. One of the most common issues faced by users is the inability to install it on their computers. Some users are experiencing a problem where the installer lags for around 20 minutes or more. Other times the installer might pop-up for a few seconds and then close automatically.
An error occurred while attempting to install Opera
Now, we should point out that this problem affects both OperaGX and the regular version of Opera, but in some instances, the solutions might differ. Before moving forward, you must first ensure the browser installer was not downloaded from a third-party source that is not the official Opera website.
Use the Opera offline installer
Choose a different directory for installation
Switch to a different network
Opera browser failed to install
1] Use the Opera offline installer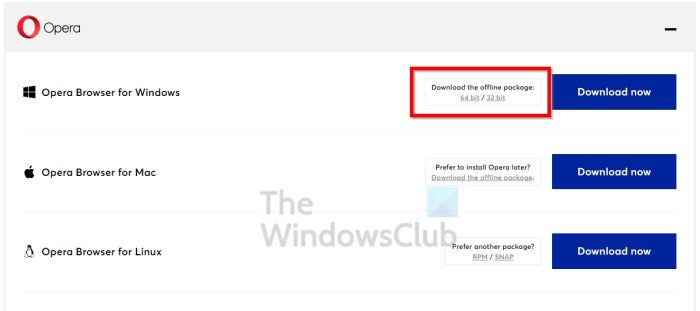 Here's the thing, when you download the regular Opera installer, an internet connection will then be required to complete the installation. If the Opera servers are down then you won't be able to get the job done. Therefore, the best option here is to use the offline installer instead.
From what we have seen, many users who cannot install the web browser have solved the problem by using this solution, so we expect it to work to a degree.
Download the Opera installer from the official opera.com webpage.
Choose where you want to download the file, then hit the Save button or the Enter key.
The next step, then, is to execute the installer.
Hit the Install button once it becomes visible.
Sit back and wait for the completion of the installation.
Things should now be running normally and you can go ahead and use Opera on a daily basis.
2] Choose a different directory for installation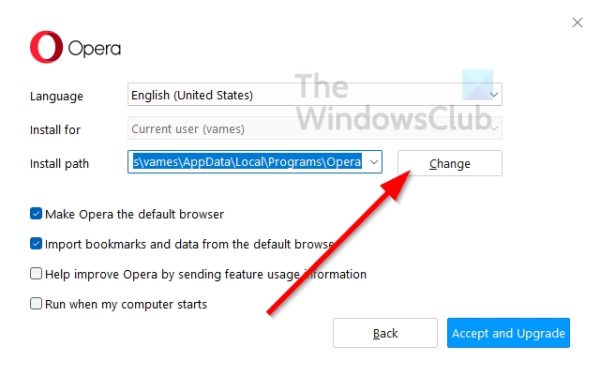 Whenever you run the installation file for Opera, you have the option to install the file to a different directory from the default.
To do this, select Options after running the installer for both.
Click on Change via Install Path to manually add a folder for installation.
Hit the install button.
You should now be able to install OperaGX and Opera without issues. Well, we hope at least.
Read: Opera GX not opening on Windows 11/10
4] Switch to a different network
If the above steps fail to solve this little crisis, then maybe you are facing network problems and need to switch over to a different one if possible.
In order to switch, please click on the Wi-Fi icon.
You should now be looking at a list of available networks.
Choose the one you believe is working.
Once completed, you can attempt to install the browser again to see if things work as intended this time around.
Related: Opera GX installer not working on Windows PC
Why is Opera not installing as it should?
Some users at times have issues with the Opera installer being stuck while loading. This is usually caused by a faulty installer, therefore, one has to use an offline installer or try and find out if any server problems are affecting Opera.
Why did Opera stop working?
If the Opera or Opera GX web browser is failing to work properly, then you should consider reinstallation in hopes to get things under control. Creating a new user profile works as well, or better yet, use a different web browser for the time being until Opera is usable again.
Read: Opera GX vs Opera – Which is the better browser?
Does Opera work with Windows 11?
Yes, both Opera and Opera GX web browsers work just fine on Windows 11 computers. In fact, fans can download Opera GX directly from the Microsoft Store. At the moment outside of Opera, only Firefox as a third-party web browser is available via the Microsoft Store.