Animation is something many folks find exciting and would love to dabble in as a hobby. Some will go no further than creating stick men for social media entertainment, while others might go on to create their own games or animated web series on YouTube.
The problem here is that creating great animation requires good animation software. However, the best software for these tasks usually requires a lot of money, and not everyone is capable of throwing down hundreds of dollars on software. Now, there are several free animation software out there, but let's face it, these are usually difficult to use. This is where a new and interesting software known as OpenToonz come into play.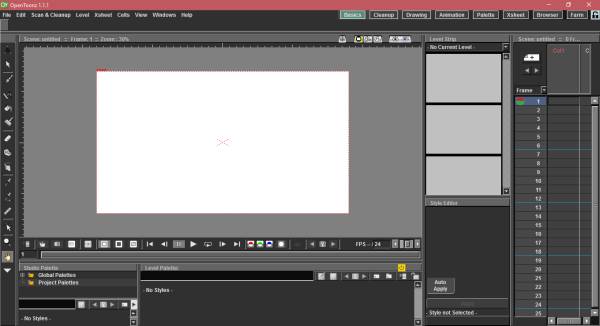 OpenToonz Free animation software for Windows PC
OpenToonz is a free Open Source 2D animation software for Windows, and it has been created by a developer team known as Dwango. This software is rich in features, yet, user-friendly at the same time.
How to ue OpenToonz:
After downloading OpenToonz, we can say the software is quite easy to install. It will take some time, but it shouldn't annoy anyone. When it comes down to the interface, it's a clean experience, however, we would be lying if we said it would be easy for anyone to understand everything at first glance.
If you have experience in animation, then the user interface should be good to go, if you have no experience, the interface might intimidate you a bit, but due to how everything is designed, even novices can understand it before the end of the day.
One can create animations in several ways, and these includes scanning your hands or even a mere digital drawing of whatever. When it comes down to scanning, this can be done in four ways: Black and white, Color, with binarization, or without binarization. It should be noted that there's no need to set your own scan preferences since OpenToonz is capable of saving scan preferences.
There are several features here, but we tend to be more attracted to the menu of pictures effect. This makes it possible for the user to create wavy distortions to changing the styles of pictures completely. Pretty neat, right? We agree it is. Furthermore, if you're a person who loves to modify source codes to your liking, then you'll enjoy using OpenToonz.
OpenToonz free download
OpenToonz is great for what it is and what it brings to the table. We believe it can hold its own against any paid software of similar features. Furthermore, the engine behind this software is the one used to create animations such as Princess Mononoke and Futurama.
Download OpenToonz right here from the official website.