Do you own more than one computers? Or do you help your parents or friends in maintaining their computers? Maintaining multiple computers is not an easy job and requires a lot of time. Let me introduce you a tool called O&O Syspectr that lets you actively monitor your Windows computer from anywhere in the world. This remote administration software provides real-time features that let you perform all sorts of operations on your computer from anywhere in the world.
Syspectr Review
Syspectr is more of a system inspector that constantly monitors your computer and can notify you whenever there is something that requires attention. Apart from that, you can perform some advanced operations on your computer and that too remotely. The tool is best suited for users having more than one Windows machine as it makes simple to monitor all the computers from one place.
The first step before you start using Syspectr is creating an account. Syspectr account will give you access to the dashboard from where you can access your computers remotely. After creating an account, you need to download the Syspectr setup and install it on all the computers you want to monitor. During installation, you need to log in using the same account you created in the first place.
Once all your computers are associated with your account, you can head over to the web application to start monitoring. Syspectr web application is a neatly designed dashboard accessible from both mobile and PC. It gives you access to all the remote features discussed further in the post.
Monitor multiple Windows computers remotely
The entire application is divided into different modules that monitor one or the other component of your computer. Some modules are disabled by default and can be easily activated from settings. We've tried to discuss most of the modules in this post.
Hardware: This module is basically responsible for monitoring hardware components. It tracks hardware changes and reports any problems that have been found. Moreover, this module will let you view all the hardware related details like manufacturer details and other technical information.
Software: Lets you view installed programs and related details. You can also uninstall programs remotely using the software module. This is one of the most useful modules that can help you in maintaining your computer.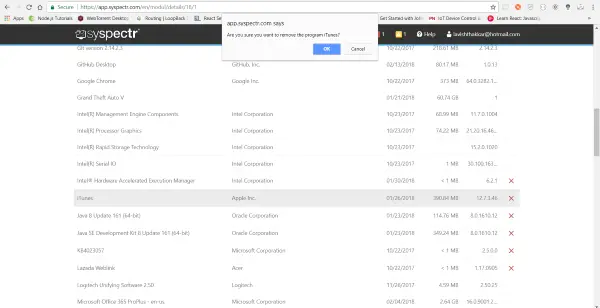 Windows Security: Security module provides you with monitoring features that ensure your computer is always protected. This module keeps a constant check on programs like Windows Defender and Firewall.
Windows Updates: This module checks whether your computer has the latest updates installed and notifies you accordingly. Moreover, you can download and install updates remotely from the dashboard.
Disk Usage: Monitors disk drives and lets you view general details like total size and free space.
Drive Monitoring: Monitors your disk drives for errors and potential failures and notifies you whenever something goes wrong.
USB Drives: This module lets you view and manage connected USB drives.
Process Watcher: This module enables process monitoring. You can enter the names of processes that you want to monitor. Syspectr will notify you whenever such a process is stopped. Alternatively, you can maintain a blacklist and Syspectr will notify you whenever there is an attempt to start a blacklisted process.
PowerShell Scripts: Lets you execute PowerShell scripts remotely. You can write scripts in the inbuilt editor or upload scripts from any source. Moreover, you can instantly execute the scripts or schedule them.
Remote Console: Undoubtedly, one of the best modules. Gives you access to your computer through a console window right in your browser. The connection is established over SSL and you can execute all your commands that you would normally do in a CMD window.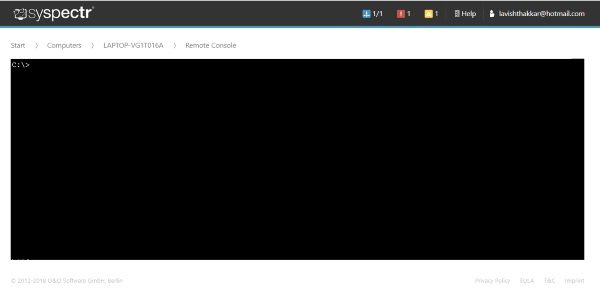 Remote Desktop: This lets you view your computer's screen remotely. You can adjust quality, frame rate and perform some basic actions.
Syspectr is a great monitoring tool that comes with great remote features. It makes the task of managing multiple computers a breeze. The email notifications are very intuitive and keep you posted about all the errors and warnings. You can practically access your Syspectr dashboard from anywhere and from any device.
Click here to download Syspectr. This tool offers a free version with basic features for up to PCs.