Looking for a hassle-free online video conferencing tool that doesn't require signing up or registration? Well, look no further! Here is a list of free online tools to conduct video meetings without registration. You don't have to provide an email or password to use these web conferencing services. All you need to do for video conferencing is the meeting URL link.
You can simply go to these online services, create a meeting room, share the meeting link with participants, and start chatting up using the meeting link. It saves a lot of time and effort and you can simply focus on the main purpose of conducting a video meeting. These are especially useful when you need to do a quick group video chatting. All these services can be used professionally and personally both. Let's check out what are these services.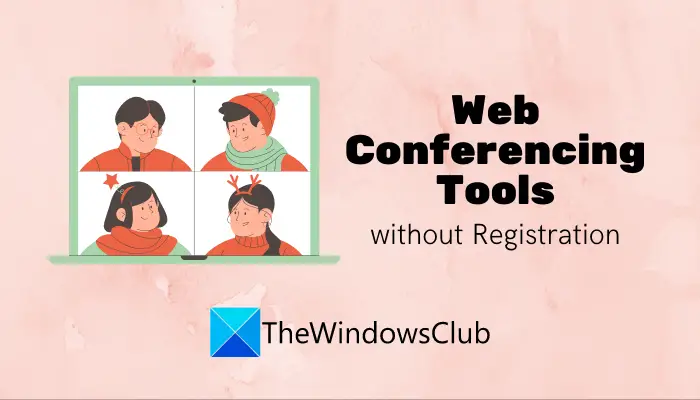 Free Online Video Conferencing Tools without Registration
Here are the best free Online Meeting or Video Conferencing Tools that you can use without signing up or registering:
Jitsi Meet
WorkshopX
p2p.chat
Talk
Let's talk about these online services in detail.
1] Jitsi Meet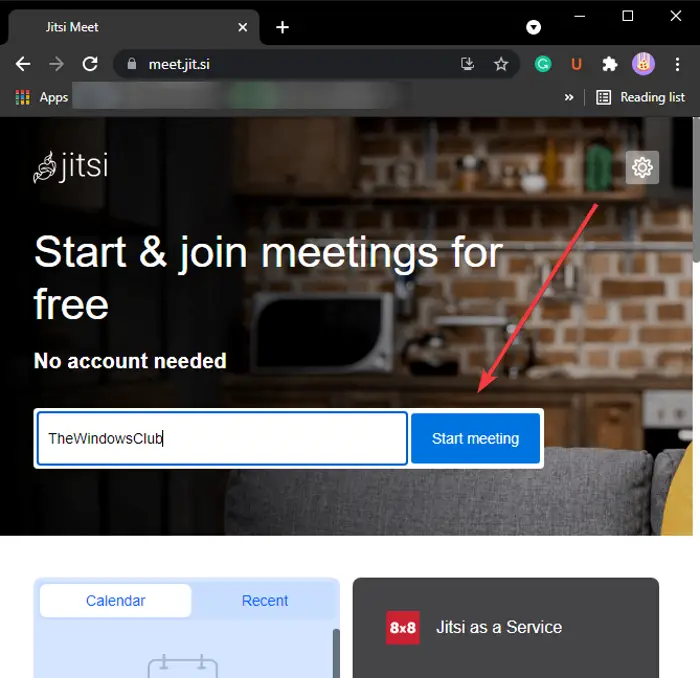 Jitsi Meet is a great online video conferencing tool that needs no registration. You can quickly start your video meeting simply by using the meeting URL link. Just type your meeting's name and click on the Start Meeting button. You will then be required to provide permission to this service to access your microphone and camera. Do that and then enter your name and click on the Join Meeting button. You can now share the URL of the video meeting with your colleagues, family, or friend, and start your meeting.
This online video conferencing tool provides all standard features that you may require during web conferencing. It lets the participants share their screens. They can mute the mic or disable the camera during the course of the video meeting. The host can mute everyone or disable everyone's camera. He/ she can also adjust the quality of the video meeting. Participants can share a video or audio, select a background (blur or image), and check speaker stats.
A handy Raise/ Lower Your Hand function is also available to ask questions during a video meeting. It also offers a Text chat option to send messages to the whole group or a person.
From the security front, this tool offers a good password protection feature. This feature enables the moderator to add a password to the meet so that only an authorized person can join the video meeting. Any new joinee has to enter the correct password to join the video meeting. You can also record and save a video meeting, but that would require you to sign in with your Dropbox account.
Does Jitsi Meet sound like a web conferencing tool without signup that you are looking for? If so, you can head over to jitsi.org to conduct video meetings without registration.
TIP: Brave browser also offers Brave Talk, a private video conferencing feature.
2] WorkshopX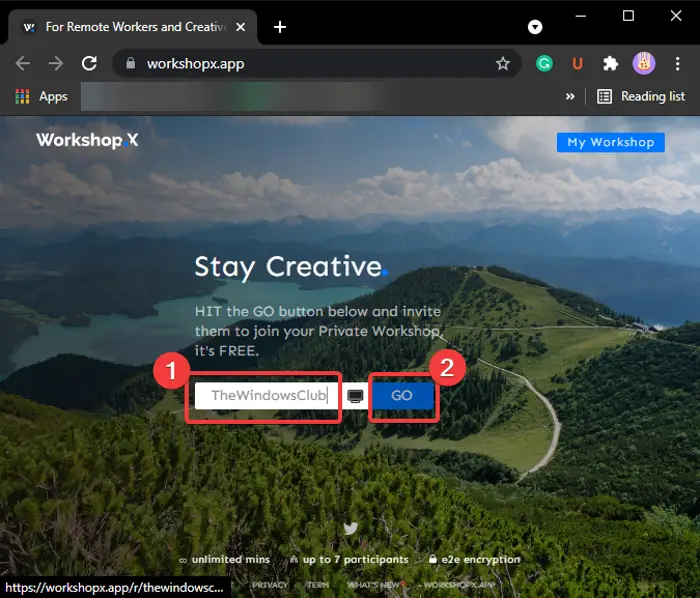 Workshopx.app is a free online web conferencing tool that you can use without registration. You can just go to its website, enter the meeting name or use the random code generated by this service, and press the GO button. Then, provide the required mic and camera access permission and start sharing video meeting URL to let others join in. The online video meetings conducted through it are end-to-end encrypted.
It provides a screen sharing feature to share screen to demonstrate something on your screen. You also get a chat feature in it to send text messages during a video meeting. It also lets you put out your reactions using some emojis.
Read: How to make Webcam look better in Windows 11
3] p2p.chat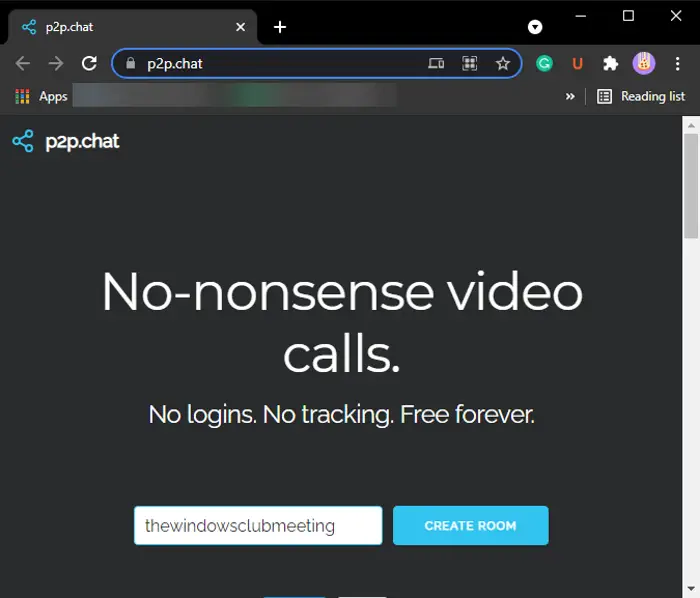 p2p.chat is another good online video conferencing tool without registration. All you have to do is type the meeting name, click the Create Room button, and allow camera & mic permission to start a video conferencing. After that, just share the video meet link to let others participate in the video conference. It provides end-to-end encryption for your video meeting rooms.
It is a simple tool that provides you only a screen sharing feature. If you need more features during video conferencing, use some other online tool from this list.
4] Talk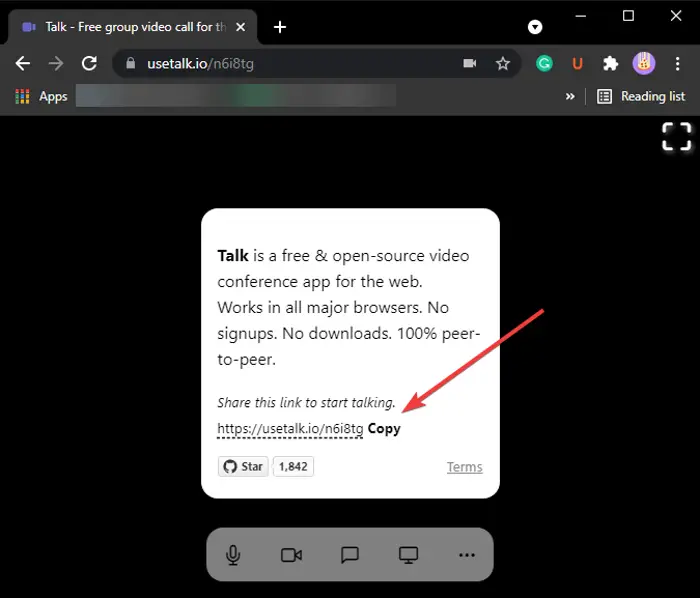 Talk is a free and open-source video conferencing tool without signup. It generates a random URL link for your video meetings that you can copy and share with others and ask them to join the meeting. That's it. You don't have to do much to conduct an online video meeting.
During the web conference, anyone can share his/ her screen. Also, participants can mute or disable their mic or camera during the meet. A chat feature is also present to send text messages in the group. All in all, it is a very simple and hassle-free video conferencing web service that needs no registration.
Hope you like this list of online video conferencing tools that let you conduct online video meeting without registering to their service.