Many people choose webcams over the built-in PC camera because of the extra functionality that comes with them for video conferencing, capturing images and videos, and other uses. Likewise, as more people start working remotely, the use of webcams for meetings and other purposes has substantially increased. However, many people lack the knowledge necessary to adjust their webcam settings such that it is most effective for them. For this reason, we've put together this article to discuss how you can make your webcam look better in Windows 11/10.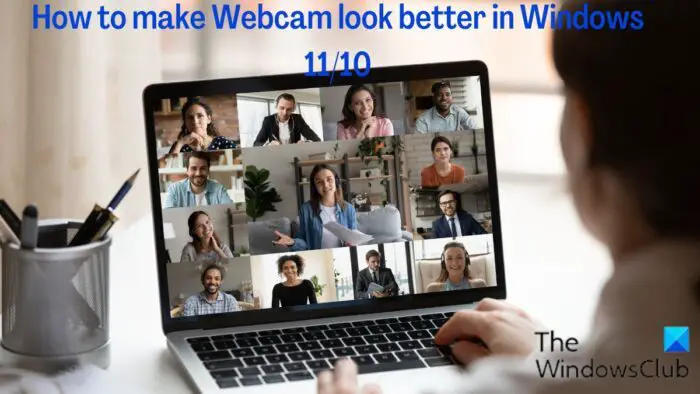 Make your webcam look better in Windows 11/10
These tips will help you and your webcam look better in Windows 11/10. Things like webcam settings, lighting, background, etc. matter a lot.
Adjust webcam look in Windows Settings
Adjust screen resolution
Improve your lighting
Have a clear background
Use a third-party video maker like OBS Studio or Wirecast
1] Adjust webcam look in Windows settings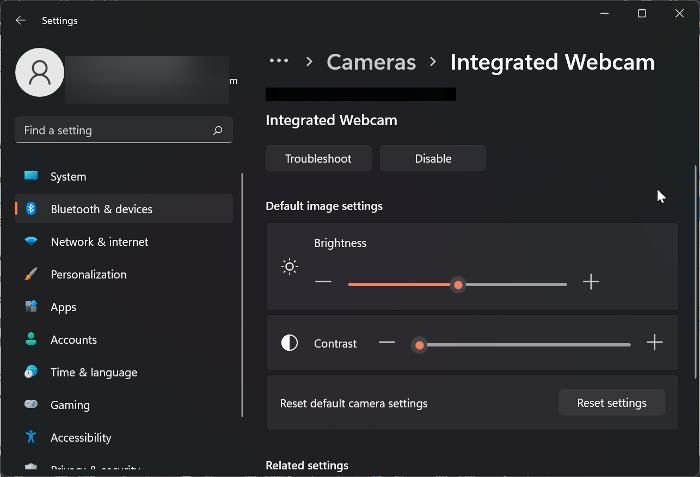 You can manually change how your webcam looks by adjusting brightness, contrast, and video rotation through Windows settings. A camera test screen is available on the settings page that shows you the result of the adjustment you are making. Here is how to access webcam settings on a Windows computer:
Press Windows + I to open Settings.
Click on Bluetooth & devices.
Scroll down and click on Cameras.
Then tap on the webcam you want to adjust its settings under Connected camera.
Adjust the Brightness and Contrast to your taste.
If you want to take the settings back to the way it was initially, simply click on the Reset setting option in the same window.
Read: Fix Blurry webcam on Windows PC
2] Adjust screen resolution
If you notice that your screen isn't producing a good image of yourself while your webcam produces a 720p output resolution, you may need to lower your screen resolution to match the webcam. Here is how to change screen resolution on Windows PC:
Open Settings on your computer.
Click on System and select Display.
Under Scale & layout, tap on the Display resolution option and set the resolution to match your webcam's.
3] Improve your lighting
Enhancing the lighting in your surroundings is one of the best methods to improve the appearance of your webcam. This is why it is highly advised to use a light source, especially for video calls and recording, and it is preferable to make light focus to improve your appearance on your webcam. Additionally, using natural light is a very nice idea.
4] Have a clear background
A clear background gives a better look on a webcam so you should try as much as possible to remove anything distractive from your background. You should also make sure your background is free from reflective objects so that your video image or video won't get affected by that.
5] Use a third-party video maker like OBS Studio or Wirecast
OBS Studio and Wirecast are two excellent third-party programs for customizing and improving a webcam. There are numerous camera settings available on them, and with a small adjustment, you can get fantastic results from your webcam. Programs like YouTube and Twitch have built-in compatibility in these video applications. It may also be used coupled with VideoCam for video conferencing software like Zoom.
Read: How to use webcam to record video and take pictures in Windows 11
How can I make my webcam the default camera on Windows 11?
If you want to change the default camera on your PC from the built-in camera to a webcam, follow the steps below:
Press Windows + I to open the run command box.
Type control panel in the box and hit Enter.
On the Control Panel window, switch the View by option to Large icons, and then select Devices and Printers from the list.
On the resulting page, right-click on the webcam you want to use as default and click on Set as default camera.
How do I access webcam properties on Windows 11?
To access webcam properties on Windows 11:
Press Windows + I to open Settings.
Click on Privacy & Security and select Camera under App Permissions.
You'll see your webcam properties on the page, and you can make changes to it if you want to.
Read: Best Webcam Tips and Tricks for Ultimate Privacy and Security.