A software entry point is a point in a software program that hands-off control of the process from the operating system to the application in question. In today's post, we will address the following error: OneDrive.exe – Entry Point Not Found that you might encounter when trying to install or launch OneDrive on your Windows computer.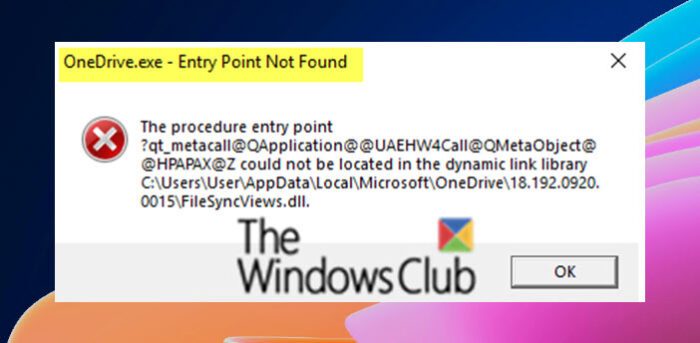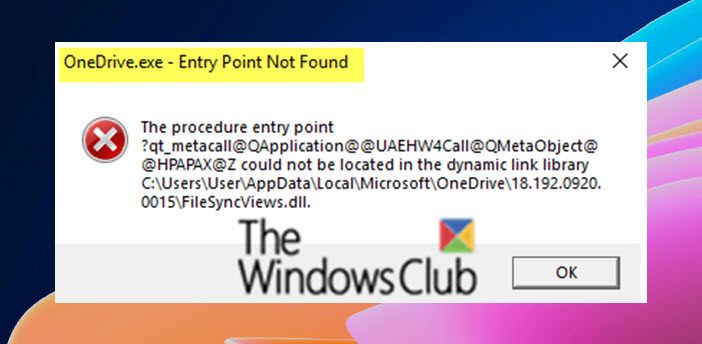 What does OneDrive entry point not found mean?
If you are running Windows 11/10 and try to launch or open an application say OneDrive, the entry point is when the app is fully loaded and in full screen, meaning all resources are directed at the app and not at Windows OS. But in order for this to happen, Windows must successfully make the hand-off to the application. If an entry point is not found for OneDrive, it means the file necessary to hand off that process is damaged, unreadable, or missing.
The syntax of the error message itself will tell you the exact file that is missing as you can see on the error prompt above.
OneDrive.exe Entry Point Not Found
To fix the OneDrive.exe  – The Entry Point Not Found error you have three options that you can try to fix the issue:
Reset OneDrive cache
Reinstall OneDrive
Re-register the concerned DLL file
Check system files integrity.
Now, the missing file belongs to OneDrive, so resetting OneDrive or uninstalling and re-installing OneDrive will likely resolve the issue.
You could also use freeware Dependency Walker to troubleshoot, if a specific program of yours is not loading, or a service is failing to start with an error pointing to a specific dll. You can load that program or dll in Dependency Walker, to see which file is failing to load or what module is causing the problem – and then fix it. Once you identify the concerned OneDrive DLL files, you could re-register them and see if that works.
If that does not help, you can run SFC/DISM scans.
For the purposes of ease and convenience, you can run the scan using the procedure below.
Open Notepad – copy and paste the command below into the text editor.
@echo off
date /t & time /t
echo Dism /Online /Cleanup-Image /StartComponentCleanup
Dism /Online /Cleanup-Image /StartComponentCleanup
echo ...
date /t & time /t
echo Dism /Online /Cleanup-Image /RestoreHealth
Dism /Online /Cleanup-Image /RestoreHealth
echo ...
date /t & time /t
echo SFC /scannow
SFC /scannow
date /t & time /t
pause
Save the file with a name and append the .bat file extension – eg; SFC_DISM_scan.bat
Repeatedly run the batch file with admin privilege (right-click the saved file and select Run as Administrator from the context menu) until it reports no errors – at which point you can now restart your PC and see if the OneDrive.exe Entry Point Not Found issue has been resolved.
And that's it, folks!
Why is OneDrive not running on my PC?
If OneDrive is not starting, opening, or launching on your Windows 11/10 PC, then you should open the Local Group Policy Editor window and access the Prevent the usage of OneDrive for file storage setting. Make sure the setting is set to Not Configured and save this change. On the other hand, if OneDrive is not opening on startup, then you should check its settings, and enable OneDrive to run at startup using Task Manager or the Settings app.
Read next: The procedure entry point could not be located in the dynamic link library.