OneDrive, the cloud storage service by Microsoft is a quick and convenient way to store and share your files while being able to access them from anywhere using any device of yours. While the premium package is paid, OneDrive offers 5GB of free data to all Microsoft users.
Despite being updated regularly, the application sometimes shows synchronization errors that don't let you sync your files or share them with others. Today in this post, we will learn about how to fix OneDrive Error Code 0x80010007.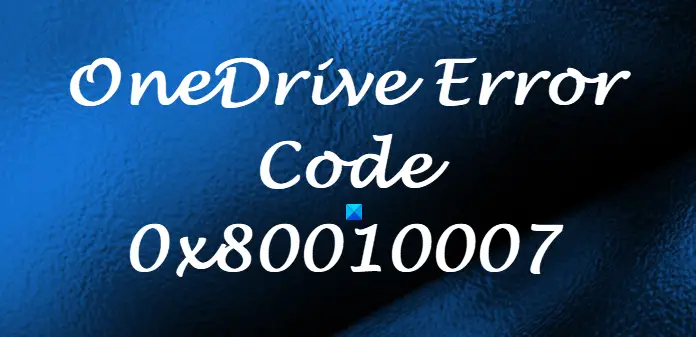 Fix OneDrive Error Code 0x80010007
OneDrive Error Code 0x8001007 basically is the synchronization error that brings in the difficulties syncing your files. To fix this, you have to unlink your OneDrive and run it once again. Don't worry, all your data and files will be safe, and unlinking or uninstalling OneDrive will not affect your data. You can access your files anytime through the OneDrive web version.
To Unlink OneDrive:
Go to the OneDrive icon sitting in your system tray and right-click.
Click on Help & Settings.
Open Settings and Unlink your PC.
You will get the Welcome to OneDrive wizard on your screen.
Follow the given instructions and you are done.
If you can't see the OneDrive icon in your system tray, click on the Show hidden icons arrow right next to the notification area and click on the OneDrive icon from there. If you still can't see the icon, OneDrive probably is not running. Go to Start and type OneDrive in the search box, click on the result, and open OneDrive.
You are now installing OneDrive again on your PC and the Error Code 0x80010007 should not be there. You may now be able to sync your files properly without any difficulties.
If you are still facing any difficulties or getting any other OneDrive errors, this post will help you fix OneDrive sync issues.