Are you an active OneDrive user? If you've recently updated OneDrive on Windows, then you might have noticed some real changes in the system tray icon. Recent updates to OneDrive and OneDrive for Business brought in an all-new Activity Center. This Activity Center has completely replaced the right-click menu that you used to have earlier with the OneDrive system tray icon. In this post, we've covered the new Activity Center and how to access features in the latest release.
OneDrive Activity Center
Most of the features are still there and have just been moved around a little bit. Right-clicking the system tray icon will now open the Activity Center. Activity Center is the hub for all your OneDrive-related activity. It shows you the current synchronization status and what files are in the queue to be uploaded or downloaded from your OneDrive account. Any connection or sync problems are also now part of the Activity Center.
You can also hit the folder icon to open the linked OneDrive folder on your computer. If you wish to view your OneDrive account from a web browser, you can click the three dots and click on View Online. If you have used Dropbox previously, then you might be familiar with a similar-looking Activity Center and how it works.
Now coming to settings and pause menu, these features can now be accessed by hitting the three dots in the Activity Center. You can open settings from here or select a duration for pausing synchronization. Moreover, there is also an option to quit OneDrive. Basically, all the options that were available in right-click menu can now be accessed from the three dots. Check out the screenshot for comparison.
Cannot access OneDrive Activity Center?
Are you not able to open Activity Center even after updating your computer? Possibly, there could be some issues with the updates. You can fix this problem by uninstalling and reinstalling OneDrive again on your computer.
Go to Settings, then Apps. Now search for Microsoft OneDrive and hit the uninstall button.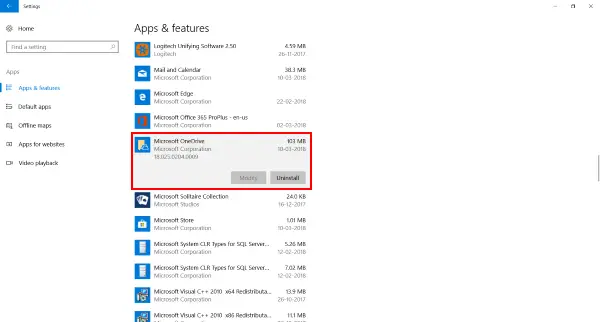 Now, click here to download the OneDrive setup. Follow the setup to install OneDrive and then log in using your Microsoft Account.
This should possibly fix all the issues with OneDrive, and you will be able to access the Activity Center.
This was quite a major update, and it applies to both OneDrive and OneDrive for Business accounts. The differentiation between OneDrive and OneDrive for Business remains the same. OneDrive icon is displayed in white color, and OneDrive for Business in classic blue. The reason behind this update is touchscreen devices. The update makes it easier to use OneDrive on touch-based devices.