If you are having a problem with your Windows and you are just unable to fix it yourself, you can allow an expert to have a look at your computer remotely, using Windows Remote Assistance.
Ask for help using Remote Assistance in Windows 11/10/8/7
It is important that you only allow people who you trust completely, to give access to your computer, using this feature, as once he is logged in, he will be able to see and access almost all your files and documents on your computer.
Windows 11/10 users may want to see this post on how to use Windows Remote Assistance in Windows 11/10 or give or take Tech Support remotely using Quick Assist in Windows 11/10.
Anyway, to begin you need to carry out the following steps:
Open start menu, right-click Computer and open Properties in you are using Windows 7.
Now in the left panel you will see Remote Settings in Windows 7.
Nonetheless, if you are using Windows 11, you need to open Control Panel, and search for remote assistance. Following that, click on the Allow remote access to your computer option in the search result.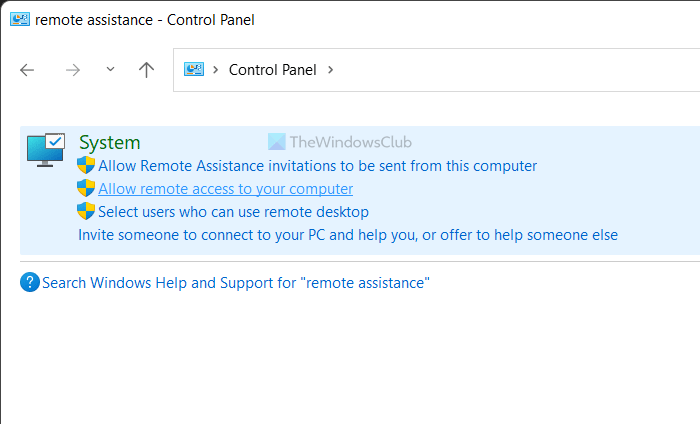 Click on Remote settings and the System Properties/Remote tab box will open. Ensure that Allow Remote Assistance connections to this computer is checked and then click Apply/OK.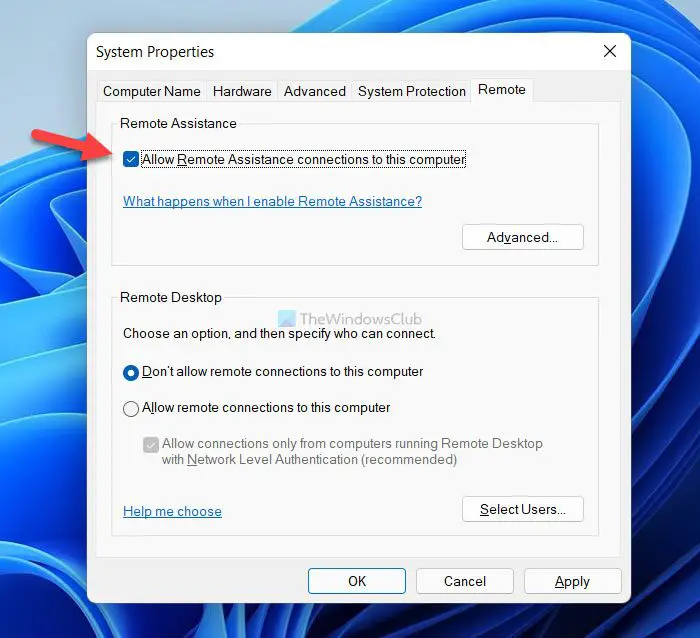 Now type Windows Remote Assistance in start search and hit Enter.
However, if you are using Windows 11/10, you won't find the Windows Remote Assistance. Instead, you need to search for that particular settings in the Taskbar search box. You can see a setting called Allow Remote Assistance invitations to be send from this.
Windows Remote Assistance wizard will open. Click on Invite someone you trust to help you.
Select the option you want. Using the second option will be easy in my opinion. It happens on Windows 7 only. It will open your mail client and you can mail the attached invitation file.
Once the mail has been sent, the following windows will open up mentioning the password. The password will be valid only for the current session.
Now, wait for the other person to approach you. He too will open up Remote Assistance and click on Help someone who has invited you. Once he does, and a request appears on your computer, give him the access password.
If you are using Windows 11, you need to give the person your port. You can find the port in Windows Settings > System > Remote Desktop. Then, expand the Remote Desktop section.
However, Windows 11 users need to use the Remote Desktop Users panel. For that, open Windows Settings and go to Remote Desktop section. Here you can find an option called Remote Desktop users.
After that, click the Add button and enter the user account name.
Once done, click the OK button.
That's it. Once the connection is complete, your friend will now have access to your computer and will be able to help you.
If you find that you are unable to connect, use the inbuilt Windows Network Diagnostics tool to fix the problem. If your firewall is blocking Remote Assistance connections, it will fix the problem automatically.
It's always a good idea to close all your open programs, files, and folders before you allow remote access to your friend.
How do I allow remote assistance connections to this computer?
To allow remote assistance connections to your computer, you need to open the corresponding settings. For that, search for remote assistance connections in the Taskbar search box and click on the individual search result. Following that, tick the Allow Remote Assistance connections to this computer checkbox, and click the OK button.
You may also want to check out freeware TeamViewer.