The NVIDIA Control Panel is a central control panel for devices that run the NVIDIA Graphics Drivers. It comes bundled with the driver package itself and hence does not need to be downloaded or updated separately. Some users have been reporting that when they are making changes to the configuration inside the NVIDIA Control Panel, it throws out the Access denied error. The whole error reads,
Access denied.

Failed to apply selected settings to your system.
In this article, we will learn how to fix it.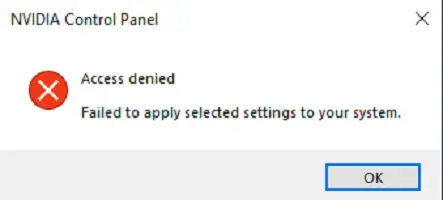 NVIDIA Control Panel Access denied
Some of the practical methods to effectively fix the Access denied error for NVIDIA Control Panel is as follows:
Run the nvcplui.exe file as an Administrator.
Restore the most recent version of its folder.
Update or Rollback drivers.
1] Run the nvcplui.exe file as an Administrator
Open File Explorer and navigate to the following path:
C:\Program Files\NVIDIA Corportation\ Control Panel Client
Locate a file called nvcplui.exe, right-click on it and select Run as administrator.
Select Yes for the UAC or the User Account Control alert you get.
This should fix your issues.
2] Restore the most recent version of its folder
It is a tricky method, so follow the steps carefully.
Open the File Explorer
Navigate to the following path: C:\ ProgramData\ NVIDIA\ DRS.
Right-click on the folder of DRS and Select Properties.
Switch to Previous Versions, System Protection or System Restore inside the Properties window.
Restore the most recent version of the contents of that folder.
It should revert the old working DRS configuration. Your issue must be fixed now.
Read: NVIDIA Control Panel missing on Windows
3] Update or Rollback drivers
First, you need to uninstall the current version of installed NVIDIA Graphics drivers from your computer. Next, download and install the latest version of the driver from NVIDIA's official download page.
We did this method instead of directly updating the driver because we have to reset all the configuration of the driver stored on that computer.
Alternatively, you can try to roll back the current version of the driver and check if that fixes your issue.
It should have helped you.
You can set the quality and other aspects of the displayed elements that are powered by the Graphics Card using this tool. It helps in customizing the strain on the hardware to produce the best fit of elements for the user.
Related read: