Norton Power Eraser is a free security software from Symantec, which removes deeply embedded and difficult-to-remove crimeware that traditional virus scanning may not always detect. If you find that your regular antivirus software is unable to detect or remove rootkits, persistent malware, scamware, rogueware, scumware or crimeware, you can use the Norton Power Eraser to target and eliminate them.
How to use Norton Power Eraser Tool on Windows 11/10
The Norton Power Eraser Tool recently received an update, so I decided to download it and check it out on my Windows 8.1 computer. This freeware is portable and does not require to be installed. You have to simply click on the downloaded .exe file to run it. The main window is pretty simple and includes three buttons – Scan for Risks, Undo Previous fix, and Advanced Options.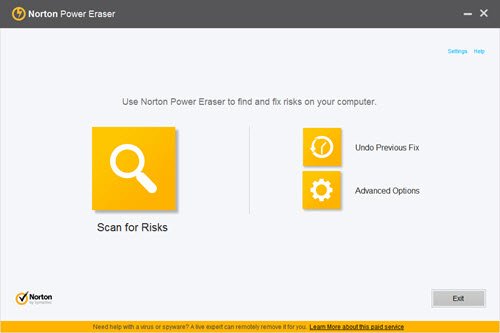 Clicking on the settings link in the top right corner will allow you to change a few settings like Network Proxy Settings, Scan settings, Log settings, etc.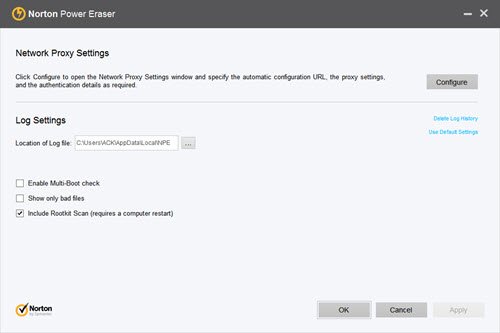 Clicking on the Advanced Options will present you with the following window.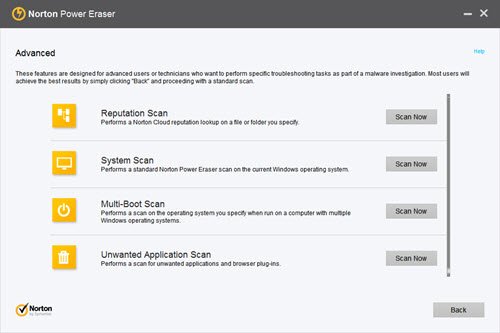 Under Advanced Options, you see the following options:
Using Reputation Scan, you can scan a folder or a file for its reputation
The System Scan performs a standard scan
The Multi-Boot scan performs a scan on the operating system you specify
The Unwanted Application scan will warn you of unwanted software and browser plugins
The tool also gives you the option to review past repair sessions and undo them using the Undo previous fix button.
I clicked on Back to go back to the main window and clicked on the Scan for Risks button to run a complete scan. The tool will require you to restart your computer, so save all your work first and click on Restart.
The scan took a minute or so on my system.
Once the scan was completed, I was presented with a set of results, which include some files it felt were of doubtful or risky nature. It classifies the files as Bad or Unknown and offers to Remove or Repair the file, based on Cloud Scan results.
It is important that you examine each recommendation carefully, before clicking on the Remove option. Since the Norton Power Eraser uses aggressive methods to detect and remove computer threats, there is always that possibility that it can give out false positives and select some legitimate programs for removal.
I could see our freeware Quick Restore Maker appearing in this list – along with three other processes which I knew for sure, were harmless.
This popular tool which lets you create a system restore points in a click is safe and has been hosted on several safe software download sites – yet it got listed here, unfortunately. Clicking on the "i" link will give you some more details about the files listed.
If you are convinced that a file listed here may be of a malicious nature, you can select Remove or Repair, as the case may be. Norton Power Eraser will ask for a restart and remove the malware from your system.
Norton Power Eraser Download
Use this tool, therefore, very carefully, and only after you have exhausted all other options – as it could give out false positives. You can download Norton Power Eraser from here.
How do I download Norton Power Eraser?
We have already given a download link below to download the Norton Power Eraser tool on your computer. You can also visit the official website directly to download the same app. For your information, it is compatible with Windows 11, Windows 10, and older versions.
Is it safe to run Norton Power Eraser?
Yes, it is entirely safe to run Norton Power Eraser on your computer. It scans your entire system for possible crimeware that a regular antivirus cannot recognize or detect. In other words, Norton Power Eraser makes your computer safer and more secure to use.