Nintendo Switch Pro Controllers have these behemoth buttons that attract loads of gamers. However, as per some reports, Switch Pro Controller is not detected or not connecting. In this article, we are going to talk about this issue in detail and see what should be done to resolve the issue easily.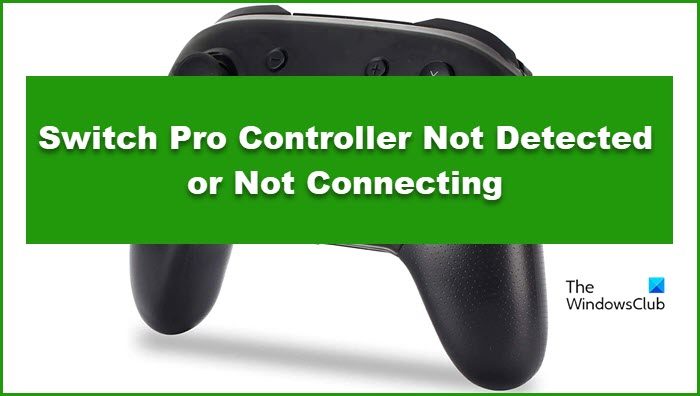 Nintendo Switch Pro Controller Not detected or Not connecting
If Switch Pro Controller is not detected or not connecting to your Windows PC, here are some solutions that may help you resolve the issue.
Restart the controller and PC
Try a different USB Port
Disconnect from Switch
Run Hardware and Device or Bluetooth troubleshooter
Use BetterJoyForCemu
Let us talk about them in detail.
1] Restart the controller and PC
Let us start by restarting the controller. This solution will work for you if the controller is glitchy and causing issues. If restarting the controller doesn't work, restart your computer and check. When your computer starts it tries detecting connected peripherals. In case restarting is to no avail, check the next solution.
2] Try a different USB Port
You can also try switching your USB port as the port can be at fault here. So, connect the controller to a different port and see if it is detected. USB ports are very durable but at the over-time, they tend to get to collect dust or debris, experience occasional wear and tear, etc. If connecting to a different port worked for you, use it, or contact a tech expert and get the port repaired.
3] Disconnect from Switch
It is pretty common to go back and forth between Nintendo Switch and PC. The problem that a lot of users are facing is when they try to connect the controller to their PC, it gets connected to the Nintendo Switch via Bluetooth. To resolve the issue, you need to go to Switch Settings, navigate to Controllers and Sensors, scroll down and select Disconnect Controllers. It will say that only 2 controllers are connected.
Now, press and hold the little button on your controller and plug it into your PC. This should do the job for you.
If you are using a wireless connection, make sure to turn the Switch off before connecting your controller to the PC
4] Run Hardware and Device or Bluetooth Troubleshooter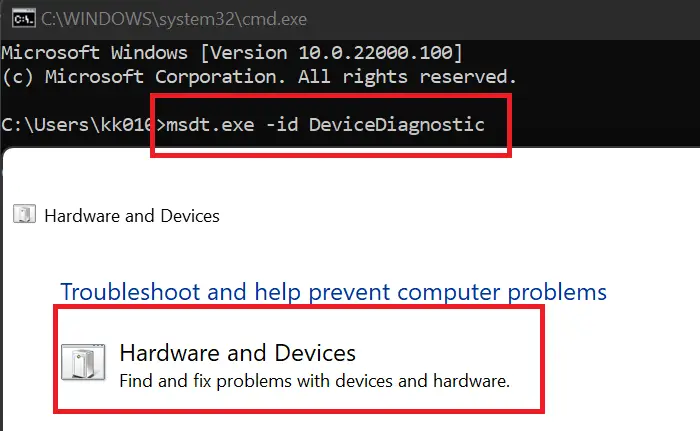 Next up, let us try assigning some work to your computer. If you are connecting with wires, use a Hardware and Device troubleshooter, and a Bluetooth troubleshooter should be used for wireless connection.
Hardware and Device Troubleshooter
To run Hardware and Device troubleshooter open Command Prompt as an administrator and run the following command.
msdt.exe -id DeviceDiagnostic
Now, follow the on-screen instructions to carry on with the update.
Bluetooth Troubleshooter
If you are a Windows 11 user, follow the prescribed steps to run the Bluetooth troubleshooter.
Open Settings.
Go to System > Troubleshoot > Other troubleshooters.
Click Run placed next to Bluetooth.
Windows 10 users can follow these steps to run the troubleshooter.
Launch Settings.
Click on Update & Security > Troubleshoot > Additional troubleshooters.
Select Bluetooth and click Run the troubleshooter.
Hopefully, it will do the job for you.
5] Use BetterJoyForCemu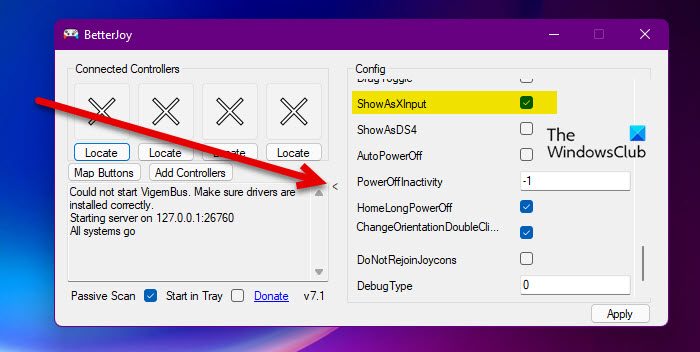 If nothing works, then use this workaround. Mind you, it is not a fix, instead, it is a workaround that has worked for several users and should do the trick for you as well. BetterJoyForCemu is third-party software. This app will allow the controller to work with Cemu, which is an emulator for the Wii U console. You don't have to install Cemu in order to run the emulator, the only thing you need to do is install the app and connect the controller.
So, follow the given steps to install and run the app.
Visit github.com to download the ZIP file.
Now, extract it somewhere and open the extracted folder.
Launch ! Install the drivers in the Drivers folder with administrative privileges.
Then, open the BetterJoyForCemu app.
Click on the small arrow to open Advanced Options or Config.
Make sure that ShowAsXInput is enabled.
Hopefully, this will do the trick for you.
Why is my Switch Pro controller not pairing?
To pair switch Switch Pro Controller with your system, you need to press and hold the small button next to the USB cable for 5-10 seconds. That will allow your computer to detect the Bluetooth device in its range and connect to it. The reason why most people aren't able to pair their controllers is that they don't press the button before starting the process. If the issue still doesn't work, check the solutions mentioned here to resolve the issue.
Read: Xbox One Controller is not recognized by Windows PC
How do I get my Switch to recognize my Pro Controller?
The small button on your controller that's placed next to the USB port should be pressed in order to run to make the Switch recognize the controller. If that's not done, your console won't recognize that the Switch Pro Controller is up and running.
Also Check: USB Gamepad is not recognized or working in Windows 11/10.