There must have been times where you might have wanted to completely cut-off the internet connection from your Windows computer. Maybe you don't want your kids to access the internet from your computer. Or you may have exhausted your internet limit and want to prevent accidental internet connections. Net Disabler is a tool that lets you completely disable & cut off all internet connections by disabling Network Adapter, changing DNS settings, Proxy or using Windows Firewall.
Net Disabler Review
While one can disable the internet using the command line interface or other methods but that process may be a bit lengthy or may require some deeper knowledge about Windows. Net Disabler can be used to disable the internet in a jiffy. The large icon displays the current internet status. You can disable/enable the internet by just checking the relevant boxes and hitting the 'Apply' button.
Quickly turn Internet On or Off
This tool can block your internet connection in three different ways. It can disable the internet by disabling corresponding hardware devices. Or it can block websites by changing DNS settings or prevent programs from accessing the internet using Windows Firewall.
These methods are as follows:
Disable Devices: This method disables all the selected network devices so that there is no communication between your computer and the internet. In this mode, Windows will respond as if there is no wireless or LAN connection on your computer.
Block with DNS: Net Disabler will change system-wide DNS settings so that the users cannot access any website. Overcoming this type of security is very easy. It can be done by simply plugging in the IP address values rather than the website names. And in this type of setup, Windows will connect to wireless or other networks but websites will not be accessible.
Block with Proxy: Proxy is used to block the internet.
Block with Windows Firewall: Under this method, Windows Firewall settings are altered in such a way that no program can access internet on the computer. Windows will connect to wireless and other networks in this setup as well.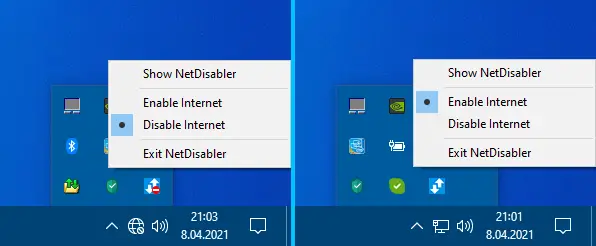 All these mentioned methods can be used simultaneously or individually. You can check them all for maximum security setup. You can also choose the network adapters that should be disabled while you disable the internet on your computer. The list of all the available network adapters is available as well.
Net Disabler also comes with some security features. You can set up a password so that no one else except you can access the tool. Also, the tool provides shortcuts to Device Manager, Network Connections, and the Windows Firewall so that you can check manually about these settings.
The tool also supports CMD parameters and all the command line parameters are displayed under "Command Line Info" in the menu list.
Net Disabler is a great tool to have in your collection. It can instantly disable the internet connection and that too in four different ways. It is easy to use and involves an absolute zero configuration. You can just download it and run it as it is.
Supported languages: English, Turkish, German, Russian, French, Polish, Spanish, Czech, Korean, Slovenian, Chinese Simplified, Hebrew, Italian, Hungarian, Greek, Swedish