Do you hate the fact that every time you close Skype, it quits instead of running in the background? Then this post will guide on how to minimize Skype to System Tray in Windows 11/10.
When you are signed out of Skype, the Skype icon is displayed in the Windows taskbar. The status icon is displayed as a blue-colored cloud embossed with the letter 'S' in the system tray at the bottom of your screen. If you try to close this Skype desktop software window that appears there, the logo refuses to disappear. If you wish, you can remove the Skype taskbar icon and minimize it to System Tray in Windows by following these steps.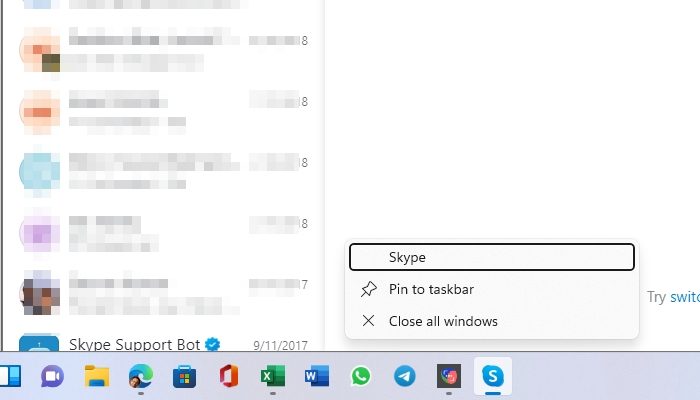 How to minimize Skype to System Tray in Windows 11/10
To minimize the Skype desktop software to System Tray, you need to dig deep into the settings that hide the solution under many menus.
So, launch Skype first, click on the three-dot horizontal menu, and then click on Settings. Next, click on the General section, and toggle on the option that says-On Close, keep Skype running.
When done, save the setting. Also, close the Skype window, and you will observe that Skype will close to the System Tray in the lower right corner, just adjacent to the Notification Area. If you have any open conversations, they will be displayed on the taskbar. If you're not using it, it is advisable to close the Settings.
It isn't very pleasant for many to see even the most recent version of Skype exhibit this behavior. Skype or any application can stay on the System tray, and you can see the notifications right away as they appear or open the application.
If the above trick has worked for you and has adequately addressed your issue, please drop a word in the comments section below or suggest some other method, if any.
How to keep the Skype icon always visible after closing it?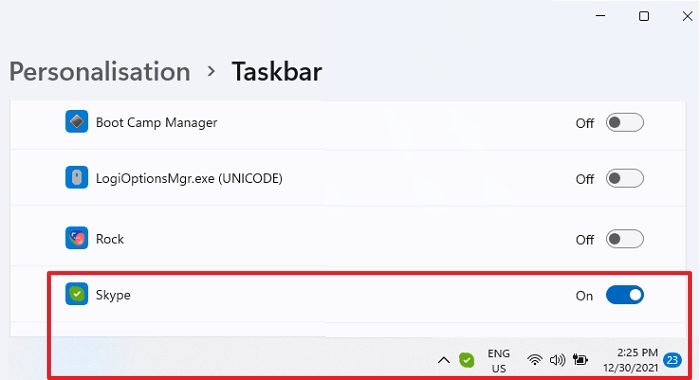 As more icons accumulate, only active ones are displayed, and the rest stay hidden. So if you get a notification, the Skype icon will show up, and then it will hide. If you want the icon to be visible all the time, then go to Settings > Personalization > Taskbar > Taskbar corner overflow > and toggle on the icon for Skype.
Why is Skype in my task manager?
Skype or any application that runs in the background will be available in the Task Manager. If it takes a lot of CPU resources, you can choose to close it and make sure to disable it from running in the background.