You might be knowing about the "text to speech" feature in Microsoft Office. Did you ever try to make Microsoft Outlook read out emails for you? Not only MS Outlook, but you can make other applications in MS Office read out the selected text with just one click.
Before we proceed to set up Outlook and make it read the emails or selected text, understand that:
The voice and speed of voice would be of the default voice installed in the Control Panel. You can however always customize it when necessary.
Outlook or any other MS Office application set up using this method, will need you to select the text before it reads aloud the selection.
The below steps would work with Windows 10/8/7/Vista and later versions only.
Do note that Text to Speech is totally different from Narrator, the built-in feature that speaks out keystrokes only and not text you enter or receive in Office documents or emails.
Set Up Outlook To Read Out Emails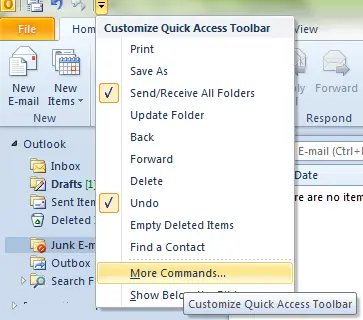 Open Outlook.
Look at the top of MS Outlook Ribbon for Quick Launch bar. It should be a small toolbar just next to the Outlook icon at top-left corner of Outlook window. Click the rightmost button indicating a bar above an inverted triangle.
In the drop-down menu that shows up when you click that black triangle, select More Commands…
You will get a dialog box showing available commands in the left pane and the right pane showing commands already Quick Launch toolbar of MS Outlook. On the top of dialog box, select All Commands.
From the list in the left pane of the dialog box, select Speak. Browsing through all the commands may be a tough task so browse by pressing S key on your keyword. This would rotate only the commands starting with S and will help you locate the Speak command easily.
Press Add to add the Speak command to the right pane of the dialog box and hence, to the Quick Launch Toolbar of MS Outlook.
Click on OK to close the dialog box.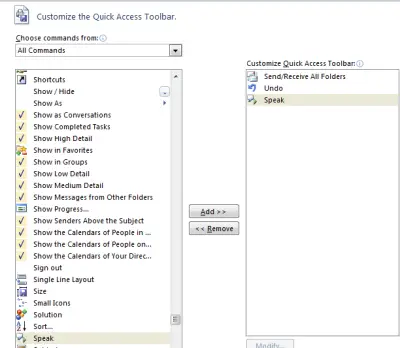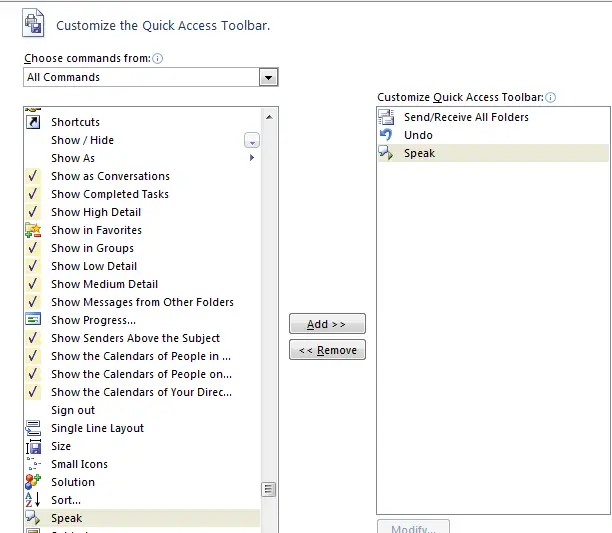 You can now see the Speak button on the Quick Launch toolbar above the Outlook ribbon. It has an icon of speech bubble. Now all you need to do is to select the text in emails you wish MS Outlook to read out for you and click the speak button.
If you wish to change the speed of voice, go to Control Panel -> Speech Recognition, select Text To Speech option and make changes there.
The same method is applicable to add the Speak option to Microsoft Word and other Office applications.
Learn how to Make Windows Talk to you.