Microsoft released Office 2016 earlier this year with some interesting Office 365 features, apps and improved user-interface. While the new Office apps come with a simpler interface, some still might need the user guides. In this post we will learn about some official Microsoft Office Word, Excel, and PowerPoint 2016 Quick Start Guides.
Microsoft Office 2016 Quick Start Guides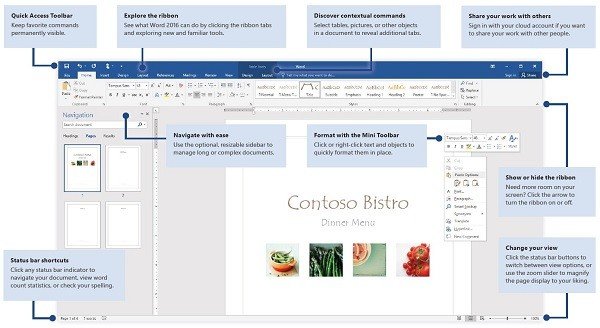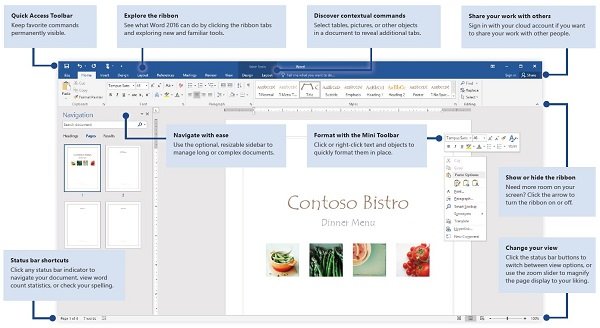 Soon after releasing the latest version of Office 2016, the company has posted some Microsoft Office Quick Start Guides for an introduction to the basics in each of its apps including Word, Excel, PowerPoint, Outlook, and OneNote for your Windows PC. The guides are available for online read as well as for download in the form of PDF files. You can either download these guides on your PC or check them online.
Word 2016 – Quick Guide
The Microsoft Word guide posted by the company includes every small detail like creating a new document, finding recent files, customizing Word, changing the format document and style, reviewing and tracking the changes in your document and lots more. The guides include each and every aspect of Word, may it be the basic features or the rarely used ones. With proper screenshot for every single feature, this quick guide is very helpful for the new users of Word.
Excel 2016 – Quick Start Guide
Not every Windows user is acquainted with the MS Excel and its features and this Excel Quick Start Guide is especially for such users. The guide include every single feature of MS Excel including how to create a file on excel, view recent files, insert functions, build formulas and much more. This guide helps users to get most out of the latest MS Excel 2016 and its improved features.
OneNote 2016 – Quick Start Guide
This quick guide focuses on OneNote 2016 and its features. It gives the detailed instructions about how to use OneNote, create notes, access them anywhere on any device, tag selected notes, creating hyperlinks, organize the notes in tables, save the notes automatically and share them with others, and more. The guide also lets users know how to work collaboratively on OneNote 2016.
PowerPoint 2016- Quick User Guide
Get the detailed user manual and instructions about the latest version of PowerPoint 2016 from this Quick User Guide. Right from the instructions about how to create a PowerPoint presentation to change the layout, keep the slide notes handy, format shapes with precision, to share your work with others, everything is mentioned here in this Quick User Guide.
All of these guides are very elaborated and come with real helpful screenshots, showing each and every feature in detail. These Quick User Guides by Microsoft are available for download in the PDF file format or also available in Sway versions. Also the company has released the Office 2016 Quick Start Guides for Mac and Office Mobile Quick Start Guides.
You can find these Microsoft Office Quick Start Guides for the desktop versions of Word 2016, Excel 2016, PowerPoint 2016, Outlook 2016 and OneNote 2016 here.