There are many great tools for productivity with many great features available. Microsoft Loop and Notion are tools you can use for various productivity tasks. In this guide, we compare Microsoft Loop and Notion and give detailed information on them.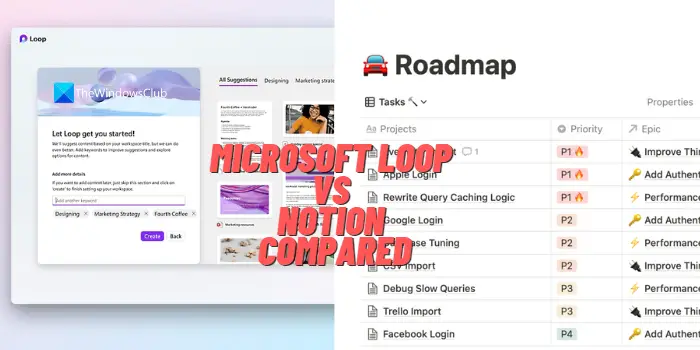 Microsoft Loop and Notion are both productivity tools designed to help you manage projects, collaborate with others, and stay organized with your tasks. Notion has been available for use since 2016. Microsoft Loop is released recently for users. They both are great in their own ways and let's see the differences that make them unique and better.
Microsoft Loop vs Notion compared
Microsoft Loop and Notion are good in their own ways. They both differ in the following ways.
Functionality
User Interface
Pricing
Integrations
AI features
Availability
Let's get into the details of each aspect.
1] Functionality
One of the primary areas in which Microsoft Loop takes the upper hand is the collaborative features that it offers. It is easy to communicate within teams on Microsoft Loop using the Workspace feature. It offers a flexible canvas that enables the teams to think, plan, and create together. You can communicate with your team members in real-time. There will be a clear distinction between teams with the different workspaces you can create on Loop.
Notion, on the other hand, is more of a productivity tool rather than a collaborative tool. You can create databases, notes, tasks, and wikis within a single interface. The customizable features on Notion are great that you can use to manage projects, take notes, and manage knowledge. You can even create Teamspaces for different teams on Notion but you cannot communicate in real-time as in Microsoft Loop.
2] User Interface
If you have used Notion or other Microsoft tools, it would be easier to understand the user interface of Microsoft Loop, It has a clean design with a left-side panel with options to switch between Workspaces and tasks. The UI looks clean and modern which is better than Notion.
Notion has a simple-to-use user interface that has a lot of options that can help you to customize the pages and templates. You can create custom dashboards, pages, and templates. Compared to Microsoft Loop, Notion wins over it in the customization aspect the UI gives to the users. It gives a personalized experience to the users with the interface.
3] Pricing
Microsoft Loop is currently in its preview version and is available for everyone with a Microsoft account. No feature is behind a paywall and you can get the most out of Loop for free. Notion on the other hand is in the market for 7 years and it has both free and paid features. A free plan is enough for a single user to manage work and life with the templates and features. If you want to manage teams and get organized you need to opt for paid plans that start from $8 per user per month. There is even an Enterprise plan that you can use to control and manage your entire organization.
4] Integrations
Since Microsoft Loop is currently in the preview stage, only Microsoft apps like Teams, Outlook, Word for the web, and Whiteboard can be synced. No third-party apps are confirmed as of now. Since Notion has been in use for many years, it has some of the popular integration features available. You can integrate Slack, Google Drive, Calendar, Zapier, Figma, Trello, Zoom, etc. Notion also gives its API to make it easier for users to integrate with their own tools.
5] AI features
Microsoft Loop comes with Copilot, an AI feature that is embedded with every other product of Microsoft. The Copilot on Loop gives suggestions to help users easier to create and collaborate. It can guide you with prompts like create, brainstorm, blueprint, and describe. You can get AI-powered suggestions using the copilot on Microsoft Loop.
Notion also has Notion AI that can help you work faster by automating tedious tasks, checking grammar and helping in writing, augmenting your creativity, etc. The only limitation of Notion AI is it is not free as Copilot on Microsoft Loop. You can only get 20 responses. You need to upgrade to a paid package to get the benefit of Notion AI.
6] Availability
Notion is available as a desktop client for both Windows and Mac. It is even available as an app for Android and iOS mobiles. Microsoft Loop does not have a desktop client yet. But it is available as an app for both Android and iOS devices.
Read: How to create Public Pages in Notion
These are the differences between Microsoft Loop and Notion.
Is there a Microsoft equivalent to Notion?
Yes, Microsoft Loop is more or less equivalent to Notion. It does most of the things Notion helps you with and can integrate with Microsoft apps. Unlike Notion, Microsoft Loop is available for free with AI features in the form of Copilot. Microsoft Loop gives you more scope to collaborate with your teams and be productive.
Is Microsoft Loop part of Office?
No, Microsoft Loop is not part of Office currently. It is released as a cloud tool for Windows and Mac users, and as a mobile app for Android and iOS users. It is not yet merged with Microsoft365 or Office yet and you don't need its subscription to use it.
Related read: Best Notion integrations for teams you should be using.