Finding a Group Policy when starting at the "is there even a setting?" ground zero can be tricky, especially in older operating systems that do not include filtering. Microsoft has made available a new service in the cloud, viz. Group Policy Search, powered by the Windows Azure platform. This post will share how you can find Group Policy Settings with Group Policy Search.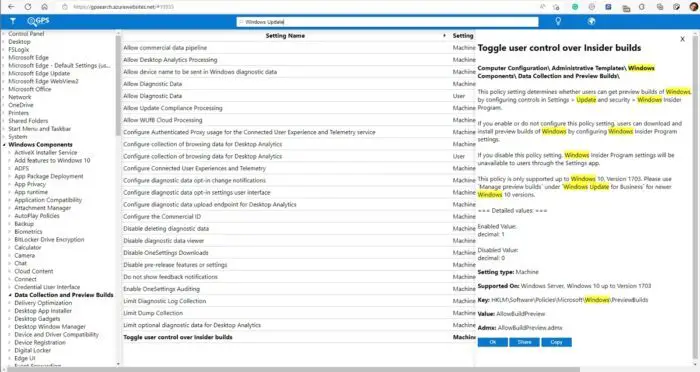 Group Policy Search
With the help of Group Policy Search, you can easily find existing Group Policies and share them with your colleagues.
Once you are on the website, you can use the search box or filter method to find the policy. The advantage of using this tool is it is more comfortable than the inbuilt tool. Once you have the full path, you can directly navigate to the Group Policy Editor and make the changes.
Features:
Supports multiple languages
Registry view to map policy with their respective registry paths
Link to Download ADMX file to install on your PC
Access to the Legacy version for the older version of Windows
How to use it:
In the Search box, you can see my search string "wallpaper"; below are the search suggestions from the database.
You see the search results in the lower-left corner; the first result is automatically displayed on the right-hand side. The search phrase has been highlighted, and the displayed policy is marked bold in the GP tree.
Using the "Tree" menu item, you can switch to the "registry view", where you can see the corresponding registry key/value, or you can reset the whole tree to the beginning view:
In the "Filter" menu, you can specify which products you want to search
In the "Copy" menu, you can select the value from the results you want to copy.
In the "Settings" menu, you can add the search provider and/or Connector.
It is useful when you do not have access to GPE and want to know what a certain policy is useful and on which OS it is supported.
Visit the gpsearch.azurewebsites.net Group Policy Search website to get started.
Also read: How to search Group Policy for specific GPO in Windows 11/10.
How to Install Group Policy in Windows Home version?
You can use the DISM command to install or enable Group Policy in the Windows Home.  Once done, you should download the ADMX files for your version of Windows to access them.
What does GPO mean?
A Group Policy Object (GPO) is a collection of Group Policy settings that define how a system behaves for a specified group of users. The Group Policy Management Console (GPMC) is available as a program snap-in from Microsoft.