Microsoft Hyper-V Server is a slim version of Windows Server where you can host Hyper-V VMs. Imagine this as Hyper-V hosting Hyper-Vs.  Microsoft is offering Microsoft Hyper-V Server 2019 for free under unlimited evaluations. The company is offering the same Windows hypervisor technology in Microsoft Hyper-V Server as what is available with Microsoft Hyper-V role on Windows Server.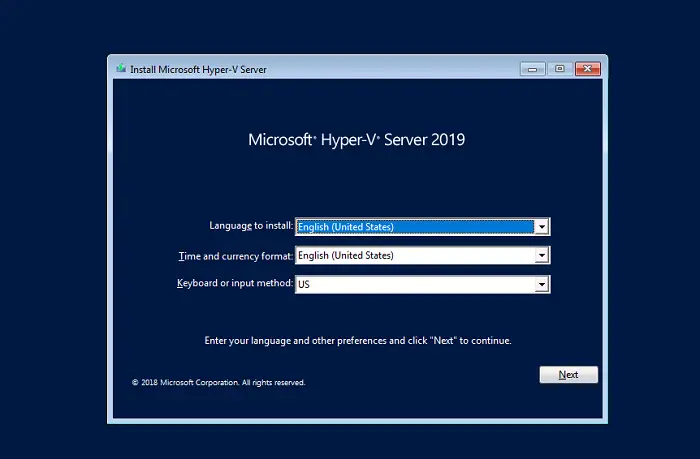 Microsoft Hyper-V Server 2019 is free
Microsoft Hyper-V Server allows you to virtualize on-premises datacenter and hybrid cloud. The 2019 version offers features that can help to deliver the scale and performance needs of your mission-critical workloads. It is a stand-alone product that contains only the Windows hypervisor, a Windows Server driver model, and virtualization components. It provides a straightforward virtualization solution to improve server utilization and reduce costs.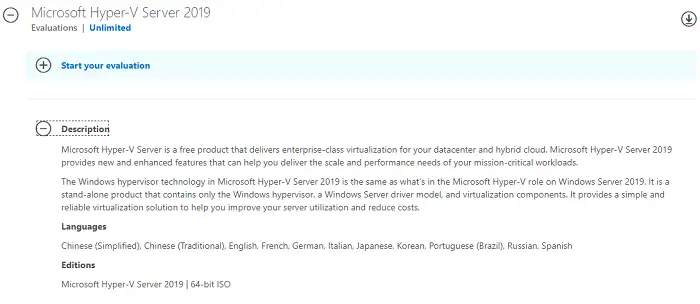 According to Hayden Barnes, who pointed to this, you can combine this Windows Admin Center you get a mini on-premises Azure VM cluster for running Windows and Ubuntu side-by-side. Microsoft also offers Windows Admin Center for free. It is a browser-based app for managing servers, clusters, hyper-converged infrastructure, and Windows 10 PCs.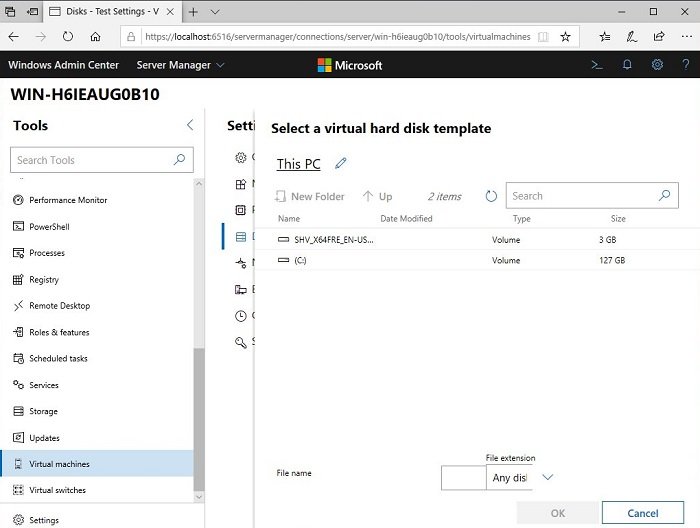 Hyper-V Server 2019 (64-bit) is available in Chinese (Simplified), Chinese (Traditional), English, French, German, Italian, Japanese, Korean, Portuguese (Brazil), Russian, Spanish. Onc the installation is complete, you will be prompted to activate. A product key is not required.
New Features of Hyper-V Server 2019
Windows Admin Center
True two-node clusters now allow you to use a USB flash drive as a file share witness.
Encrypted networks feature now makes it possible to encrypt traffic between virtual network traffic between VMs.
Storage Spaces Direct improvements that now allow you to scale up to 4 petabytes (PB) of raw capacity per cluster. Its four times compared to what we had in the 2016 version.
ReFS deduplication allows using both data deduplication and the ReFS file system.
Shielded virtual machines

It provides shielded VM protection for Linux Virtual machines
Troubleshoot shielded VMs
Start and run shielded VMs remotely

Container advancements support both Windows and Linux containers
Do note that installing this will need Virtualization features, Hardware-enforced Data Execution Prevention (DEP), and support from the BIOS or UEFI. Virtualization could be disabled by default, so make sure to enable it. Here are the full requirements of Hyper-V 2019.
Download the Microsoft Hyper-V Server 2019 ISO from Microsoft Evaluation Center. You will have to fill in a form and offer information such as work email address, company name, and so on to download it.