Microsoft's Edge browser is the most popular web browser among Windows users. Microsoft is releasing essential updates constantly in order to improve the performance of the end user. However, some users have reported that while playing the audio or video media in Edge browser, if for any reason you minimize the Edge to the taskbar, and then get back to the browser with the intention of resuming the audio or video play,  the browser stops playing media altogether.
In a related context, the media and even an audio stop playing when the screensaver starts. In order the resolve the issue you may have to allow Microsoft Edge to run in the background which by default will be disabled. By allowing the Edge browser to run in the background, Microsoft Edge would be able to receive information, stay up-to-date and even send a notification when users are not using the app.
Edge stops playing Video or Music when minimized
The only reason to turn off the apps running in the background is to conserve battery power. Turning on the Battery Saver would limit the background activity and reduces the power usage of apps that are running in the background  One can choose all the apps to run in the background or choose only a few apps to run in the background in order to save some battery power and improve the battery life endurance. It is also worth noting that this background setting must be applied to any app which plays media or an audio file. In this article, we explain a solution to resolve the issue.
Allow Microsoft Edge app to run in the background
Windows 10
In the Start menu, search for Settings and open Settings. Navigate to Privacy.
Search and locate Background apps from the list menu in the left column of the page.
Now Choose the Microsoft Edge app and turn on the toggle button to let the Microsoft Edge run in the background.
Windows 11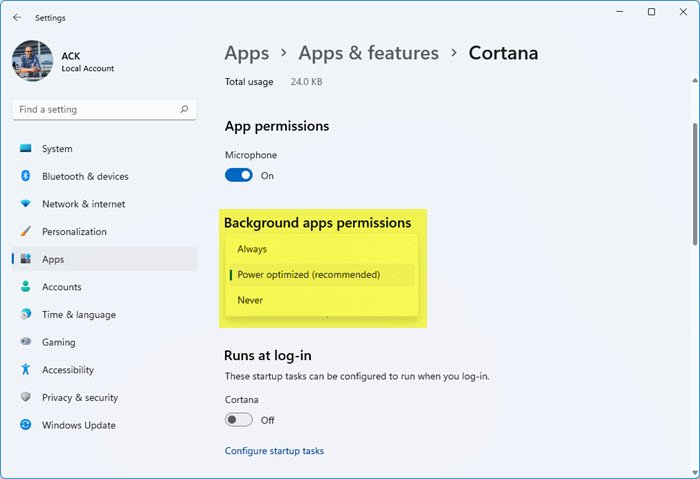 To prevent or allow Windows 11 apps from running in the background:
Open Windows 11 Settings
Go to Apps > Apps & features
Locate the app you want to prevent from running in the background
Click on Advanced options
Open the Background apps permission drop-down menu
Here you can select Always, Recommended, or Never.
If the solution doesn't work then you may want to check for latest the latest available Windows Updates an install them.
That's all.