Microsoft Edge team rolled out a new Sidebar feature that lets you quickly access Microsoft products such as Outlook, Office, Games, Tools, and so on. While it can be helpful for many, you can disable it if it's not for you. However, a few users reported in the forums that even when disabled, the sidebar keeps reappearing. It happens after they close the browser and relaunch it. This post looks at a solution that can fix this problem once and for all.
Before we start, you should know that this applies to Microsoft Enterprise or computers, which are under company policies.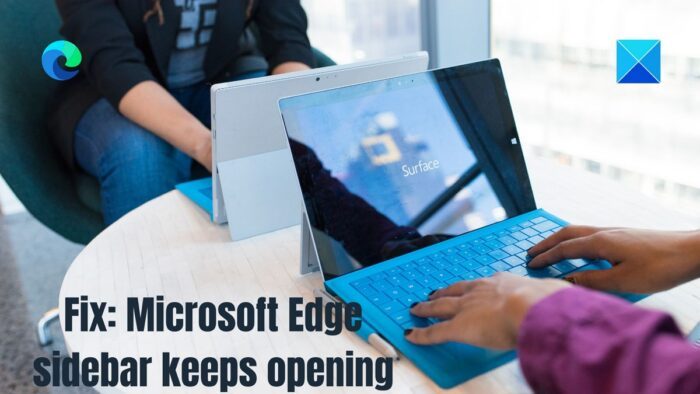 Fix Microsoft Edge Sidebar keeps opening
Since the Microsoft Edge setting for the Sidebar is not working, you need to use the Group Policy setting or Registry changes to fix whatever is causing the behavior.
NOTE: You will see the following settings when you open edge://settings/appearance.
It would be best if you disabled the Show Hubs Sidebar policy following the GP path in the doc to achieve this. After disabling this policy, the sidebar should never appear again.
1] Using Group Policy
If you want to disable it for everyone in the company or a particular PC, you must download the Group Policy and apply it to the computer. You can download it from here based on the version of Microsoft Edge.
Open Group Policy by typing gpedit.msc in the Run prompt and then pressing the Enter key.
Navigate to the following path in the Policy Editor
Computer Configuration > Administrative Templates > Microsoft Edge
Locate Show Hubs Sidebar and choose to disable it.
Once you disable it, the sidebar will never show on Microsoft Edge.
2] Change Registry Settings
Open Registry Editor by typing regedit in the Run prompt and pressing the Enter key.
Navigate to the following path:
Computer\HKEY_LOCAL_MACHINE\SOFTWARE\Microsoft\Edge
Right-click on the right section, and choose to create a DWORD with the name as HubsSidebarEnabled
Set the value as 0x00000000 to disable it.
Make sure to Restart Microsoft Edge for both methods to see the changes. Once done, you will no longer be able to change the sidebar settings. It will appear greyed out. You must ask the IT admin to set these two paths if you need control.
GP path (Recommended): Administrative Templates/Microsoft Edge – Default Settings (users can override)
Registry Path (Recommended): SOFTWARE\Policies\Microsoft\Edge\Recommended
While it is said that the policies or the registry settings work for general consumers, it is available for Windows Enterprise. I hope the post helped in the situation where the Microsoft Edge sidebar keeps opening even after disabling it from the Microsoft Edge Settings.
Related:
How to quickly bring up the Edge sidebar?
You can instantly bring up the Microsoft Edge Office Sidebar with a Ctrl + Shift + /  keyboard shortcut. It is more beneficial because if you use tools or want to open an office document quickly, you can launch it from here. Press the same keyboard shortcut to close it.
Related: How to Enable and Use Office Sidebar in Microsoft Edge
Can I remove or add items to Edge Sidebar?
Yes, and No. While you can remove any existing items from the sidebar by clicking on the settings icon, you cannot add a custom shortcut or tool to it. It is up to Microcost to add them.
How to disable Microsoft Edge Sidebar?
To disable Microsoft Edge Sidebar, you can follow any one of these Registry or Group Policy methods described in this post.