After changing it from Chakra to Chromium, Microsoft released the Chromium-based Edge browser for macOS too. This post checks out what all features it provides to its Mac OS users. Please note that this is not a comparison between Microsoft Edge for macOS and Microsoft Edge for Windows 10. This review simply lists the interesting features of Edge for Mac.
Microsoft Edge for Mac Review
The user interface on Edge for Mac OS is clean and self-describing. There is no clutter as in previous versions of Edge. There is ample spacing among icons on the new tab page and the favorites bar. The context menus also look neater than Firefox. The sub-menus have a cool font and allow you to tap on the options by providing you a good spacing among the menu options. This doesn't leave any scope for inaccurate menu selections by touch.
Microsoft Edge for Mac OS – Speed
The new Microsoft Edge for Mac OS has a decent speed. It is faster than Google Chrome browser because probably Microsoft Edge uses the same rendering engine as Google Chrome. If I compare it to Safari on Mac, Edge is as fast as Safari when it comes to loading websites.  Please remember that speed uses hardware acceleration and thus, is also dependent on the hardware of your Mac.
Edge Security & Privacy Features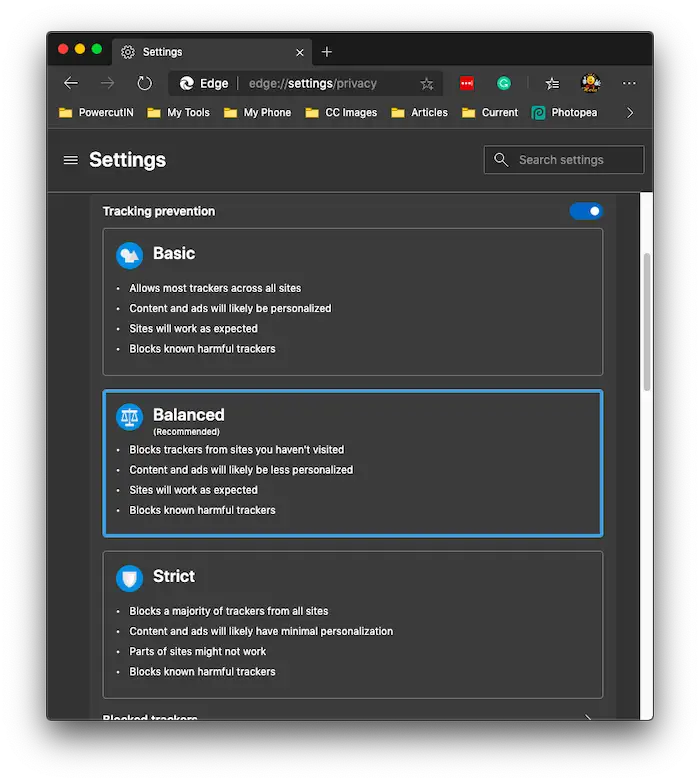 Microsoft is taking both security and privacy features pretty seriously in Edge (Chromium). It allows you to set a privacy level for your browsing.
You can set privacy to Basic, Balanced, and Strict. Click on three dots at the top right corner of the Edge window and from the resulting window, click Privacy and Services in the left pane. You'll see plenty of options in the right column where you can customize the privacy features per your wish.
Edge carries the SmartScreen feature that was introduced back in the 2000s. This feature stops users from opening websites with malware or spyware code. The SmartScreen Defender tells you if a download is malicious before downloading it to your Mac.
You can further configure privacy under the site permissions option in Settings.
Memory and other resources usage by Edge
Though running on Chromium, Edge is better than the Google browser and Firefox on Mac OS: High Sierra and Mojave. With more than 20 tabs open in both Edge and Chrome, I found Edge to be responding better when compared to other browsers, including the default Safari that comes with Mac.
New tab page and bookmarks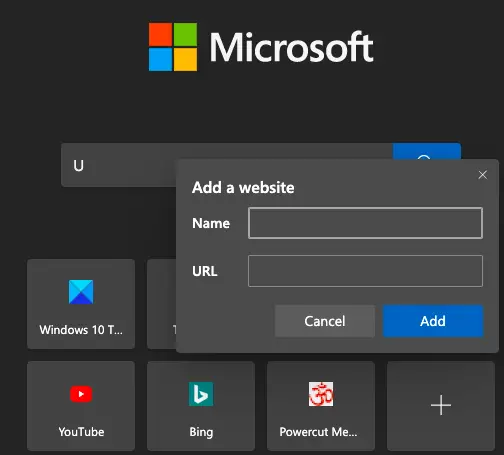 It offers a better way to manage tabs by giving you the menu option Tabs. This menu lists all the open tabs, including the pinned ones so that you can manage them.
Talking about tabs, Microsoft Edge has four view options for its new tab page:
Focused,
Inspirational,
Informational, and
Custom (you configure the page manually)
Unlike its Windows 10 counterpart, Edge does not let you edit already existing thumbnail shortcuts. You can delete them though. Microsoft Edge (Chromium) has an option to add thumbnail links. You can do this by clicking on the + sign on the last thumbnail shortcut.
Extensions available for Microsoft Edge browser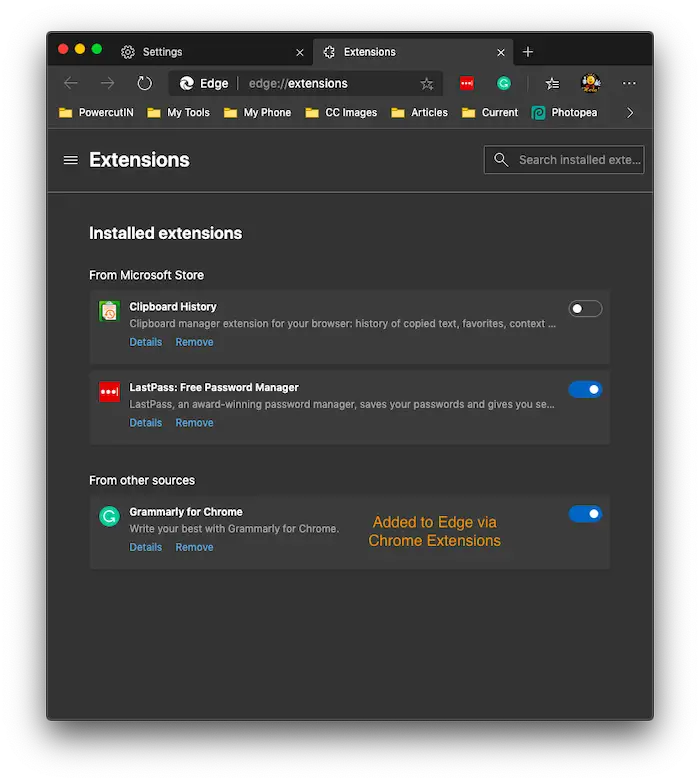 Since it is now Chromium-based, you can add Chrome extensions to Microsoft Edge in addition to extensions available on the Microsoft Addons page. Here is how to add Chrome Extensions for Microsoft Edge. You simply visit the Chrome store using Microsoft Edge. You will be asked if you want to add extensions from other stores. Click Allow to add extensions to Microsoft Edge on Mac OS Mojave and later.
Privacy on Microsoft Edge – Rumors
People are still concerned about privacy on Microsoft Edge. There are two groups (maybe more). One group is against using Edge on Chromium quoting privacy issues arising out of the Chromium code + "Customized for Microsoft" code. They believe that in addition to using the open-source code of Chromium, Microsoft may have added its own code to track people using the browser.
Microsoft Edge for Mac OS – Verdict
After using Microsoft Edge for three days, I am considering making it my default browser on Mac. My current default on Mohave is Firefox, which performs well. The neatness of the user interface coupled with the speed of page loading will compel you to use it – even if you don't make it your default browser on Mac OS.