Some Microsoft users encounter an error AADSTS90100 while logging in to their Microsoft accounts, such as Outlook, Teams, etc. One will get this error if the cookies and cache of the browser are corrupted. In this post, we will see what you can do if you get Microsoft Account error AADSTS90100, Login Parameter is empty or not valid.
Sorry, but we're having trouble signing you in. AADSTS90100: login parameter is empty or not valid
Fix Microsoft Account error AADSTS90100, Login Parameter is empty or not valid
If you get Microsoft Account error AADSTS90100 and Login Parameter is empty or not valid, follow the solutions mentioned below to resolve the issue.
Clear browser cache and cookies
Reset the Outlook cache
Reset the Network settings
Use the web or app to log in
Contact your admin
Before you begin, we suggest you restart your PC and router and then try since and see if that works.
1] Clear browser cache and cookies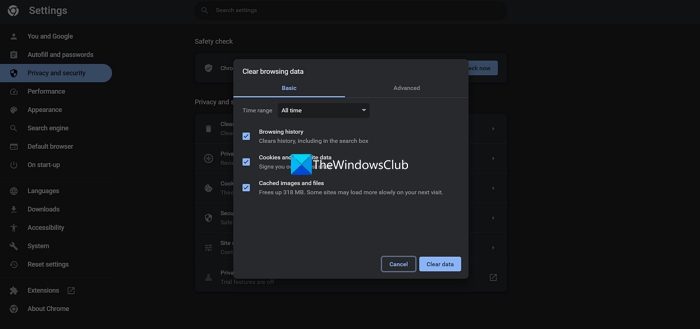 You won't be able to log in if your browser's caches are corrupted. To confirm that, we recommend using your browser in InCognito or InPrivate mode. Just open your browser in that mode and log in. If you successfully logged into your MS account, you need to clear the browser cache.
In the case of Google Chrome.
Launch Google Chrome.
Click on the three vertical dots in the top-right corner.
Here select Settings from the dropdown menu.
Under the Privacy and Security tab, you need to click on Clear browsing data
A pop-up window will appear, select the time range as per your requirement (e.g., "Last hour," "Last 24 hours," "All time" to clear all data) and make sure "Cookies and other site data" and "Cached images and files" are checked.
Finally, click on the Clear data button.
In the case of Microsoft Edge:
Launch Microsoft Edge.
In the top-right corner of the screen, click on the three horizontal dots and select Settings.
Now in the left sidebar, click on the Privacy, Search, and Services option.
Scroll down the screen and click on Choose what to clear under Clear browsing data.
"Cookies and other site data" and "Cached images and files" both options should be checked, and the Time range should be changed to All time
Finally, click on the Clear now button.
After clearing the browser's cache and cookies, try to log in once again.
2] Delete the Outlook and Teams cache
If you get the same error in Outlook, then to resolve this issue, we will delete its caches. Caches are stored on your computer locally and are different from your personal files and attachments.
To reset the Outlook cache, follow the prescribed steps:
Ensure that Microsoft Outlook is closed before proceeding.
Press the Windows + R key to open the run dialog box.
Type %localappdata%\Microsoft\Outlook and press the Enter button.
This will open the Outlook cache folder.
Select all files and folders and press the Shift + Delete button to delete all permanently. After clearing the cache, reopen Outlook. It will start rebuilding the cache from scratch.
In case you get the Microsoft login error in Teams, follow the steps given below to clear the Teams cache.
Close all instances of Teams from the Task Manager.
Hit Win + R, and type %appdata%\Microsoft\Teams in the Run dialog box.
Now, select Cache, Code Cache, and GPUCache folders and delete them. If you want to select multiple folders at once, just hit Ctrl and then select them.
Once you have deleted these folders, restart your computer and then check if the issue is resolved.
3] Reset the Network settings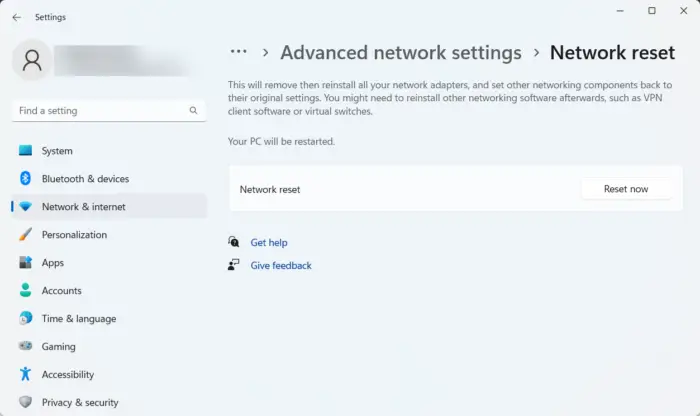 This error can also occur due to network issues, so the solution to this problem is resetting the network. We do this to ensure that there are no misconfigurations due to which there is a hindrance in the login process.
To reset Network settings in Windows 11, follow these steps:
Press the Windows + I key to open the Settings app.
On the left side of the window, click on Network & Internet.
Now click on the Advance network settings option.
Scroll down to reach More and then click on the Network reset option.
Now click on the Reset now button.
A prompt will appear, asking you to confirm the action. Click on the Yes button to continue.
When you click on the Yes button, Windows will then proceed to reset the network settings and it will take a few minutes to finish the process. After that, the PC will automatically restart.
4] Use the web or app to log in
This is not a solution but instead a workaround that you can try. If previously, you were logging into the web version of Outlook or Teams, switch to the app and vice-versa. Remember that you don't have always to use the alternative, once Microsoft releases an update path, you can move back to your preferred medium.
5] Contact your admin
If nothing works, your last resort is to contact your IT admin and ask them to resolve the issue because it is a possibility that they have changed your account privileges. Also, this can be an issue from their Microsoft end, and they can ask them to provide a working remedy.
Read: Fix Microsoft Teams Login issues: We couldn't sign you in
How do I fix Office 365 login error?
Office 365 login issues can be resolved by clearing the browser cache if one tries to log in using the browser. In case the app is not responding, you should repair Office. If nothing worked, contact your admin and ask them to look into your account's permissions.
Read: Outlook and other apps won't remember login details
Why does Microsoft keep asking me to fix my account?
If Microsoft keeps asking you to fix your account, there are a few things you can do. First of all, log out and then log in. In case this doesn't work, change your account's credentials. Finally, if nothing worked, your last resort is to remove credentials from Windows Credentials Manager and then add them again.