In Windows, the Remote Registry service is a feature that enables remote access to the client's computer for viewing and modifying the Windows registry entries. This setup is to be only turned on by a specific trigger so that it doesn't use up resources, but sometimes, you may notice that more system memory and paged pool memory are being consumed than expected. The memory leak occurs after about 10 minutes of system uptime and eventually causes the system to hang.
Memory leak issue in Remote Registry Service causes Windows to hang
In addition to the situation described above, PoolMon (monitors pool memory usage by pool tag name. This tool is included in the Windows Driver Kit) analysis may show that the Windows Notification Facility (WnF) tag is consuming all the available paged pool memory. The Windows Notification Facility, or WnF, is a kernel component used to dispatch notifications across the system.
Open the Registry Editor.
Locate this registry subkey
Double-click DisableIdleStop.
Change the value from default 00000000 to 00000001.
Close the Registry Editor and Exit.
Restart your PC.
Please note that serious issues might occur if you make changes to the Registry Editor incorrectly. Create a backup before proceeding further.
Run command box by pressing the Windows key+R.
In the empty field of the box, type regedit.exe, and then press Enter.
In the Registry Window that opens, navigate to the following path address –
HKEY_LOCAL_MACHINE\SOFTWARE\Microsoft\Windows NT\CurrentVersion\RemoteRegistry.
Switch to the details pane (on the right side) and locate the DisableIdleStop entry.
When found, double-click it to edit its value.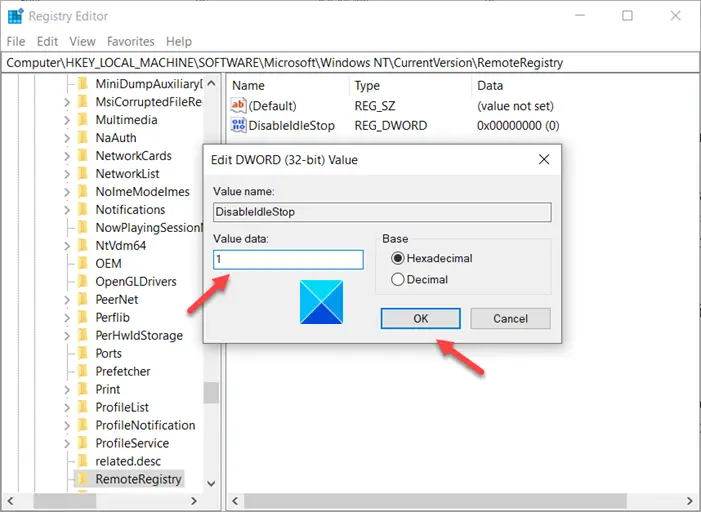 In the Edit String box that appears, change the value from default 00000000 to 00000001.
When done, close the Registry Editor and exit.
Now, restart your PC to allow the changes to take effect.
That's all there is to it!