If you are using a single monitor PC and working from home in these pandemic times, creating multiple virtual desktops can be very handy for you. Since while working from home, one has to manage multiple projects or tasks at a time, virtual desktops can surely increase your productivity.
With Windows 10 it is actually very easy to create a new virtual desktop and manage multiple of them. You can open different programs on each virtual desktop and yes, you can create an unlimited number of desktops.
Manage Virtual Desktops Like a Pro
Virtual desktops can indeed increase your productivity, provided you know how to juggle between them quickly. Well, keyboard shortcuts are the only way to switch between your all opened virtual desktops. If you have been using virtual desktops already, you might be aware of those shortcuts but today in this post, I will tell you about some lesser-known keyboard shortcuts to quickly switch between your virtual desktops on Windows 10 and manage them better.
1] WIN +Tab- Show all virtual desktops opened

This keyboard shortcut will show you all the virtual desktops opened with their respective numbers. You can click on any desktop you want to open. Alternatively, you can also click on the TASK VIEW option in your taskbar to see all the available virtual desktops.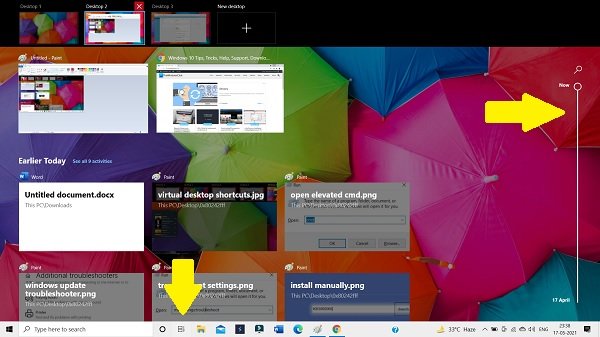 Not just your current desktops, but here you can check your earlier virtual desktops too. From the scroller in the right corner, you can check your virtual desktops for the last one month.
2] Win+Ctrl+D- Open New Tab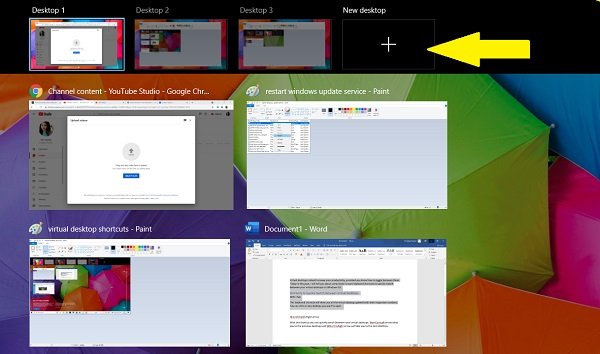 Press this shortcut Win+Ctrl+D to open a new tab or if you already have two or more desktops open, you can press Win+Tab to open all desktops and click on the + sign and press Enter. To return to your desktop, just hit the Esc button on your keyboard. Remember, you can open an endless number of desktops on your Windows 10 PC. Every time you open a new desktop, you will see its thumbnail at the top of your Task View screen.
TIP: You can also change the keyboard shortcut to switch between Virtual Desktops.
3] Move Windows From One Desktop to Another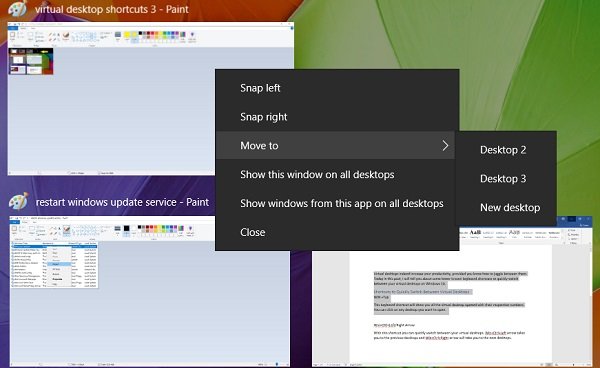 with just a single click you can move windows from one desktop to another. Press Win+Tab, this will show all the desktops available. Go to the window you want to move and right-click. Select the Desktop you want it to move in. You can also move it to a new desktop or show this particular window on all the open virtual desktops.
4] Rename Desktops

The virtual desktops by default open with the numbers like Desktop 1, Desktop 2, and so on but you can rename them as per your projects to make it more convenient. Open the available desktops Win+Tab and go to any desktop in the top ribbon and right-click. Click on Rename and name it as per your own preference.
5] Snap the desktops
Go to the desktop you want to snap and right-click. Select snap left or snap right as per your preference.
6] Check all programs open on a virtual desktop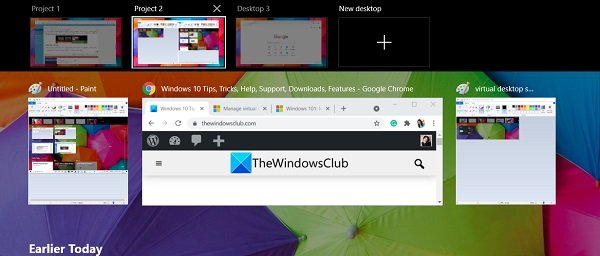 In case you forget what program was open on which desktop, hover your cursor over the desktop and you can see all the programs and apps open on that particular desktop.
7] Delete Virtual Desktop

If you have opened too many of them, you might want to close some. Simply open all the desktops with Win+Tab and hit the close button to terminate that particular desktop. All the programs and applications open on that particular desktop will then be automatically moved to the previous desktop and will merge with the existing programs and apps. So basically, you cannot end all the opened programs just by terminating the desktop. You have to manually close each one of them.
8] Open the same application on two desktops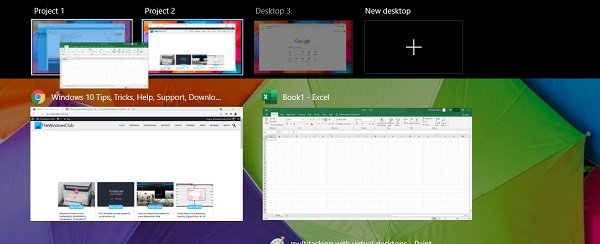 For example, if you are working on excel and want to open the same app on two desktops to maintain two different excel sheets press Win+Tab and pick and drop one of the excel on a different desktop and you are done.
9] Multitasking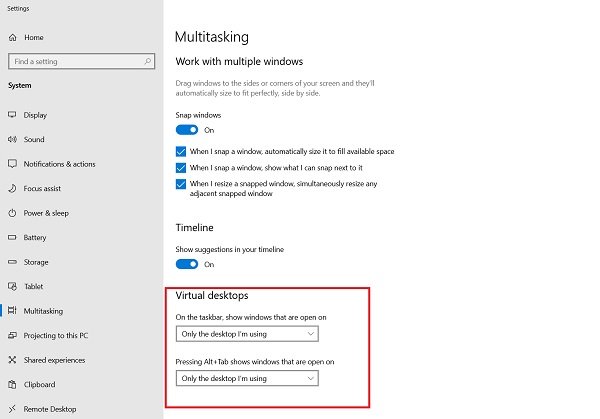 There is a setting of Multitasking on your Windows 10 PC wherein you can change the Virtual Desktops settings. G-o to Settings (Win+I)–> Systems–> Multitasking and scroll down to Virtual Desktops. By default the settings are saved to Only the desktop I'm using but, you can set each to show on all desktops as per your own preferences.
Read: Virtual Desktop Tips and Tricks.
So these were a few of the keyboard shortcuts which will help you handle and manage your virtual desktop better. Do let us know if you want us to add any more. In case you do not use this Virtual Desktop or Task View feature in Windows 11/10, you can simply remove the Task View button from the taskbar.
Related: How to Manage Virtual Desktops in Windows 11.