The address bar in Internet Explorer displays sites we have visited, our favorite sites, feeds and more. But many a times, having the address bar display so many items can look cluttered. If you wish to select which items you'd like to have displayed in the address bar drop-down lists you can easily do so.
To do so, open Internet Explorer. Next open Internet Options and click on the Content tab.
Under AutoComplete, click on Settings.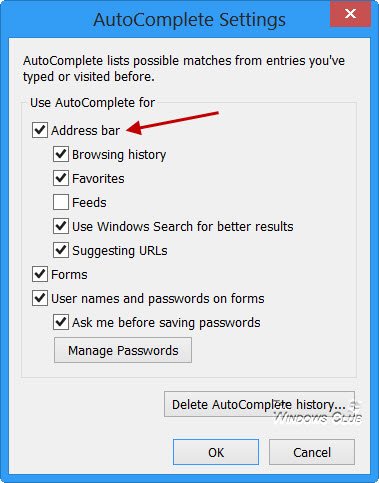 Here you can see that you can select what to display in the drop-down lists:
Browsing
History
Favorites
Feeds
Use Windows Search for better results
Suggesting URLs.
Check the one's you want to be displayed and uncheck what you don't need. Click on Apply/OK.
Restart IE. You will see that the address bar auto-complete drop-down list looks much more manageable now.
If you wish, you can also delete the AutoComplete history here or Manage Passwords.
How to Enable or Disable AutoComplete and Inline AutoComplete may also interest you.